It's been said before: talent acquisition (TA) software is essential to support and optimise a company's hiring process. And it couldn't be more accurate. Managing many of today's recruitment functions is only possible thanks to software. From advertising jobs to screening CVs and assessing candidates, recruiting software streamlines and automates the entire hiring process. By eliminating paperwork and offering powerful candidate sourcing functions, it makes it easier for organisations to find and hire employees and reduce the time it will take to fill a position. Ultimately, using the right recruiting tool is key to get more of the best candidates in the pipeline and drive efficient recruiting cycles.
Defining Talent Acquisition
Before talking about software, it's important to understand what TA is all about. TA focuses on an organisation's long-term goals in terms of HR strategy and hiring needs. The TA task is part of human resources (HR) and involves recruiters, sourcing agencies, HR professionals and hiring managers in the activities of sourcing, attracting, interviewing, hiring, and onboarding employees. Instead of simply filling the positions that are open at a given moment, the TA process goes further and runs continuously to identify the best candidates for future positions that can be harder to fill, such as executive-level positions, leadership roles, or jobs that require specialised training.
The Main Components of Talent Acquisition Software
TA software consists of any software used to find, attract and hire the most suitable candidates for a company. Usually, a TA suite includes recruiting software (ATS) and recruitment marketing capabilities. An ATS gathers and organises the candidates' information and provides an initial screening of all incoming applications, allowing recruiters to optimise their activity by focusing only on the profiles that best match the requirements. It integrates various steps of the recruiting process and performs various functions (tracking, ranking, evaluating, communicating, etc). As for recruitment marketing software, it offers a powerful toolkit that allows finding, attracting, engaging and nurturing the best talent by creating beautifully branded career pages, distributing job posting across various, targeted job boards and channels, leveraging your employee's network with a referral program and sourcing great, passive candidates.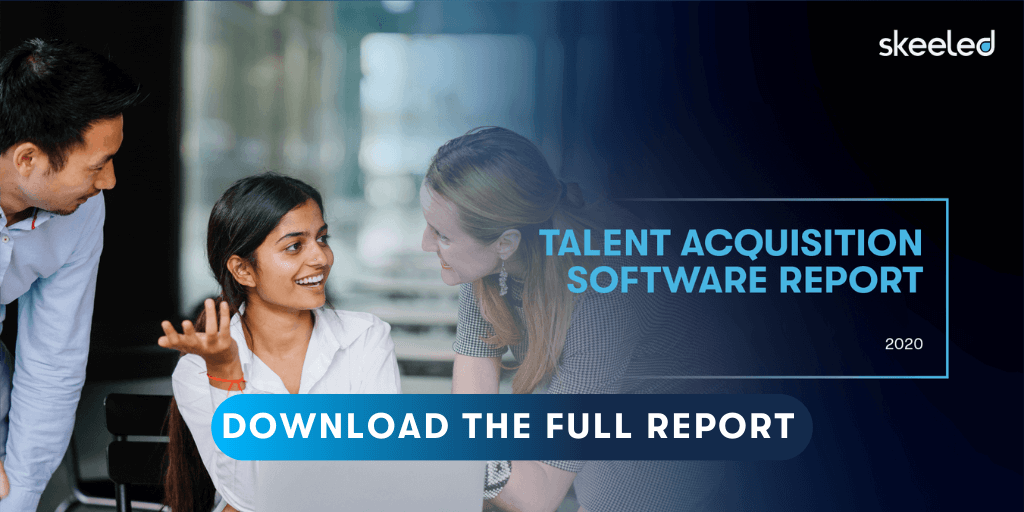 Major Benefits of Talent Acquisition Software
TA software can bring companies many benefits. Using a solution that integrates ATS features with recruitment marketing capabilities is essential for hiring success. While the ATS allows collecting, sort, and screen resumes and any associated candidate information, to manage talent pools within a custom workflow, and enables the communication between HR personnel, hiring managers, or recruiter and candidate, recruitment marketing features allow to improve employer branding on career sites, job portals, and employee testimonial pages, streamline the distribution and marketing of job openings, and facilitate employee referrals and social recruiting efforts.
As a result of using this type of software, companies will experience:
Time and money savings
Efficiency increase
Improved ability to acquire talent
Better candidate communication
Data-driven recruitment
Choosing the Right TA Software for Your Company
Today, companies can choose the typical stand-alone ATS or a combined TA suite. The TA suite usually combines the ATS with front-end recruitment marketing capabilities and back-end onboarding and data analytics tools. Additionally, there are also available talent management suites, which add learning management capability to the equation. HCM suites can also include TA modules, offering the capability to combine TA data with other HR work streams along the employee lifecycle for broader views on talent.
However, the TA technology landscape can be quite hard to navigate. With so many different categories of solutions and so many vendors to choose from, choosing a solution for your company can be extremely challenging. With that in mind, skeeled put together a talent acquisition software report which aims at helping companies to learn more about:
What talent acquisition software is
Why companies need talent acquisition software
Major features of talent acquisition software
Benefits of talent acquisition software
Talent acquisition software market trends
How to choose the best talent acquisition software
The right TA software solution can help companies prepare for growth, improve their processes efficiency, increase their recruiting ROI, and, ultimately, keep attracting top talent. Hence, we researched a wide list of talent acquisition software vendors and included a feature-based comparison on the report to help you navigate the options available on the market and make the best choice for your company. Read the full report here.

Skeeled offers you the perfect opportunity to bring innovation and digitalisation to your hiring. Check our website or our LinkedIn, Twitter and Facebook pages for further information.
Thanks for reading and see you next time!
Your team here at skeeled