Software
Time to Hire
Is your recruitment process taking too long? Speed is critical for hiring top talent in a candidate-centric job market.
Top talent is off the job market within 10 days
You need efficient processes to secure top talent. skeeled speeds up your recruitment, allowing you to focus on what matters most: connecting with the best candidates.
Automated candidate screening
Screen candidates more efficiently
Our candidate screening technology automatically filters profiles according to your criteria and requirements, allowing you to save time with unfit profiles.
Applicant tracking system
Streamline your processes
Take control of your recruitment process. Set up your hiring team and manage permission levels, create custom workflows with specific hiring steps for each role and automate administrative tasks.
Team collaboration
Collaborate with your team to make better decisions
Keep your team engaged and make better and more diverse decisions through collaborative hiring. Comment, rate, tag and share candidate profiles, and use the @mention to get real-time feedback from team members.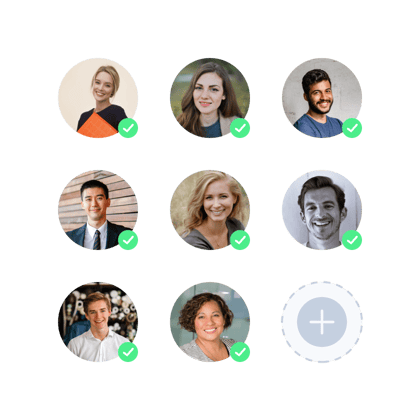 CV database & search engine
Engage with previously qualified candidates
Speed up your recruitment process by searching for the best candidates on your CV database according to specific requirements. Connecting with candidates that you've previously qualified will save you time and money.
Job distribution
Target & reach the right candidates
Post your job ads to a wide range (+2000 options) of pre-contracted and ready to use media channels. With just a few clicks create powerful job campaigns to find and attract high-quality candidates faster.
Discover
Advanced reporting & analytics
Measure your hiring success
Create powerful, custom dashboards to track your recruitment performance and get the insights that matter to you. Leverage all your hiring data — from sourcing to hire — to answer the most critical recruiting questions and turn data into action.
Discover other solutions skeeled offers to enhance your talent acquisition