Recruitment marketing is transforming the way companies are recruiting. There's no doubt about that. Talent acquisition has always incorporated some marketing and sales elements. However, we're witnessing a quick change in the role of marketing in recruitment which is assuming key importance in the talent acquisition process.
This fusion of marketing and recruiting is shaping the talent acquisition industry. For instance, recruiters are increasingly using marketing tactics to build a strong employer brand and improve candidate engagement to stay competitive and secure the best talent for their companies. Finding, attracting and engaging proactively with the most suitable candidates to generate a constant flow of candidates has become essential to fulfilling the current and future hiring needs of any company.
What is Recruitment Marketing?
Recruitment marketing includes all the strategies and tactics a company uses to find, attract, engage and nurture talent before, during, and after they apply for a job. Usually, the type of position and the nature of the work determine the recruitment marketing efforts, namely how and where the job opening is advertised. For instance, it wouldn't be efficient to advertise an open position for the sales department in an IT dedicated job board or at a networking event for finance managers. In this case, it would made sense to specifically target sales-related channels.
Recruitment marketing leverages automation, predictive analytics, and artificial intelligence to help recruiters post job openings in the best channels, targeting the right people, and using the right language. By assisting the recruiter with these tasks, recruitment marketing helps freeing their time to build and maintain a strong talent pipeline.
How Well are Companies Using Recruitment Marketing?
According to an HR.Com study, a little over one-third of HR professionals (36%) say their organisations have a high or very high level of understanding of recruitment marketing, up from 32% in 2018. Less than one-quarter (23%) say their organisation's understanding is below moderate. Therefore, about three-quarters have at least a moderate understanding of recruitment marketing practices.
Additionally, more than a quarter say their organisations are "power users" of recruitment marketing. Twenty-eight per cent said their organisations use recruitment marketing to a high or very high degree, up from 24% in 2018. This means that the percentage of companies that understand the practice is still a bit higher than the percentage of companies that use it. Nevertheless, it shows the increasing adoption of recruitment marketing as a best practice.
The study found that companies that are especially good at recruitment marketing tend to do certain things differently. For instance, they are more likely to use candidate engagement initiatives. Here's the list of common denominators among these companies:
They make more frequent use of a wide variety of technologies, including Application Programming Interfaces (APIs), advanced CRM, recruitment marketing workflow automation, and email marketing tools.

They are far more likely to use analytics.

They pay greater attention to their employer brand.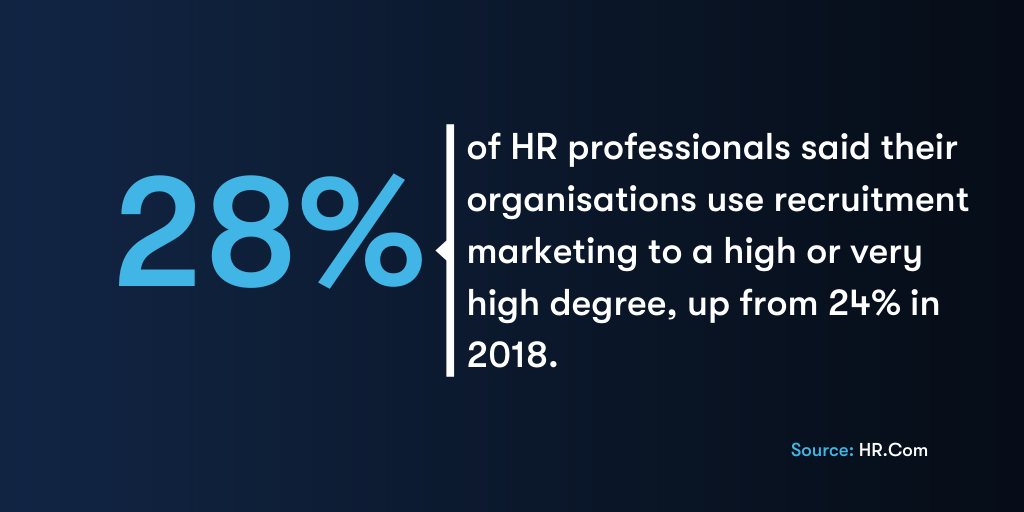 Why is Recruitment Marketing Revolutionising Talent Acquisition?
Recruitment marketing is transforming the way companies find, engage and hire the best talent, by changing the way they:
Search and find top talent
Build and promote their employer brand to targeted audiences
Nurture potential candidates
Traditional recruitment processes include posting open positions, screen applications and select the candidates that better suite the job's requirements. However, it is a fact that the most skilled candidates are usually employed and not actively seeking a new job but are open to new opportunities. So, companies need new strategies to find and engage these passive top candidates instead of settling for the poor-quality candidates that have applied.
Moreover, most companies have a weak employer brand which doesn't attract the best candidates and often results in high turnover rates. All of these issues are opening the way for recruitment marketing, as companies are coming to realise that they need to understand and incorporate marketing principles into their talent acquisition strategy.
Instead of keeping their focus on short-term recruiting needs by filling the current open positions, recruiters need to employ more effective hiring practices. Implementing marketing tactics is essential for them to create an ongoing talent pipeline, filled with candidates who are available to fill positions at all levels in the company.
Main Benefits of Recruitment Marketing
1. Acceleration
By allowing recruiters to build a pipeline of candidates that are a good fit for their company and are available to fill in current and future positions, recruitment marketing ultimately allows speeding the recruitment process.
2. Candidate Experience
Recruitment marketing allows recruiters to personalise the content and communication they send to prospective candidates. Every touchpoint can be customised based on "who" the candidate is, their level of engagement and their relationship with the company. For businesses that value the candidate experience, recruitment marketing is a key strategy.
3. Employer Branding
Building a powerful employer brand is essential to stand out from the competition and attract the best talent. Recruitment marketing features help you spread the right kind of messaging about your company through the careers page and nurturing campaigns, for isntance.
4. Hiring Costs
The right recruitment marketing software can help you track the effectiveness of different campaigns and channels on generating pipeline, and also help you prioritise the best investments of your time and resources. Having a constant talent pipeline where you can find relevant candidates for new positions also results in money and time-saving.
5. Quality of Hire
Recruitment marketing helps recruiters make sure that quality candidates that visit their career page and browse their jobs do end up applying. This requires recruiters to think carefully about the best way to nurture these candidates and move them through the funnel to an application. But if done well, it brings companies very good results.
Although it is still being discovered by most companies, we can say that recruitment marketing is already impacting talent acquisition.

Skeeled offers you the perfect opportunity to bring innovation and digitalisation to your hiring. Check our website or our LinkedIn, Twitter and Facebook pages for further information.
Thanks for reading and see you next time!
Your team here at skeeled