Talent sourcing is a key piece of the talent acquisition strategy. It can be described as a structured way of finding, engaging and networking with relevant talent pools of qualified candidates. Its goal is to generate a regular candidate flow for current and future job positions. Essentially, this process helps talent acquisition professionals to convert individuals into candidates, building a robust talent pipeline.
The talent acquisition process uses sourcing activities to continuously identify the best candidates for future positions that can be harder to fill, such as executive-level positions, leadership roles, or jobs that require specialised training, instead of simply filling the positions that are open at a given moment. That's what makes talent sourcing such an important aspect of talent acquisition.
How Does it Work?
To source the right talent, first, you need to understand your company's short and long-term talent needs. From there you create job descriptions that can be effective in attracting and qualifying candidates. With the job descriptions in place, you can then start the talent hunt. At this point, you need the right employer branding and sourcing strategies to tap into the best talent pool. Thus, it is crucial to understand the market and to reassess your sourcing strategies, in order to improve this process.
Main stages of the talent sourcing process:
Assessing company talent needs - by doing an analysis based on business growth. Identify the gaps in the current workforce that need to be filled in and identify the employee profile you need to keep in mind for future roles.

Crafting effective job descriptions - as a primary point of touch with the candidates, it's imperative that the job description is captivating but also informative enough. Also, to reach better results when using talent acquisition software to screen CVs, the job specifications need to be as accurate as possible so that the algorithms can find the best matches.

Knowing the job market - to source top talent, you need to know where to find it and how to engage it. Thus, you need to be aware of market trends; what sources to use to reach out to relevant candidates; understand what they are looking for in their next career move; and find a way to suit their expectations.

Connecting to the right talent pools - you need to understand where the right talent is concentrated and how to make your way to the portals, communities and communication channels they're in. Then, use personalised and individualised communication to engage them and deliver a great experience.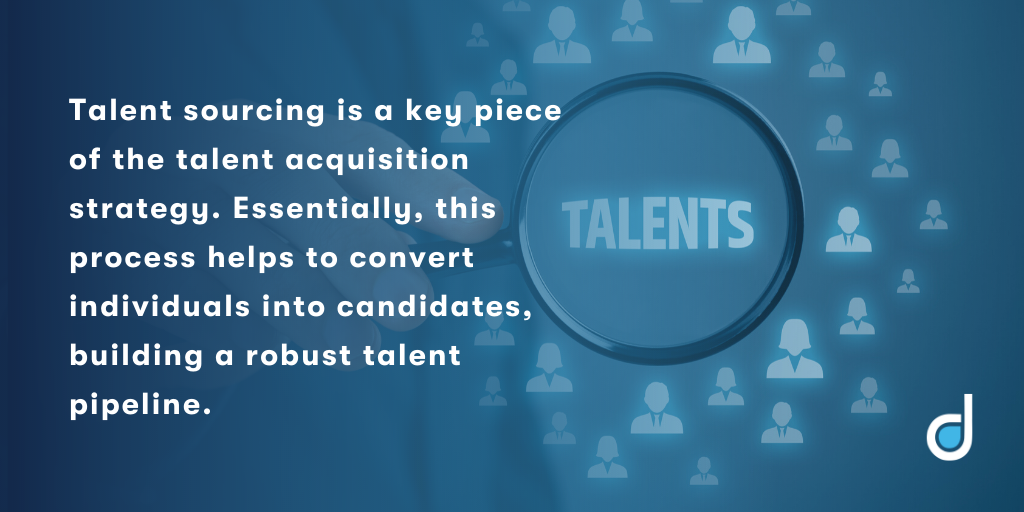 5 Talent Sourcing Tips to Attract and Hire Top Talent
As an important aspect of talent acquisition, you need to make sure you have the best talent sourcing strategy in place to build a robust talent pipeline. Check these 5 tips to attract and hire the best candidates:
1. Creating a candidate persona - building an ideal candidate persona will help you know exactly who you're looking for. In this regard, it's important to include every stakeholder directly affected by the hiring decision in this process to make sure you create the right persona.
2. Knowing where to look for - looking for an accountant or for a designer will certainly lead you to different places. To know where to find your candidate persona you need to be aware of the latest communities and platforms that prospective candidates are on.
3. Mastering candidate engagement - connect with candidates through the platforms or channels of their choosing. It's important to maintain an engaging conversation with the candidate on a medium that they're comfortable with. It's also essential to use personalised and individualised messages to reach out to them to deliver a great candidate experience.
4. Boosting your employer brand - your employer brand has a significant impact on your ability to attract and hire great talent. The most skilled candidates are usually approached by more than one company. And thus they compare companies to see which has the best culture and is overall more appealing. Hence, creating an outstanding employer brand is key to attract top talent and achieve long-term success.
5. Using the right tools - along with a good candidate engagement strategy, it's essential to use the right tools for effective talent sourcing. Using a talent acquisition software with a talent sourcing feature is key to help you run a structured process. The right software can help you by allowing you to upload CVs in bulk, to run searches for candidates on LinkedIn without leaving the software or offer you a browser extension that allows you to import the profiles you're interested in into the recruiting software. This way you can organise and track all of your sourced candidates and assess the performance of your sourcing activities with analytics.

Skeeled offers you the perfect opportunity to bring innovation and digitalisation to your hiring. Check our website or our LinkedIn, Twitter and Facebook pages for further information.
Thanks for reading and see you next time!
Your team here at skeeled