We're entering a post-Millennial era where a new generation of talent is about to hit the job market. But what's so special about Generation Z that makes it crucial for companies to rethink their recruiting techniques? Well, Gen Zs are the first generation of digital natives, which per se will definitely present major challenges for recruiters when it comes to attract and hire these candidates.
Some companies are already trying to stay ahead of the curve by gaining understanding around the expectations and characteristics of Gen Z so they are able to attract and hire top candidates when they enter the job market full-force.
In case you still haven't had the opportunity to lean on this issue, let us help you with that exercise by shedding some light on Generation Z from a recruitment perspective.
Who's part of Generation Z?
Daniel Goleman writes on the Korn Ferry Institute that "companies who want to recruit top talent are continually tasked with keeping their eye on the horizon." The acclaimed author notes that "Gen Zs" were born between 1995 and 2012" and that "they might share certain values and traits with their Millennial predecessors, but still differ in their mindset". According to the writer, these "early twenty-somethings are the first generation to have never known a time without modern technology".
According to Connie White, head of university talent acquisition at Genentech, those who are part of this generation have grown up in a world dominated by technological connectivity and access to information. She notes that they are deeply aware of socioeconomic and environmental challenges, and they are eager to make a positive impact on the world.
In an article published on Indeed, William Tincup, President of Recruiting Daily, notes that Generation Z "is the first generation of digital natives. They straight up don't remember life without the internet. They've had things like mobile devices, touch screens, voice computing and apps since childhood. As a result, they're hypervisual, with strong technical skills, the ability to multitask effectively and a demand for custom, personalised experiences."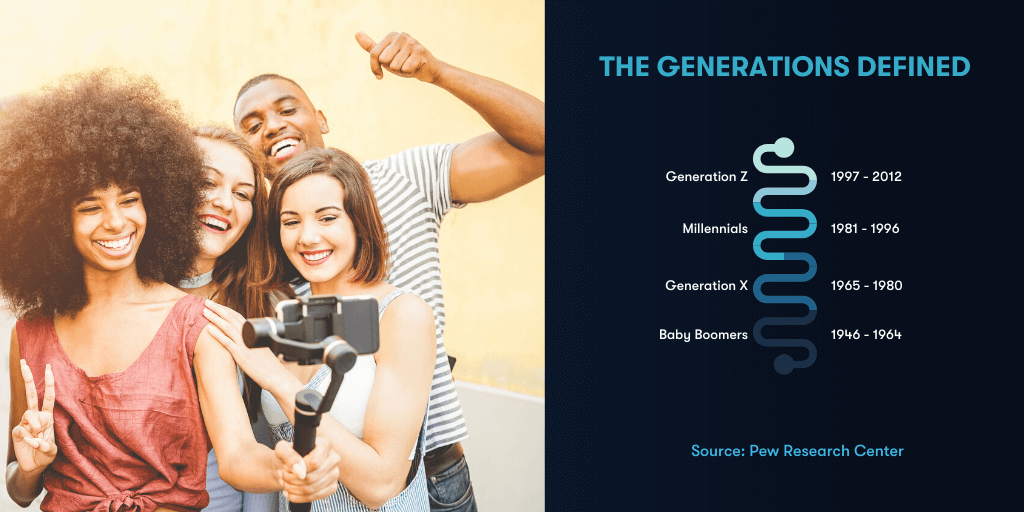 What Sets Millennials and Gen Zs Apart?
We can find differences between these two generations at many levels. As William Tincup points out, it can vary from favourite social media platform to attention span. Did you know that the average attention span of a Gen Z is about 8.25 seconds? Obviously, this has an impact on whether you'll succeed in attracting these candidates and keep them satisfied post-hire.
Another important characteristic of Generation Z is that it doesn't see previously distinct lines between work and home or physical and digital. Remote work, for instance, is not perceived as a perk by Gen Zs but rather as the norm.
Curiously, although they were born into a digitally connected world, Gen Zs apparently prefer "person-to-person contact, unlike text-happy millennials", says William Tincup. This may happen as they understand both sides of the internet, "seeing the impact of memes and cyberbullying first-hand and questioning everything they encounter". Also, according to Business Insider, Gen Zs are reasonably risk-averse, given the effects of the Great Recession on their parents that they've witnessed, and they're also associated with the theme of stability. As the publication notes, the result is a generation that's great with tech, skeptical in a good way and wildly independent.
How to Attract Generation Z Candidates?
According to a 2018 Pew Research Center trends report, the oldest post-Millennials are less likely than their predecessors to be in the workforce. Only 58% of today's 18 to 21 year-olds worked in the prior calendar year; this compares with 72% of Millennial 18 to 21 year-olds in 2002. And employment among post-Millennials is less likely to be full-time compared with earlier generations. The report finds that this is likely due, in large part, to the fact that these young adults are more likely than their predecessors to be enrolled in college, making them less experienced than those in previous generations.
The knowledge gathered around Generation Z leads us to believe that they're a more significant disruptor than millennials. As the President of Recruiting Daily mentions on his article, Gen Zs are "digital natives who want human interaction, hard to engage but always connected, cautious skeptics with an entrepreneurial spirit and so on". According to Indeed, last year's look at popular Gen Z job searches revealed a wide range of interests, from developer to bookseller, reinforcing the need for a completely new recruitment approach.
To recruit Gen Zs, companies need to take a step back and review their methods. Taking on what we've learned from millennials, all we can expect is the unexpected. Gen Zs will definitely put your recruitment process to the test.
Here are some key points companies must start working on if they wish to attract and recruit Generation Z candidates:
Personalisation
Custom Candidate Experience
Challenging and rewarding environment
Highly flexible approach to work
Dynamism
Training and career development opportunities
Recruiters will need to meet Gen Zs expectations with tailor-made approaches. These candidates are mission-driven and passionate, they seek diverse environments, and they have more technical skills than any other generation. They seek opportunities to experiment, and recruiters' true challenge is to find the right way of showing them why they should want to work for a company.

Skeeled offers you the perfect opportunity to bring innovation and digitalisation to your hiring. Check our website or our LinkedIn, Twitter and Facebook pages for further information.
Thanks for reading and see you next time!
Your team here at skeeled