Employment in the healthcare sector in the European Union (EU) is expected to rise to 24,009,000 until 2025 while over half of current health employees are anticipated to retire or leave the sector for another reason, leading to a total 11.6 million job openings, a higher number than in any other sector. This makes the health sector a major employer across Europe.
The unprecedented times we're living have taught us the real importance of having robust healthcare systems the hard way. Now, more than ever, we're all well aware of the implications that the lack of sufficient healthcare workers can have on our well-being and survival.
Having the right professionals with the right skills in the right place at the right time it's imperative to ensure the quality of care, in normal conditions. But when facing such a health crisis, it is crucial to also have the ability to ensure sufficiently numerous and appropriately skilled workers through quick and efficient hiring of resources. However, there's a shortage of skilled staff in the sector, due to factors such as an ageing workforce, the rising demand for health care services, the technological transformation of the sector and the creation of new care models which makes it difficult to find and hire health professionals.
Workforce Imbalances and Talent Shortages
According to the World Health Organisation (WHO), health workforce imbalances and shortages are a major concern in the European region. Although the number of physicians and nurses has increased in general by approximately 10% over the past 10 years, it is unlikely that this increase will be stable and sufficient to cover the needs of ageing populations. The right skills-mix of health workers is indispensable for effective and efficient health care delivery.
The OECD also reports that employment in the health sector is likely to continue to increase. However, the distribution of health workers' skills and roles is expected to change, due in large part to ageing populations. New health technologies are further driving rapid change in the sector, and it's hard to predict their development and impact. Technological shifts are expected in information technology and big data, automation and artificial intelligence may generate demand for new specialities or skills for health workers (OECD, 2019).
Healthcare Services Delivery
The health sector encompasses activities in hospitals, general and specialist medical practices, health clinics, medical laboratories, as well as dentistry. It comprises workers primarily delivering healthcare services such as health professionals (doctors, nurses, midwives, paramedics, pharmacists and dentists), health associate professionals, public health professionals, health management and administrative and support staff. Many people also work indirectly for the healthcare sector, such as those employed in the healthcare industries and support services, pharmaceutical, medical device industries, health insurance, health research, e‑Health and occupational health.
According to the WHO, the healthcare sector needs to adapt to rapid change in order to provide continuous and coordinated patient-centred care. Health service delivery faces increasing public demands for access to and use of new technologies, new medications and new models of care, as well as higher expectations of quality and safe care.
Healthcare systems are further challenged by ageing populations with multiple comorbidities, emerging and re-emerging diseases, and the burden of chronic diseases. Globalisation is shifting the requirements for healthcare and control to reach across borders. Climate change is affecting disease patterns and the spread of vectors in the European region and the uncontrolled use of antibiotics is leading to increasing antimicrobial resistance, with multidrug-resistant tuberculosis being one of the most dramatic examples affecting disease control.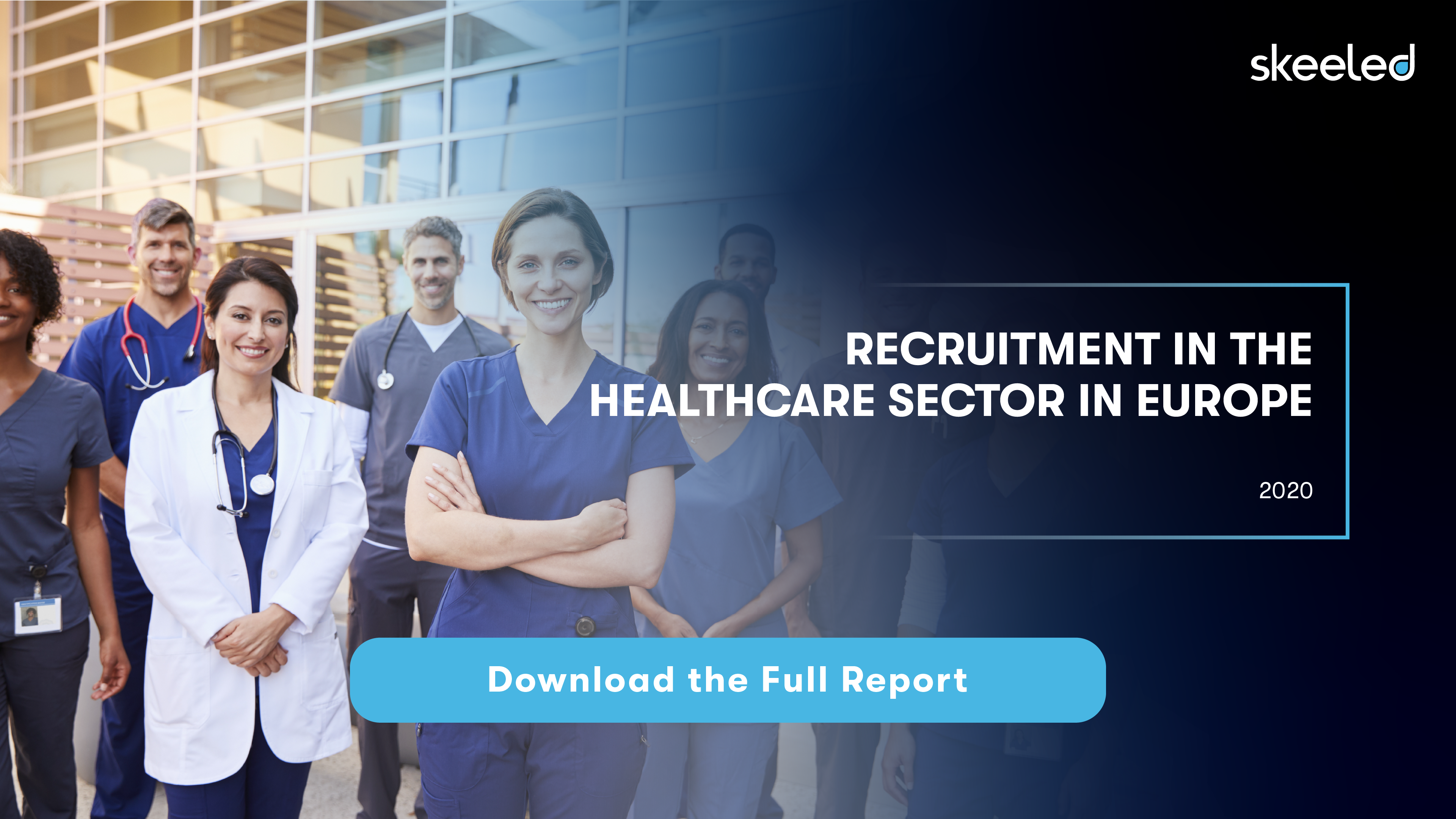 Employment in the Healthcare Sector
According to the EU Skills Panorama (2014) Health sector Analytical Highlight report, employment in the sector is expected to grow at a much faster rate (+8.1%) than overall EU employment (+3.3%) between 2013 and 2025, forecast to have a net increase of 1.8 million jobs. In absolute terms, over 300,000 new jobs are expected to be created in France, Italy and the United Kingdom. This will mainly be in occupations not related to medicine per se.
Additionally, over half of current health employees in the EU are anticipated to retire or leave the sector for another reason, leading to a total 11.6 million job openings, a higher number than in any other sector. Lastly, changes in how health services are delivered to meet the needs of Europe's ageing population and to reflect greater specialism are leading to the creation of new job roles and the up-skilling of existing health occupations.
The WHO declares that the ability of health systems to perform well and respond appropriately to the new challenges they face is strongly influenced by the availability of health workers with relevant skills, in sufficient numbers, located where they are needed, and working in an environment that motivates and engages them.
In the report Global Strategy on Human Resources for Health: Workforce 2030, the WHO underlines the positive economic impact of the health workforce and highlights the urgency of addressing health workforce challenges. These include shortages, imbalances, mismatches between education models and health needs, and productivity concerns.
Thus, strengthening the workforce by ensuring the availability of enough health workers with the relevant skill mix, competencies and motivation to provide health services to their populations is essential to ensure that health systems can achieve health goals.
The Importance of Recruiting and Retaining Top Talent
As the European Commission states on its Recruitment and Retention of the Health Workforce report, many countries have difficulties in retaining and recruiting health staff, and in balancing the right number of healthcare staff with the right skills in the right geographical areas to meet the changing needs of populations and health systems. With healthcare demands increasing, these issues are becoming an even more pressing matter. The health workforce is shrinking and many workers are reaching retirement age, which risks the future sustainability of Europe's health systems and access to care.
According to the report, there are key factors to support and optimise the success of recruitment and retention interventions in Europe's health sector. More efficient recruitment and retention, not only reduces staffing costs but also safeguards the quality of health services. In opposition, a high turnover of staff reduces the availability and continuity of care and is an obstacle to the creation of stable teams of providers, all of which has a negative impact on quality and cost of services.
However, the research shows that mitigating recruitment and retention problems in the healthcare sector may require salary increases, financial incentives and more training opportunities, information systems, research and development infrastructures and equipment. Still, this is an investment that pays dividends in terms of reduced costs of turn-over and better health outcomes.
Read our full report to learn the key strategies to overcome the sector's recruiting challenges and secure the best talent for your organisation.

Skeeled offers you the perfect opportunity to bring innovation and digitalisation to your hiring. Check our website or our LinkedIn, Twitter and Facebook pages for further information.
Thanks for reading and see you next time!
Your team here at skeeled