Following what has been a particularly tough year for HR and Talent Acquisition teams, 2021 still holds a great level of uncertainty.
The world of work has been profoundly affected by the COVID-19 crisis and HR had to lead the way as businesses suddenly had to switch to remote work to ensure business continuity. According to Deloitte, protecting workforce health and safety, increasing communications with the workforce and promoting worker well-being were the main areas where HR made an impact during the pandemic.
On the bright side, many organisations and its people reacted to all the disruption with a resilient attitude and proved possible, with the right strategies, to adapt and reinvent. Back in April, Microsoft's CEO Satya Nadellawe stated that they've seen two years' worth of digital transformation in two months, revealing that Teams had reached more than 75 million daily active users.
According to a paper by MIT Technology Review Insights, European organisations that had already invested in digital transformation report that their recovery plans were effective. These "digital leaders" succeeded in absorbing the shock of the pandemic and transition to remote working processes and online commerce with relative ease.
Although no one could have foreseen this global crisis, and many were little prepared, now it's the time to take the lessons learned and turn them into actionable strategies to thrive in 2021.
Here are the top trends to watch according to our panel of HR & Talent Acquisition experts.
Organisational Agility & The Gig Economy
Hung Lee Editor of Leading Industry Newsletter Recruiting Brainfood
Recruiting Brainfood's editor, Hung Lee, shares that "Covid-19 has taught us that we need to increase organisational agility, something which is best achieved through diversifying the composition of the workforce. Plainly speaking, this means hiring less permanent full time employees, and making far greater use of skills and labour which can be supplied on a non-FTE basis - contractors, freelancers, gig workers, 'human cloud', community collaborations and so on."
He goes on to question "do we have the processes, tools, experience and expertise to take on this additional responsibility? Answer for most companies is almost certainly 'no'. Interactions with non-FTE workforce to date generally remains unplanned, ad hoc, owned by individual managers who've had to solve problems themselves. TA - and HR - need to expand their scope beyond the people on payroll to think about this entire talent universe that is available for them to engage. We need to develop the expertise to justify the migration of this responsibility from the line, to our departments. It's going to be a seismic shift."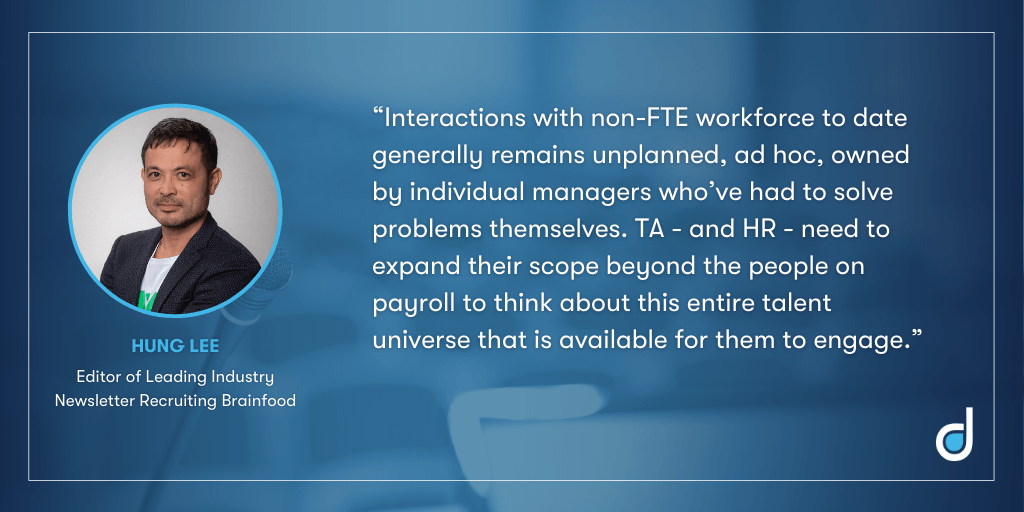 DEI, Candidate Experience and Recruiter-Tailored Tech
Katrina Collier Author: The Robot-Proof Recruiter, Speaker & Facilitator The Searchologist
Regarding what will be the biggest trends in HR and talent acquisition in 2021, author Katrina Collier notes that: "as I predicted for 2020, for those people recruiting people who have skills that are in demand, even in this pandemic, there was a rise in candidates ghosting or disappearing out of the hiring process, I see this continuing into 2021 and beyond.
The bigger issue though will be the impact of poor employee and candidate experience during 2020, which will hamper recruitment efforts in the years ahead. There has been a sharp rise in people either 'at risk' or job seeking that has led to an increase in employee and candidate reviews on sites like Glassdoor, Indeed, Kununu, Comparably, Inhersight, Fairygodboss and many more. How people have been treated during this time will be remembered for years, how have you treated your current, future or past employees?"
On what should companies change in their talent acquisition strategy, the author says that "much of the poor candidate experience is coming from hiring partners who have not been supported by the business or are simply unaware of the impact of their behaviour on current or future talent acquisition. In 2020 there was a shift in focus to the importance of DEI, yet many people in the front line of recruitment have not been supported to make any real impact. My clients have found that facilitation is a great way to uncover what support hiring partners really need to improve both their DEI and candidate experience, and facilitation ensures that they are committed to improving the future of their recruitment because they contributed to the solution. In 2021, help your hiring partners improve so they are not hindering all of your hard work.
(You'll note I called them hiring partners not managers; talent acquisition professionals you are their partners in recruitment, ensure they know it!)"
About how talent acquisition technology can support organisations, Katrina states that "the companies that benefit the most from TA technology are the ones that implement tech that has been built by recruiters or with their direct input, and that is proven to save time, money and frustration for recruiters, candidates and hiring partners. Rather than jumping to purchase the latest tech because it's on trend or accepting the technology that the IT or HR departments think is best for talent acquisition (even though they have never recruited) it's better that companies listen to their recruiters to ensure that the TA technology will assist in bringing in the right people to the organisation to help it succeed, because ultimately the people your company hires decides its fate."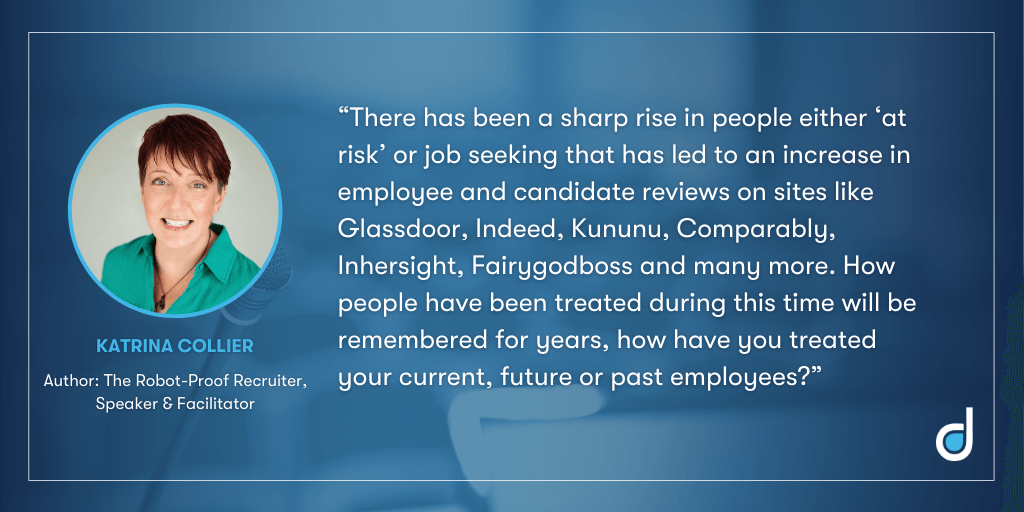 Hiring for Soft Skills & Personality and Eliminating Bias & Discrimination
Bas van de Haterd Recruitment Improver Van de Haterd Consultancy
Sharing his take on what will impact recruitment in 2021, recruitment improver Bas van de Haterd starts by noting that this is "the perfect storm to make a fundamental change in recruitment."
The recruitment expert then continues: "never waste a good crisis, Winston Churchill said, and in 2020 we had the perfect storm of crises that will shape the future of recruitment. One was the pandemic and the other was the uprising of the Black Lives Matter movement. The combination of these crises too will shape recruitment for the decades to come.
The pandemic will have several influences on recruitment. For one, the number of applicants will significantly increase, no matter where you are. Although the numbers will differ from country to country depending on your government's economic response to the pandemic, applicant numbers will likely be too much to handle. Next to that, work from home has proven to work and will become work from anywhere. For many organizations this will mean you can recruit for remote all over the world. Now all you need to do is know the quality of every university all over the world. This calls for a selection based on skills, personality and things that matter.
Now take the second crisis, the systematic racism that has been rampant in the world for ages. It's not just the USA, academic research actually shows the US labour market discriminates less against all kind of minorities than Western Europe, for a large part because they acknowledge that fact and have laws in place that try to address the issue. I expect more and stricter laws against labour market discrimination in Europe as well to come into effect in 2021.
The combination of this means 2021 is the year organizations will start looking at actual skills, traits, personalities and things that matter, rather than cv's and cover letters that are as good as the person reading them is, and that person by definition is biassed as that person is human. In 2021 we will start using pre-selection screening technology to look at talents. Because of the massive amounts of applicants, because we are hiring internationally and we know little about those regions and because the law will tell us we need to select more fairly."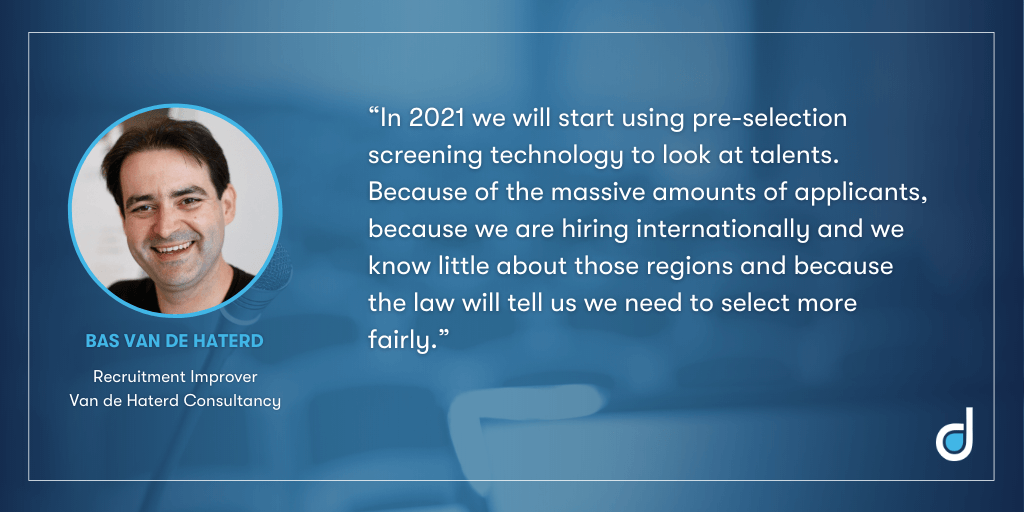 Skills and Potential Versus Credentials
Jeanne Achille Conference Chair, Spring 2021 HR Technology Conference & Exposition
On what will be the biggest trends in HR and talent acquisition in 2021, HR tech expert Jeanne Achille says "one thing for certain, there will be a great deal of pent-up demand in 2021: the need to recruit qualified talent for open roles; the need to assure employees that the workplace is safe; and, the need to reimagine the go-forward business strategies that were disrupted by COVID-19. HR and talent acquisition will play key roles during this transformative time that cannot possibly return us to the past but must, instead, prepare us for the future."
As to what should companies change in their talent acquisition strategy, Jeanne states that "credentials will become less important as non-traditional education and work experiences continue to cultivate the unique skills needed to support digital acceleration. It's time for recruiters to train hiring managers to look at a candidate's breadth of skills and potential versus years of service for a competitor. Plus, by breaking down old beliefs that everyone needs a degree from a prominent university or stint at a big-brand consulting firm, we'll be increasing opportunities for diverse candidates."
About how talent acquisition technology can support organisations, Jeanne notes that "there's never been so many options in the talent acquisition tech category – we've moved well beyond the ATS and a few basic recruiting tools. Rather than to focus exclusively on the technology, organizations need to become more aware of how technology advances their requirements and addresses shortcomings so they can continually improve recruiting outcomes. My recommendations for 2021 include looking closely at the ISO human capital reporting requirements; deepening engagement across talent pools; and committing fully to fostering an inclusive culture."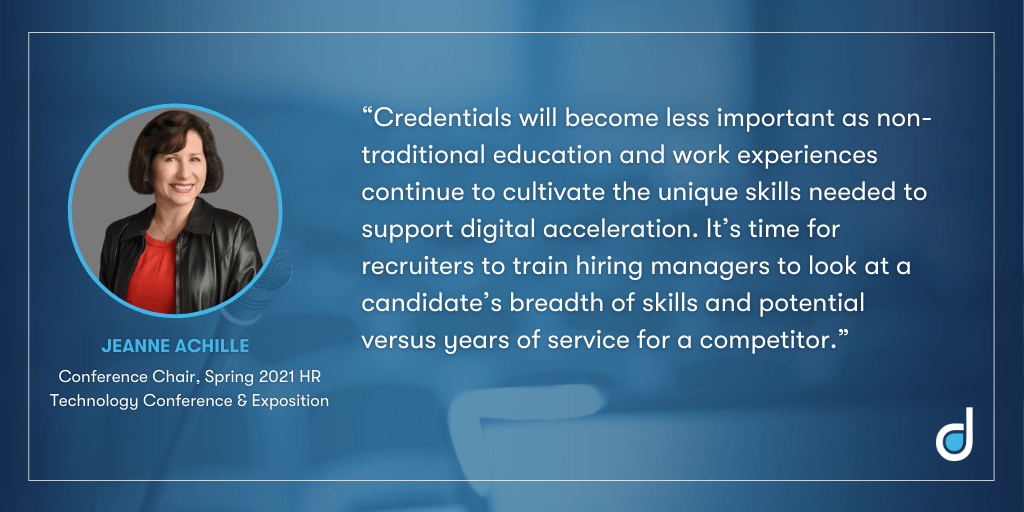 "Anti-Fragile" Personalities in High Demand
Tom Haak Director, HR Trend Institute
HR Trend Institute Director, Tom Haak, shares his view on one of the most important elements in candidate selection: personality.
"In November 2020 I published my annual prediction of important HR trends for the coming year: '11 HR trends to take into account for 2021'. Most of these trends are relevant for talent acquisition, but one in particular: the search for the antifragile personality.
One of my favorite authors is Nassim Nicholas Taleb. In 2012 his book 'Antifragile' was published. He explains the concept anti-fragility as follows: 'some things benefit from shocks; they thrive and grow when exposed to volatility, randomness, disorder, and stressors and love adventure, risk, and uncertainty. Yet, in spite of the ubiquity of the phenomenon, there is no word for the exact opposite of fragile. Let us call it 'antifragile'.
Personality has become a more important element in selection in the last years. Learning agility for example is a personality trait that organizations like people to have. During the COVID-19 crisis we heard a lot about resilience: how can organizations and the people in organizations bounce back? Anti-fragility is a stronger concept: how can you bounce back on a higher level? The concept needs more scientific basis and reliable tests will have to be developed, but clearly 'anti-fragile' personalities will be in high demand."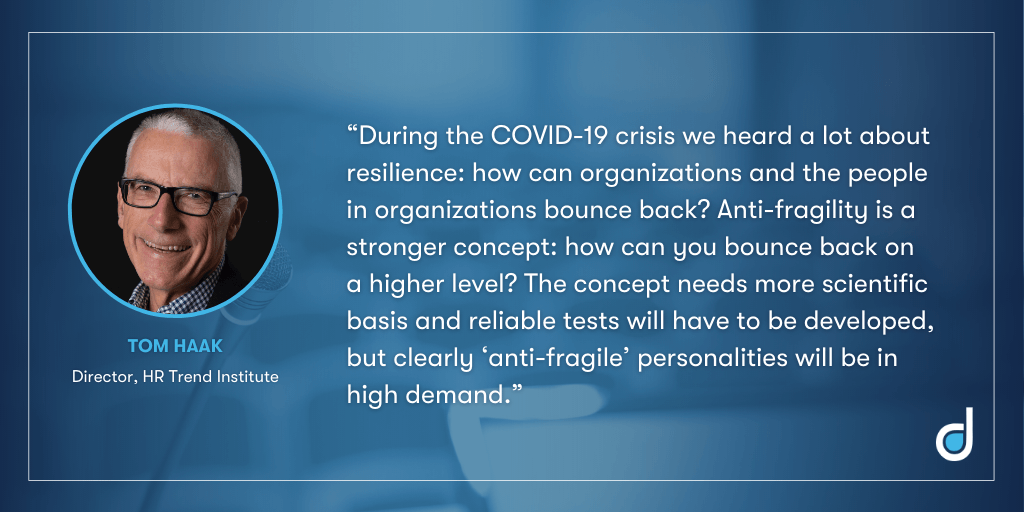 Remote Work, Candidate Experience & Virtual Recruitment
Dorothy Dalton CEO 3Plus International HR Consultant (CIPD), certified Coach (Cognitive Behaviour Coaching) and Trainer including distance learning
Questioned on what will be the biggest trends in HR and talent acquisition in 2021, HR expert Dorothy Dalton says that "remote working is going to be with us in the foreseeable future and I am not sure it will ever go away as organisations move towards hybrid structures. The downside will be that many managers are still not fully trained in running distributed teams so part of their hiring strategies will be identifying candidates who will have the capacity to adapt and work successfully as part of a remote team. Organisations which don't get this right will be held accountable and suffer reputation damage longer term."
Regarding what companies should change in their talent acquisition strategy, Dorothy shares that "as we move even more quickly towards a two-tier workforce we will see an increase in gig workers. Following the pandemic organisations will now need to shift their mindsets and move away from biases around career gaps and short terms of employment. The phrase 'job hopper' should be trashed. The latter I fear, maybe a wish on my part.
Candidate experience should become a major focus as candidates talk openly about negative experiences, poor or no communication and drawn-out processes with no feedback even for those who made it to the final stage of a process."
On how talent acquisition technology can support organisations, the expert points out that "with most geographies on some sort of lockdown or remote working, most elements of the talent acquisition process will become virtual. Zoom interviewing will be the norm and we will see a move towards automated interviews. ATS with inbuilt standard communication tools should be a priority."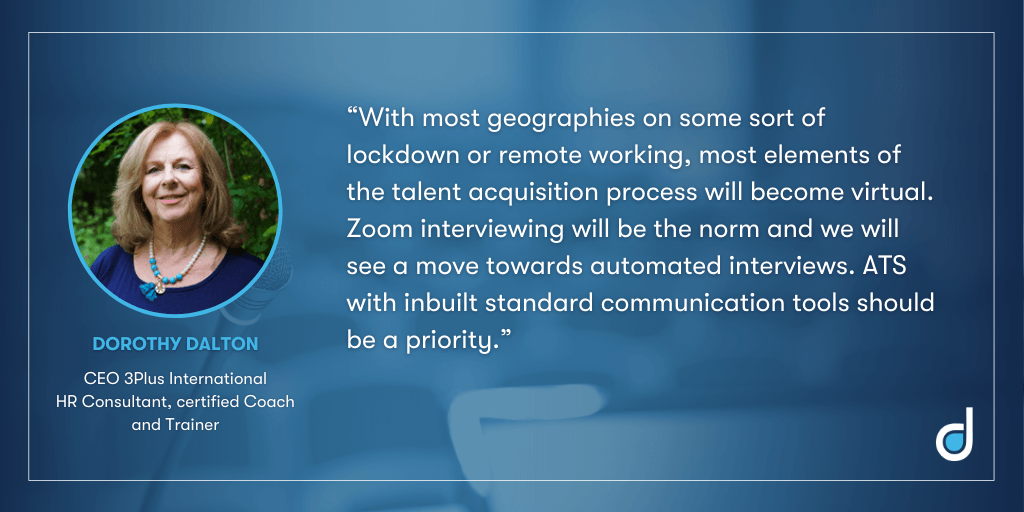 Emphasizing on Behavioral Skills, Ending Micro-Management and Putting the H Back in Human
Virginie Stevens Founding Partner Pétillances Red Cross Care Manager
Regarding the trends in HR and talent acquisition for this year, Pétillances' founder Virginie Stevens says that "2021 will see, in my opinion, the strengthening of two major trends that had until then been considered contradictory: the decentralization of work reinforced by the COVID tsunami and the emphasis on behavioral skills promoting the psychosocial balance of employees. In other words, companies will have no other choice but to put truly at the center of their strategic approach human, respectful and balanced leadership, which will prove to be key to supporting the remote work of employees called upon to more autonomy and reporting."
In terms of what companies should change in their talent acquisition strategy, Virginie points that "employees can only be attracted and professionally retained by entities that are aware of the psychosocial impact of their HR strategy. There is no longer any question of touting humanist marketing, but rather of providing employees with an environment that is a source of recognition, consistent, open to more autonomy and more creativity, empathetic and concerned about their mental and physical health.
2021 should spell the end of unsuitable micro-management to favor a more adult relationship with team management. Companies must offer a real path of well-treatment and development, not only to high-potential employees, but to all employees, whatever their profile. This will involve strengthening the areas of action of HR Business Partners, who will have to broaden their range of skills to meet both the requirements of the field while raising the awareness of their interlocutors to the humanistic accountability of each."
As for how technology can support companies, Virginie states that "any technological support for talent acquisition should ensure an intuitive approach to information processing by ensuring a common sense interface between its users, whether they are internal or external to the company. It must undoubtedly allow the attractiveness of future employees by saving time and energy, especially in terms of presence on social networks."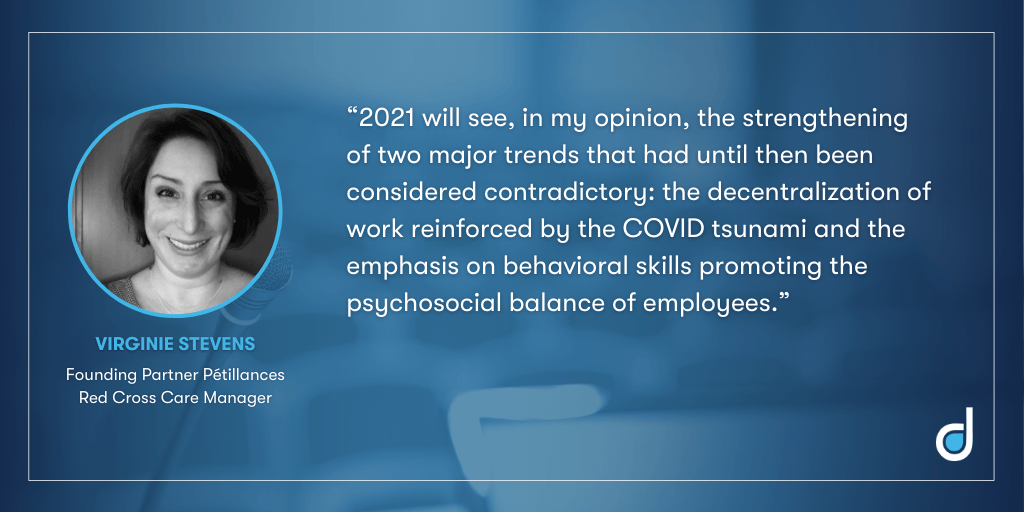 Artificial Intelligence, Automation and Talent Relationship Management
Nicolas Speeckaert Founder & Managing Partner at skeeled
To the question of what trends in HR and talent acquisition we will see in 2021, skeeled Co-Founder Nicolas Speeckaert answers that "first, companies will have at their disposal immense amounts of data in order to make better hiring decisions and remove the gut feeling out of recruitment.
Second, AI will be so powerful that the principle of searching within databases will be long gone and, therefore, building Talent Pools will be more relevant than ever. The AI will be doing in mili-seconds what humans will take days/weeks to do.
Third, the principle of adaptive candidate journey. Independently of the way a candidate has applied (direct application, conversational application, sourcing), the AI will be able to adapt the candidate journey according to the information candidates are providing and make sure the experience for the candidate is exceptional during the entire process."
Regarding what must be changed in terms of talent acquisition strategy, the TA expert states that "companies need to focus on building a true competitive advantage for attracting and hiring the best talent. For this, it is necessary to optimise two very important dimensions of the recruitment process: the candidate's experience and the selection process. Today, both of these aspects can be enhanced by technology."
On how technology can support those changes, Nicolas believes that "the right TA technology can enable a faster and more effective hiring process. Example: you need very specific criteria (that is critical for the job), then the system will decide to move forward with certain steps without waiting for a human to review the application. Aligned with this, whenever a candidate receives a very high score from the AI, an alert is triggered letting the recruitment team know they should give priority to this very specific application.
The word talent is very hot and the fact that amazing candidates are not staying more than a few days on the market means that you have to raise the level of speed regarding those applications in order to secure top performing candidates while, at the same time, providing them with an outstanding recruitment experience."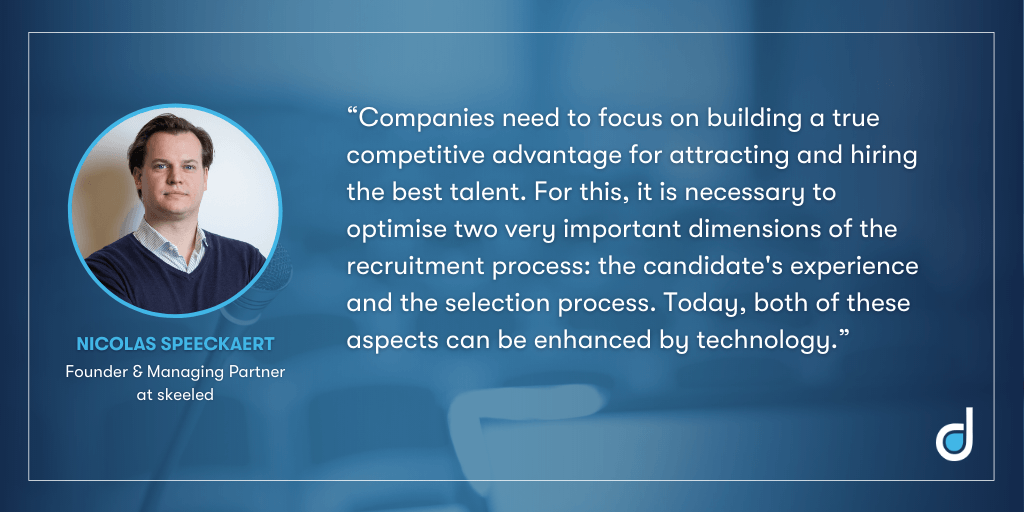 Concluding Thoughts
The coronavirus crisis definitely forced companies all over the world to change their ways of working and to change their priorities putting employee well-being first.
As that led to many developments, from digital adoption to new human relations & processes, our experts' predictions naturally include trends related to various topics ranging from the candidate experience and talent relationship management to soft skills & personality assessment, remote work, TA technology and AI.
In these times of great uncertainty, it's pretty clear that agility, resilience and strategy combined are key for companies to face challenges and succeed.

Skeeled offers you the perfect opportunity to bring innovation and digitalisation to your hiring. Check our website or our LinkedIn, Twitter and Facebook pages for further information.
Thanks for reading and see you next time!
Your team here at skeeled