Pre-employment assessments provide companies with predictive accuracy in their hiring processes allowing to assess candidates beyond their past experience or education by measuring their aptitude, fit or potential with scientifically validated and reliable tests, enabling data-driven hiring decisions. In today's world, soft skills and personality are what makes people thrive in a role. Hence, skeeled partnered with AssessFirst to help recruiters and hiring managers to get a holistic view of their candidates by assessing their personality, their motivation and their level of mental agility.
This new bundle of pre-hire tests by AssessFirst consists of a personality test called Shape, a motivations test called Drive and a reasoning test called Brain. Recruiters can choose for each job to use only one type of test or make any combination of the three of them. However, in accordance with the position they're hiring for, the skeeled software suggests the tests that are more relevant to predict the ability of a candidate to succeed and thrive in that position. Additionally, each pre-employment test can be part of a job's initial application stage or be assigned to candidates at a later stage as a post-application step.
Check our "how-to" tutorial to see how easy it is to use skeeled's new pre-employment tests:
1 - To set up a job publication with AssessFirst pre-employment assessments, go to "__Jobs__" on the side menu and then either create a new job or choose an existing one.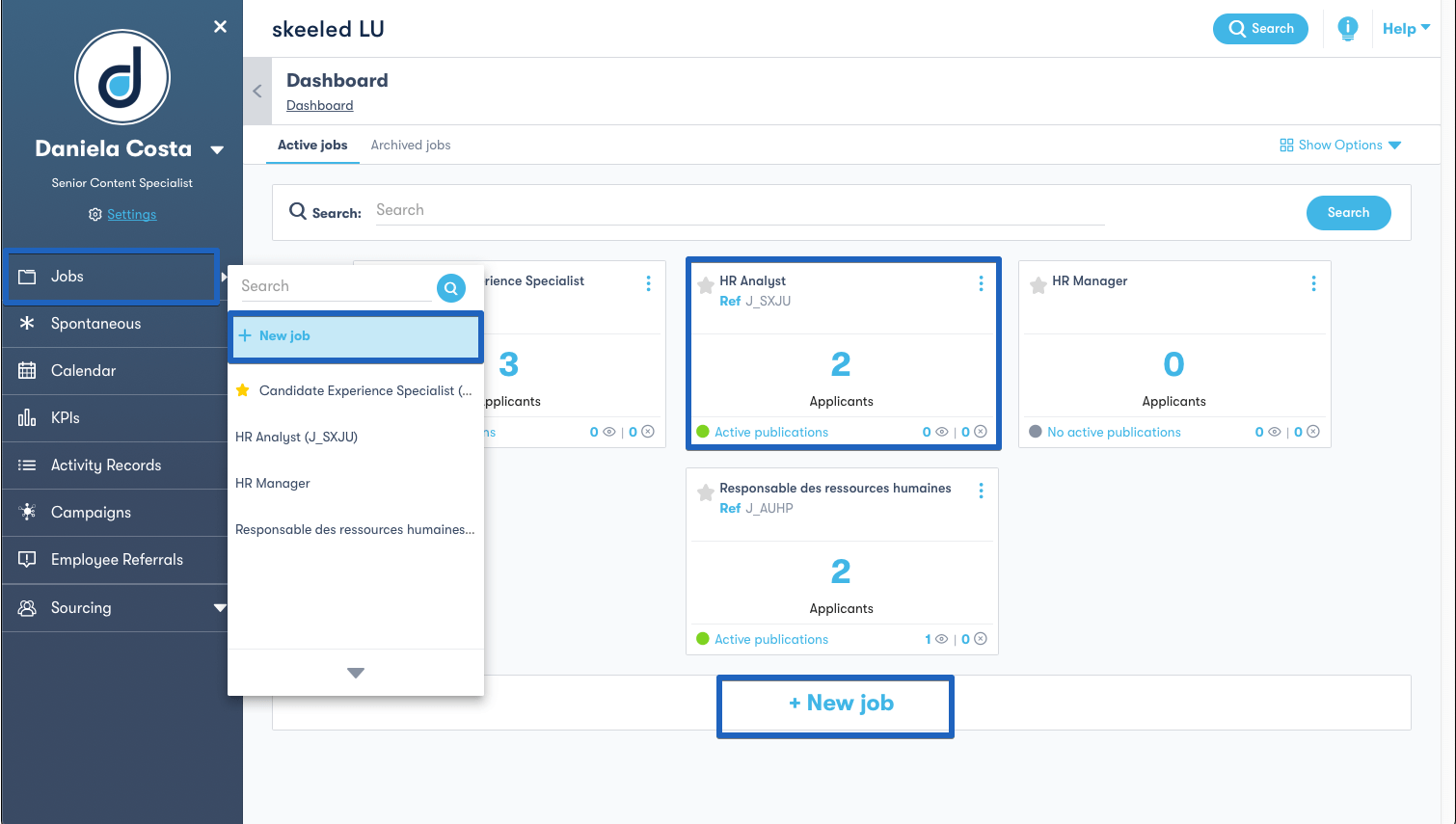 2 - When you are setting up a new job, notice that on the new job form there's a section called "Predictive model__". Each Predictive Model is made up of a combination of criteria for personality, motivations, and reasoning, to help predict the candidates' ability to succeed and thrive in a given position, in a particular business. To make sure this prediction is as accurate as possible, pay attention and __choose carefully the business domain associated with the position.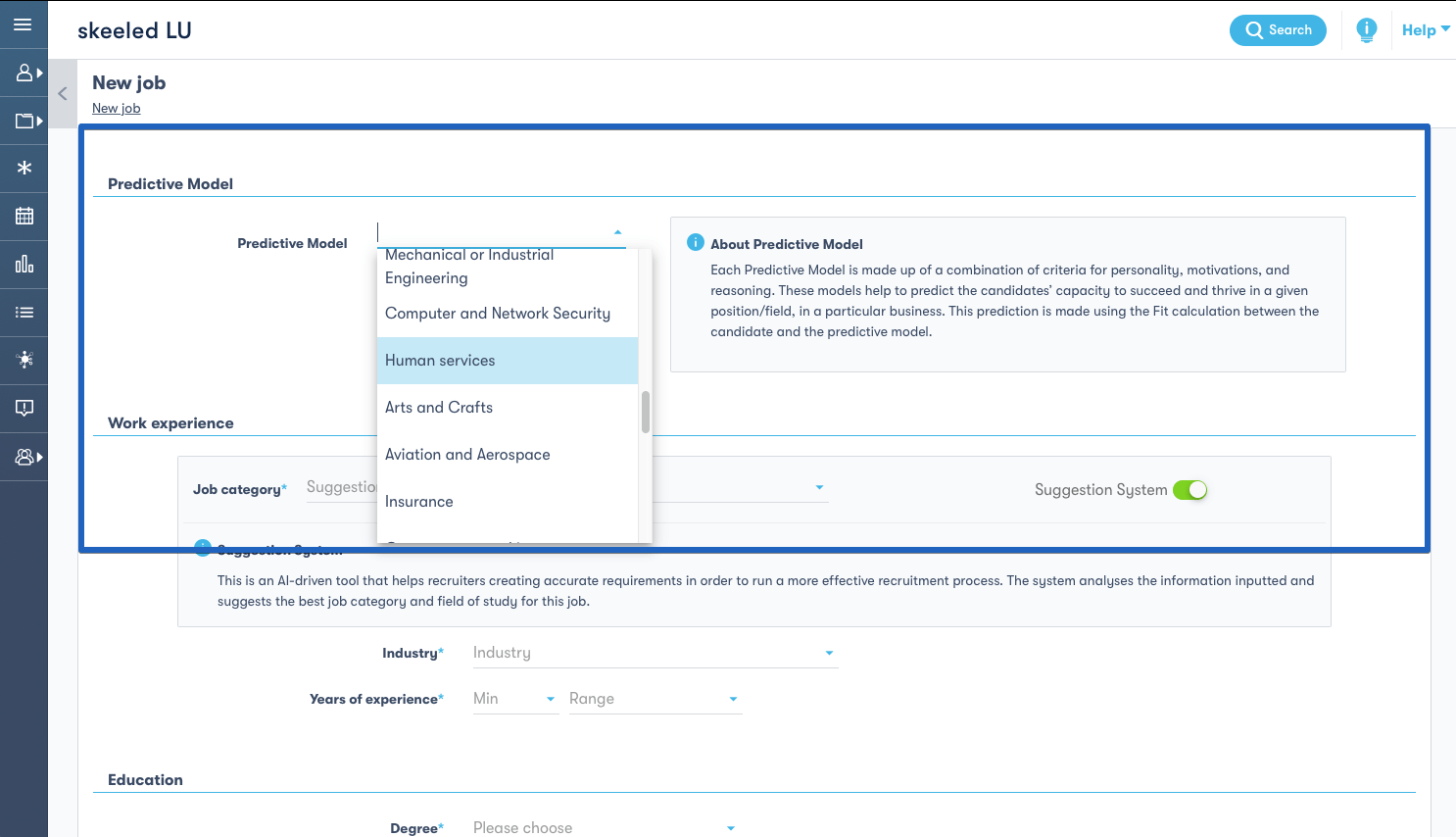 3 - According to the predictive model you select, the software tells you which assessments are relevant to help you decide which to use.

4 - Once you've created or chosen a job, click on the "Publications__" tab on the upper right corner of the screen. Then, click on "__Add new publication__" and do the necessary configurations. You can check our "__How to create jobs and publications" tutorial, in case you need help with that step.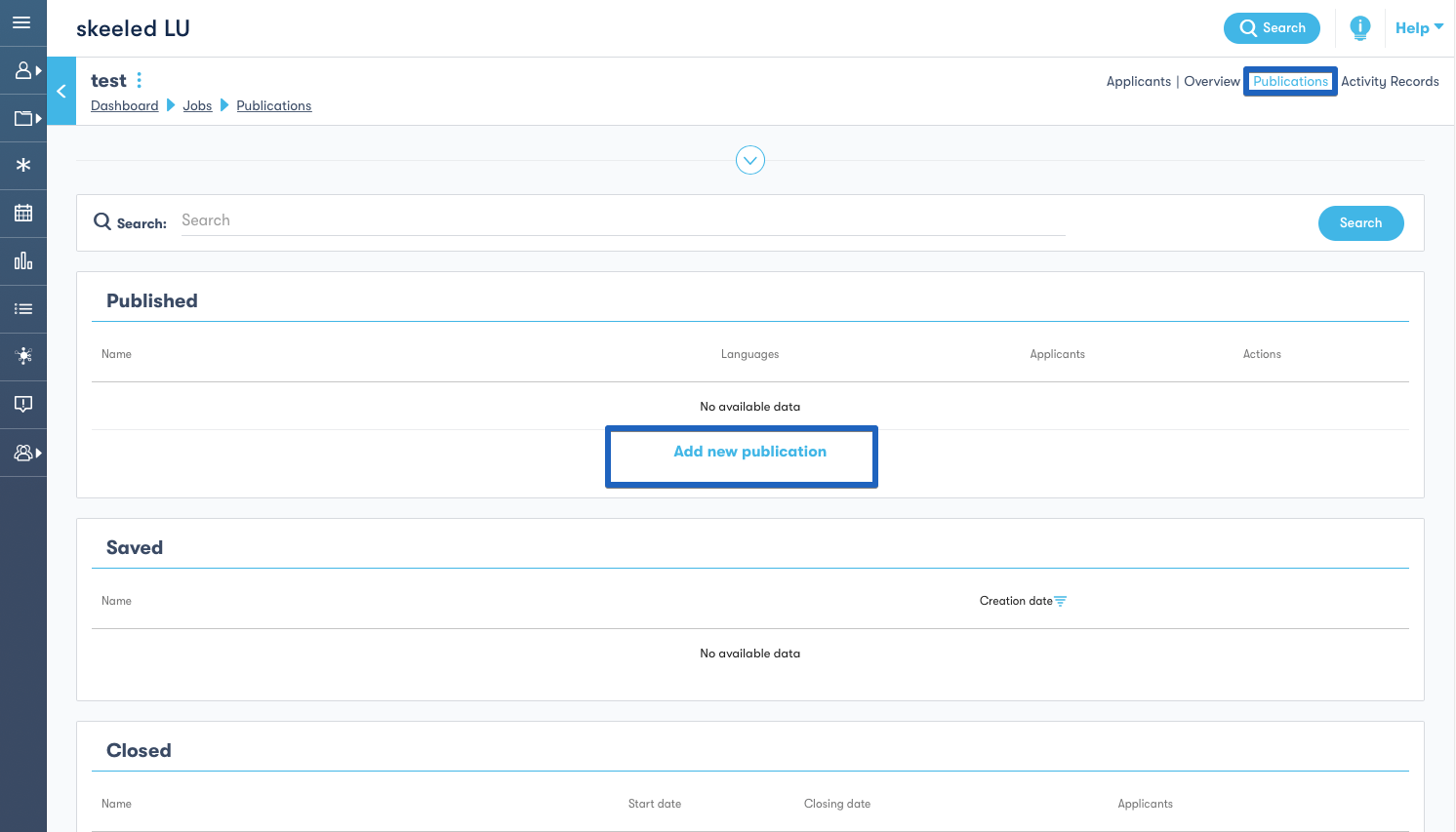 5 - Once you get on the "Details__" page, you'll see the __Steps section where you can add the assessments you wish to use for this job. Each time you select a test, a brief explanation of the assessment is displayed so that you can make sure you're selecting the right questionnaire.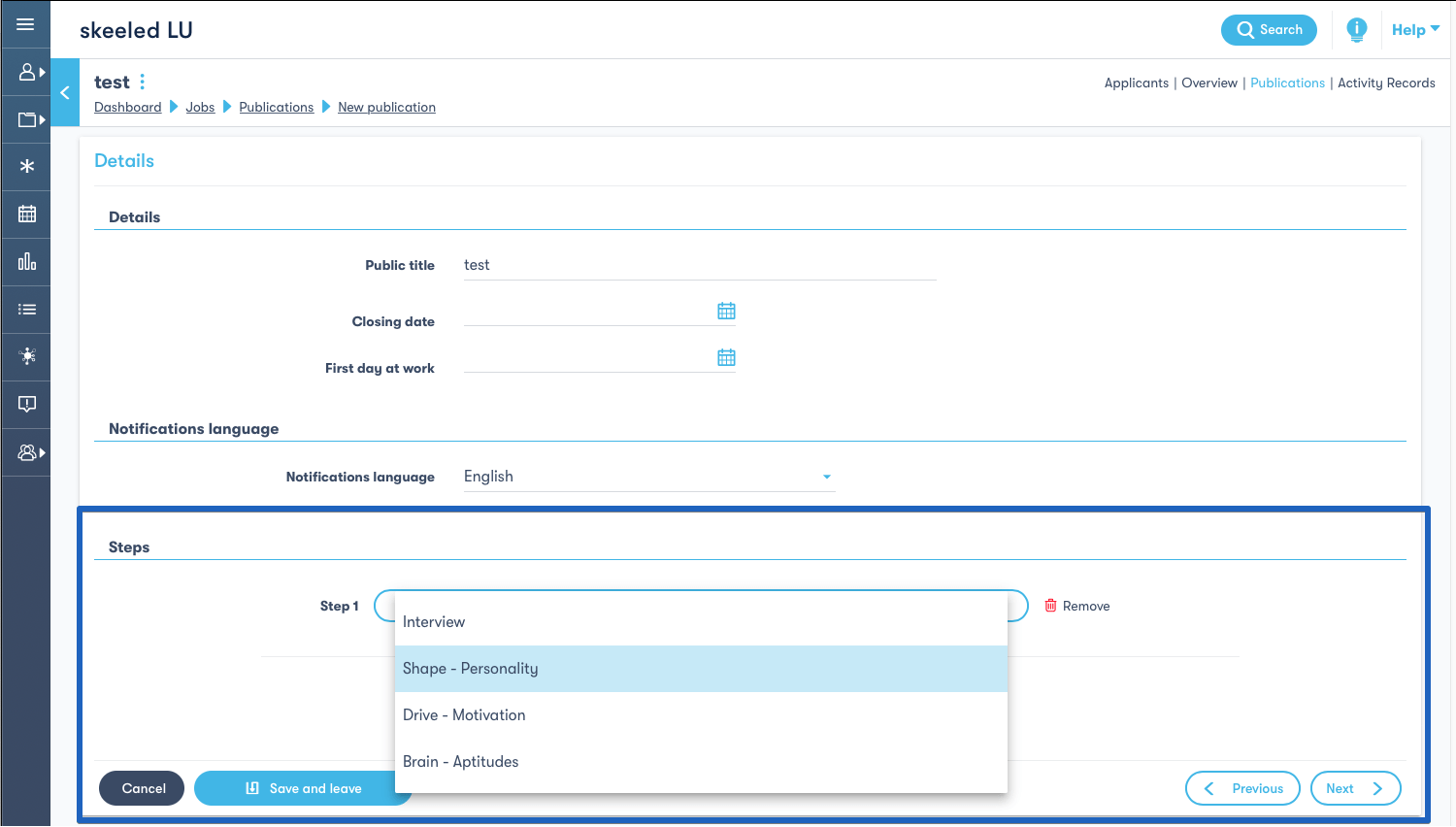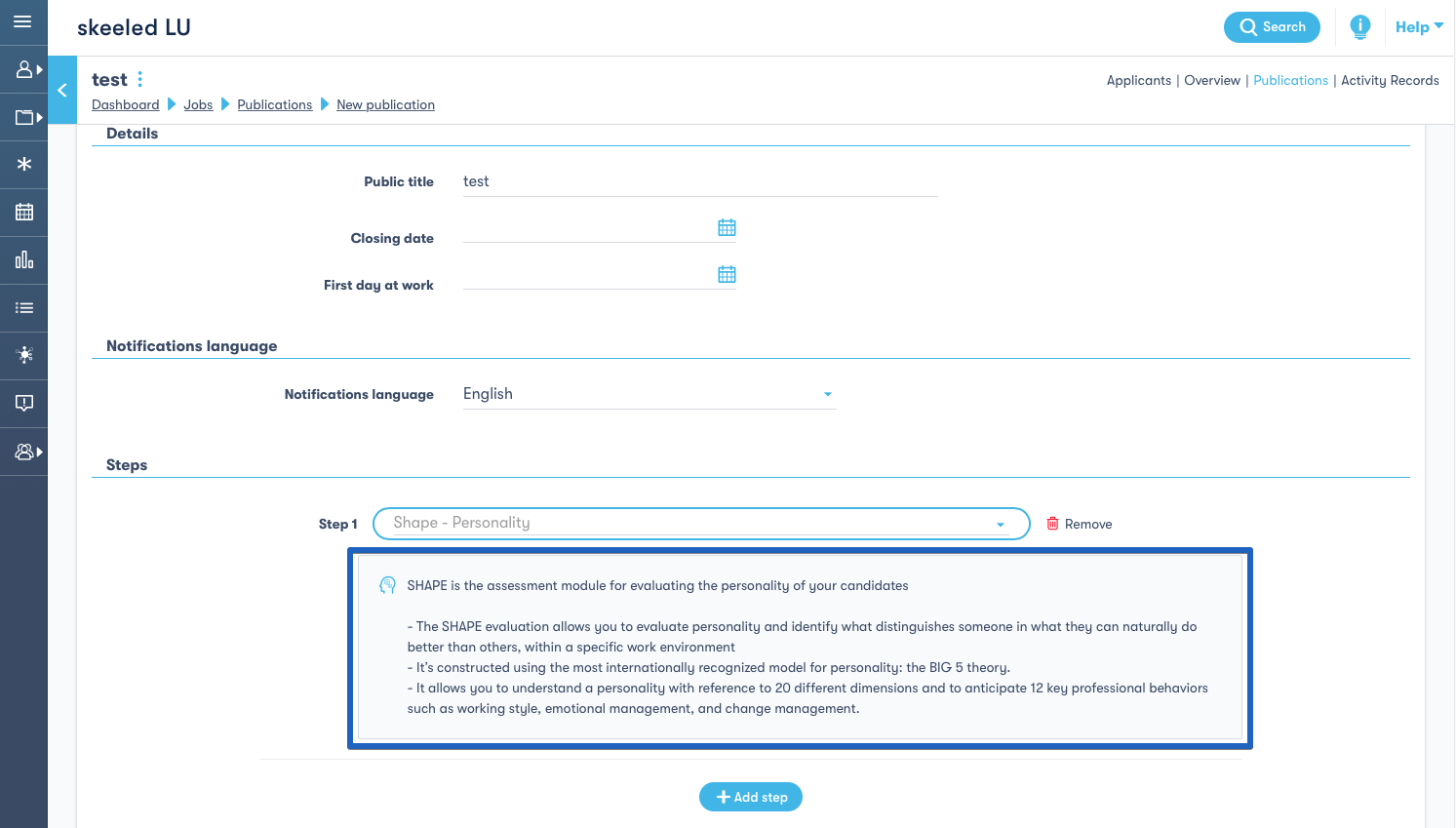 6 - Candidates that apply for this job publication will receive an invitation by email to complete the assessments online. Once they finish the application process, they'll appear on the job and the results of the assessments will be available on their profile. Just click on a candidate's name and check the assessments section.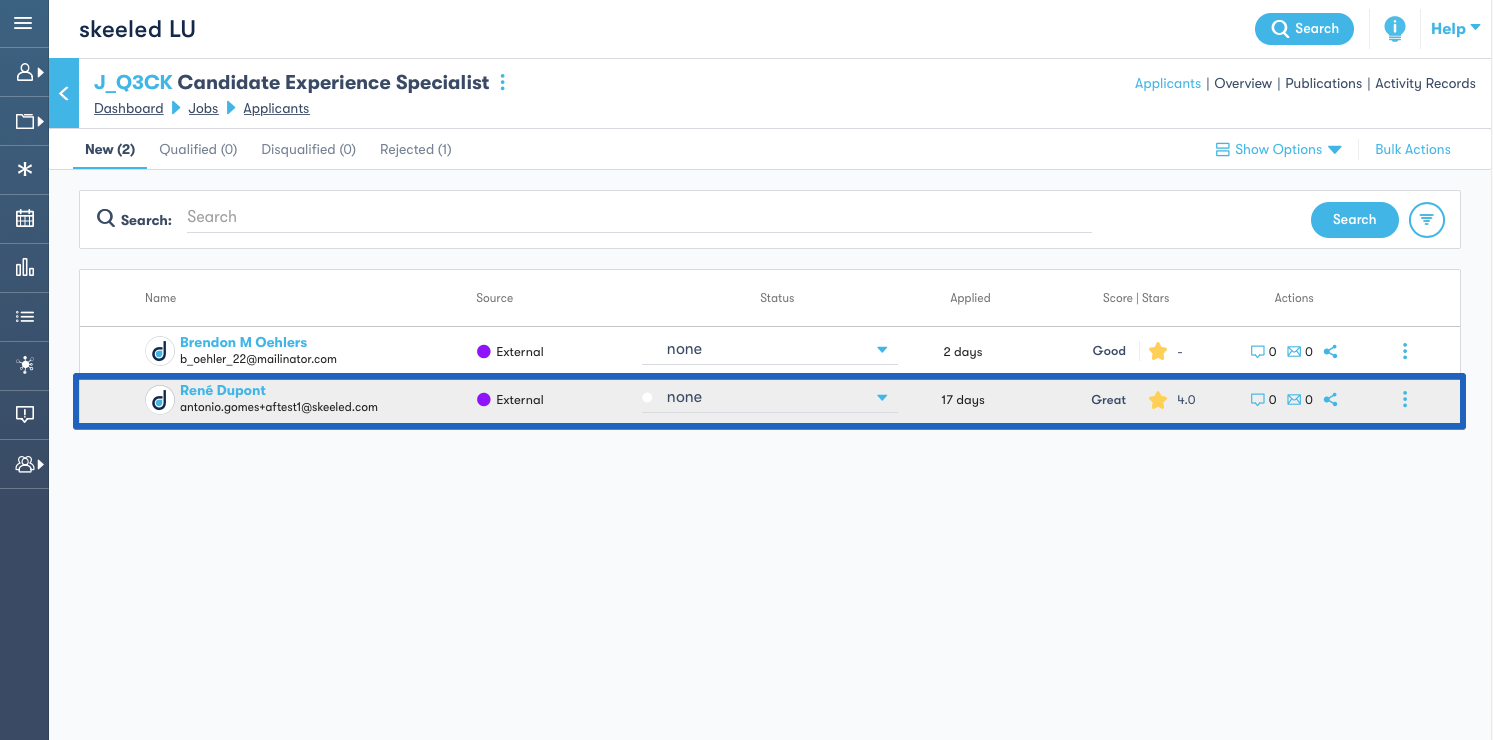 7 - In this case, we see the general score obtained by a candidate that responded to the personality and motivations assessments, and below we can also check each test's adequacy score for the position.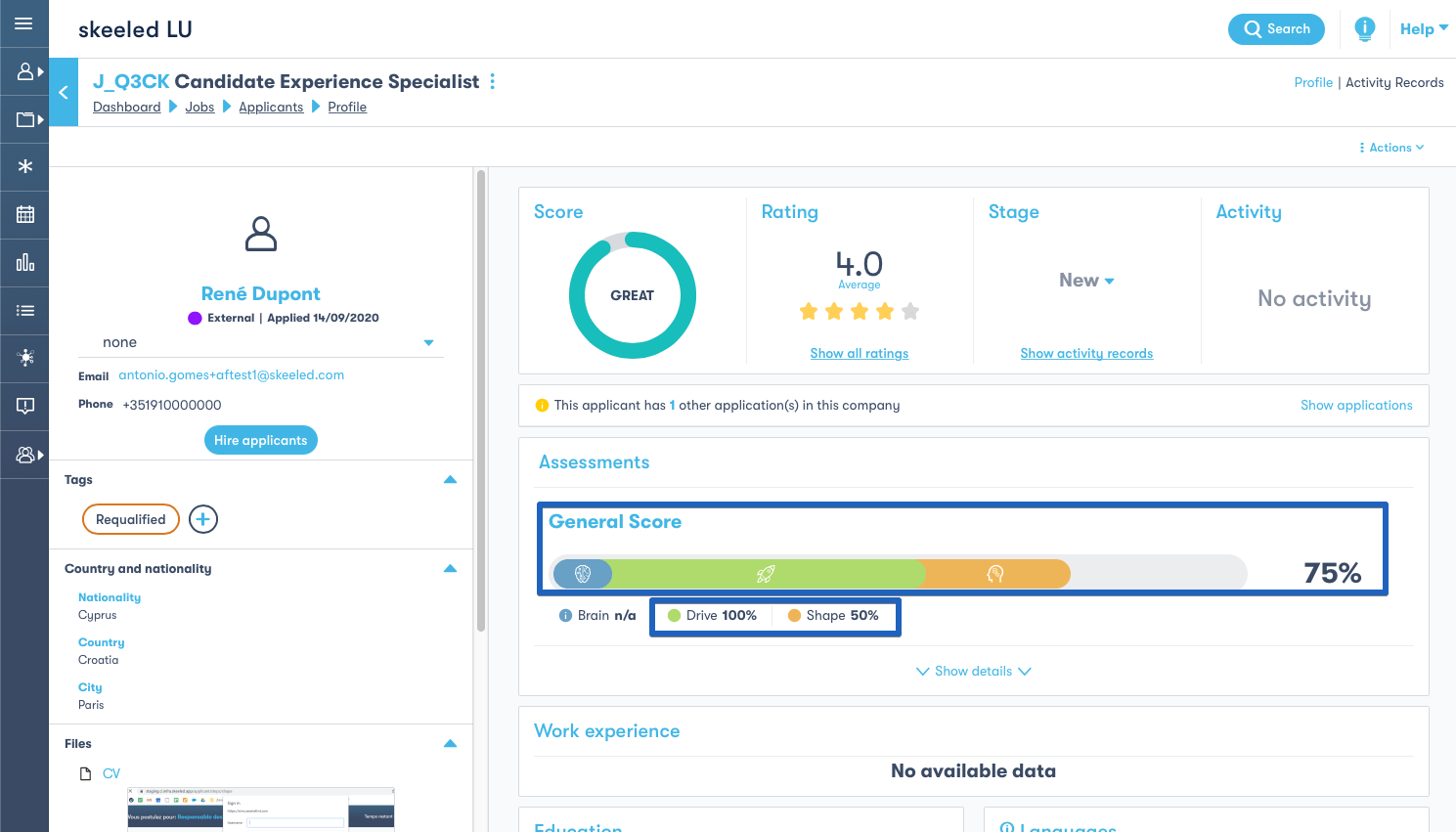 8 - For more insight, click on "__Show details__". Here, you are provided with a summary of each test's results and you can click on "__View full report__" to read the complete evaluation. The reports are available in 5 different languages and they can be downloaded if you wish.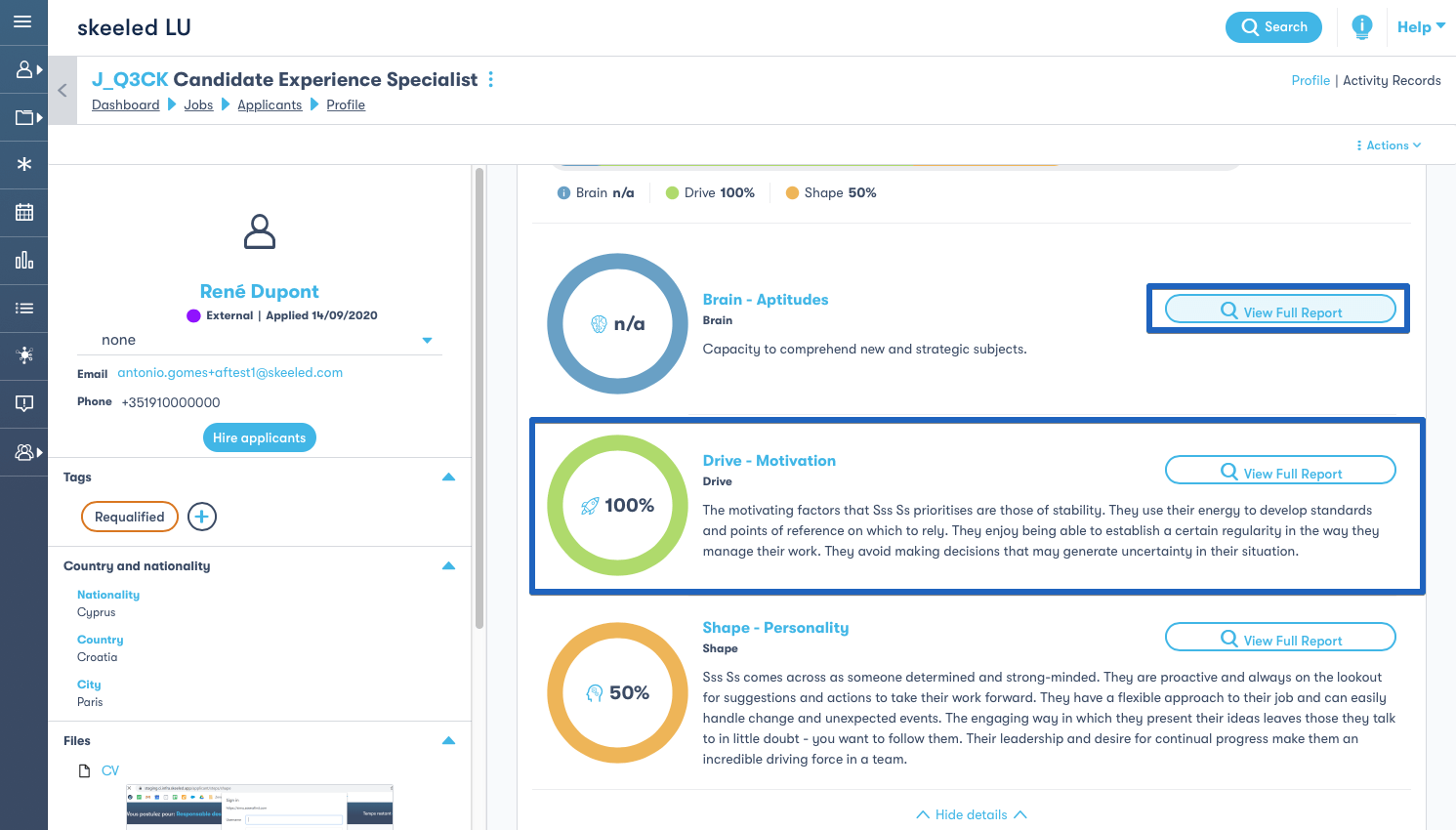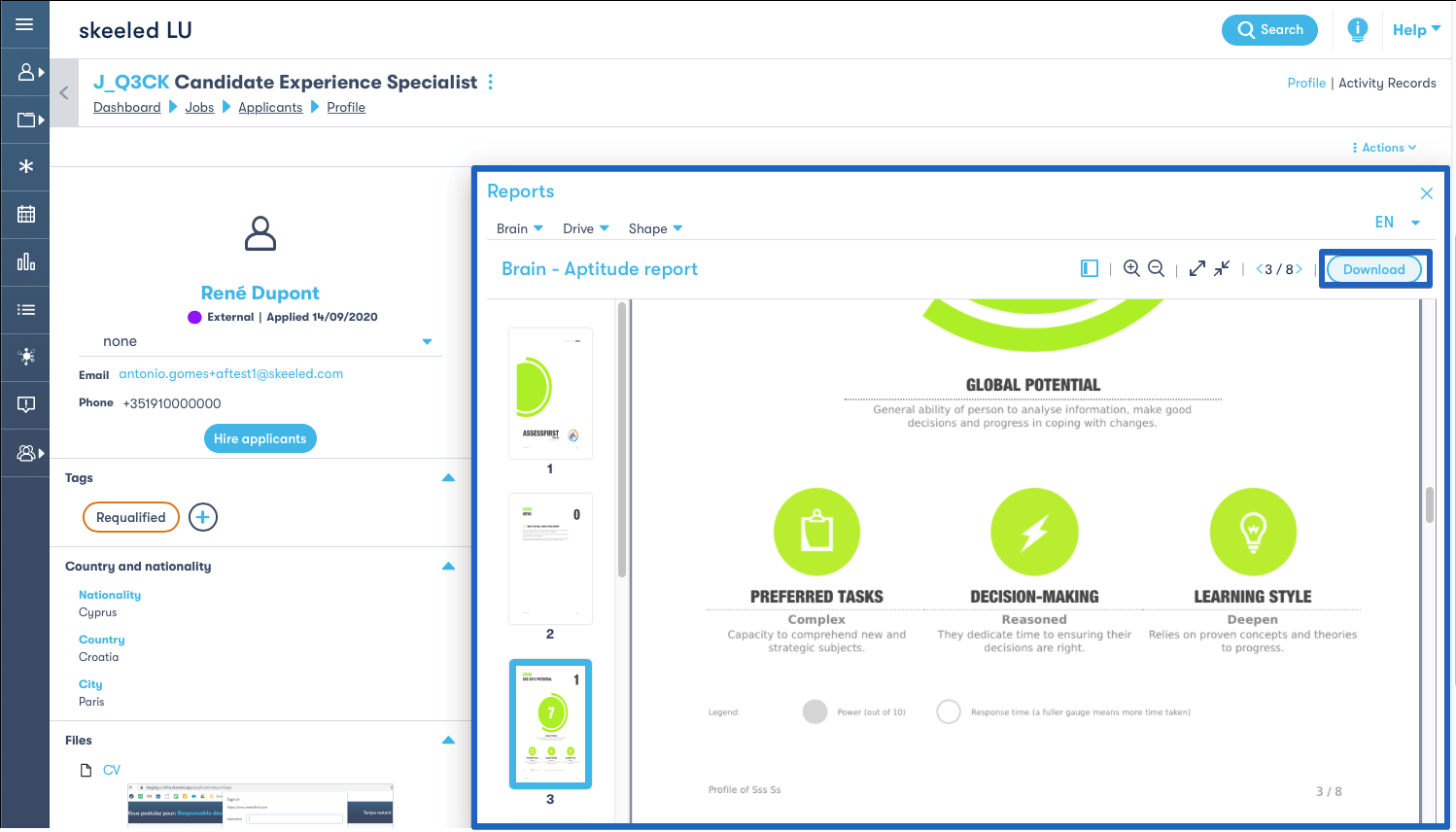 10 - You can also request a candidate to do an assessment as an additional application step. To do so, just click on "__Actions__" and select "__Request application steps__". Then, click "__Add step__", choose the assessment and click "__Execute__".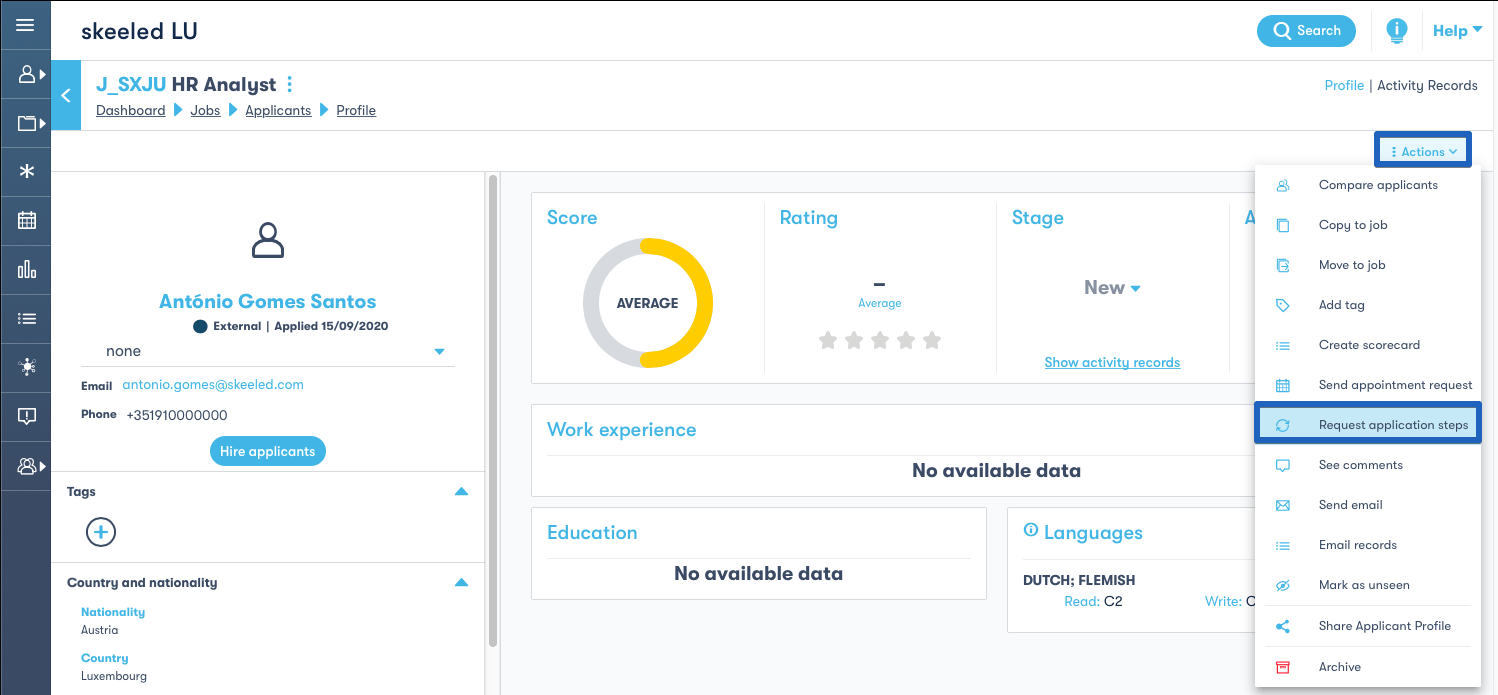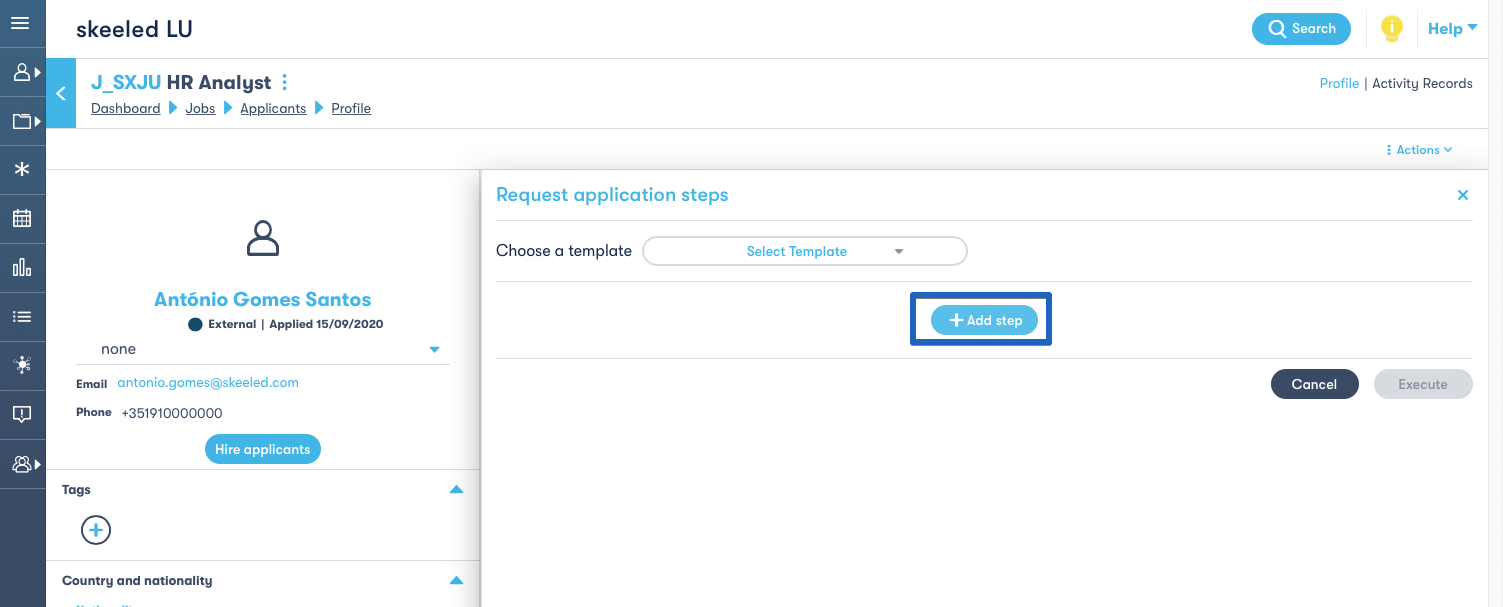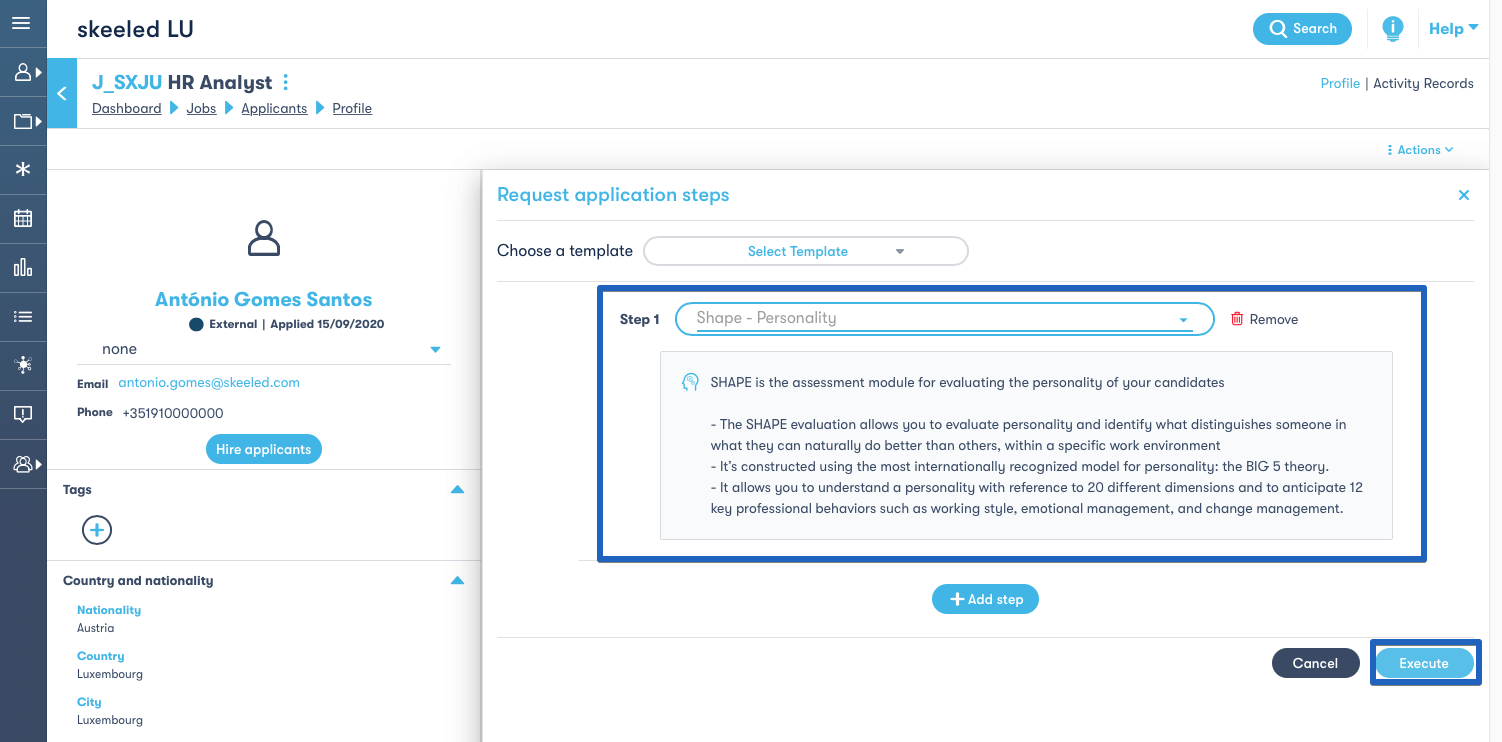 11 - Like for the previous assessments, the candidate will receive an email inviting him to complete the questionnaire online on the AssessFirst platform. Once he completes the new assessment, you'll have access to the new evaluation report on his profile.
Click on the image to watch the video tutorial on YouTube: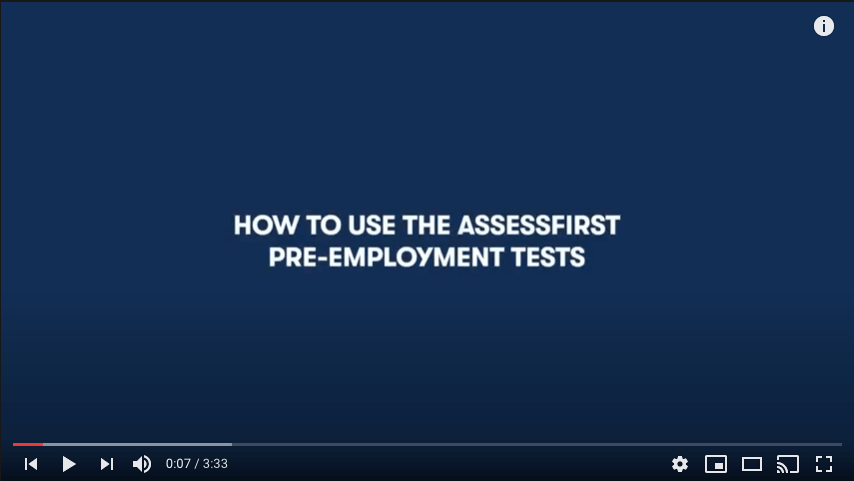 Skeeled offers you the perfect opportunity to bring innovation and digitalisation to your hiring. Check our website or our LinkedIn, Twitter and Facebook pages for further information.
Thanks for reading and see you next time!
Your team here at skeeled