Creating and posting a new job can be a repetitive, time-consuming recruitment task if you keep your team doing it in the traditional way. Recruiters receive job specifications from you, the hiring manager, they post the vacancy on the company website and then they repeat the process over and over again to have that same job distributed across multiple job boards. However, skeeled allows posting and sharing jobs in a much easier and faster manner.
By using our recruiting software to streamline and digitalise your company's recruitment process you are able to organise your team efforts in a more efficient way. Manual tasks like job posting get done quickly and with fewer mistakes, given that each job only needs to be created once on our platform and then it can be automatically shared across multiple job boards.
With skeeled, you can create a new job within minutes. Just a few clicks and it's good to go. On today's "how to skeeled" article I'll show you in detail how you and your team can easily create jobs on skeeled and save time that you should be using on more relevant tasks.
How to Add a Job on skeeled, Step-by-Step:
Click on Add job on the menu or on the dashboard, on the Add job card:
On the New Job form the first setting you need to fill in is the Job language(s):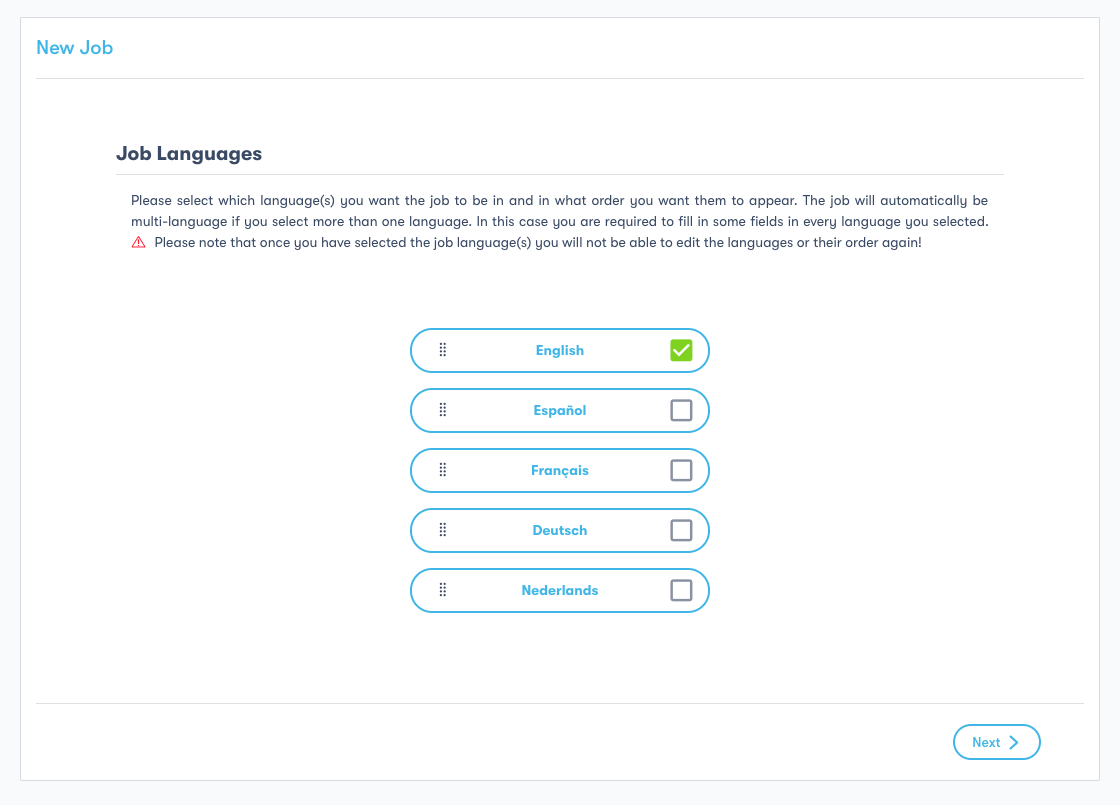 Our platform allows creating jobs in five different languages. You can also create multi-language jobs, instead of creating the same job more than once to have it in different languages.
In this case, you can re-order the selected languages. The job's default language will be the one you put on top.
The next step is to fill in the job's General Information, such as the Job Title, Country, Time Zone, etc:
Then the skeeled software allows you to specify which languages are Required and which are Optional Languages: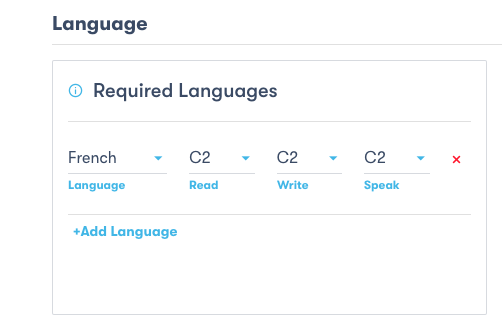 Next, choose the Steps you'll use in this recruitment process (CV + Personality, CV + Video interview or CV + Personality + Video Interview). This is a setting that can be different for each position you create and you can set it according to your needs.
To add or remove a step, use simple drag and drop actions:

Next, on the CV section select the Employment Type, the Industry and enter other contract-related information (not mandatory):

Then, set the Personality Test Job Type which will define the analysis of the test-taker results in order to ensure that the evaluation of the candidates' fitness to the job is accurate, and add the Video Interview Questions and the time limit to answer each one: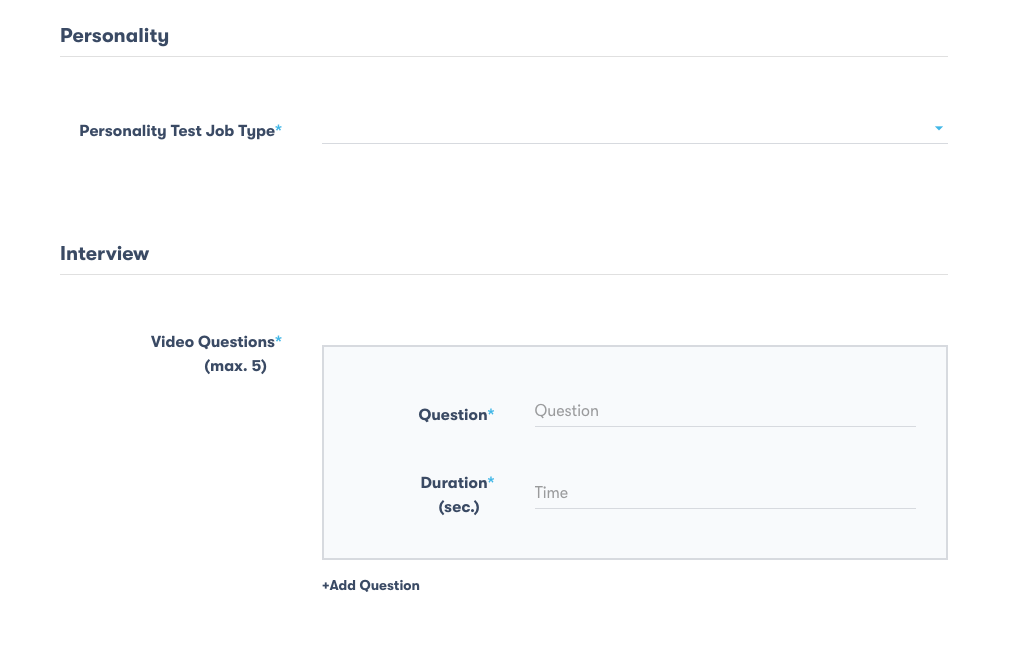 Afterwards, come the Job Details. Fill in the job Description, the Responsibilities, the Must have and Nice to have Requirements, and tell candidates what you Offer: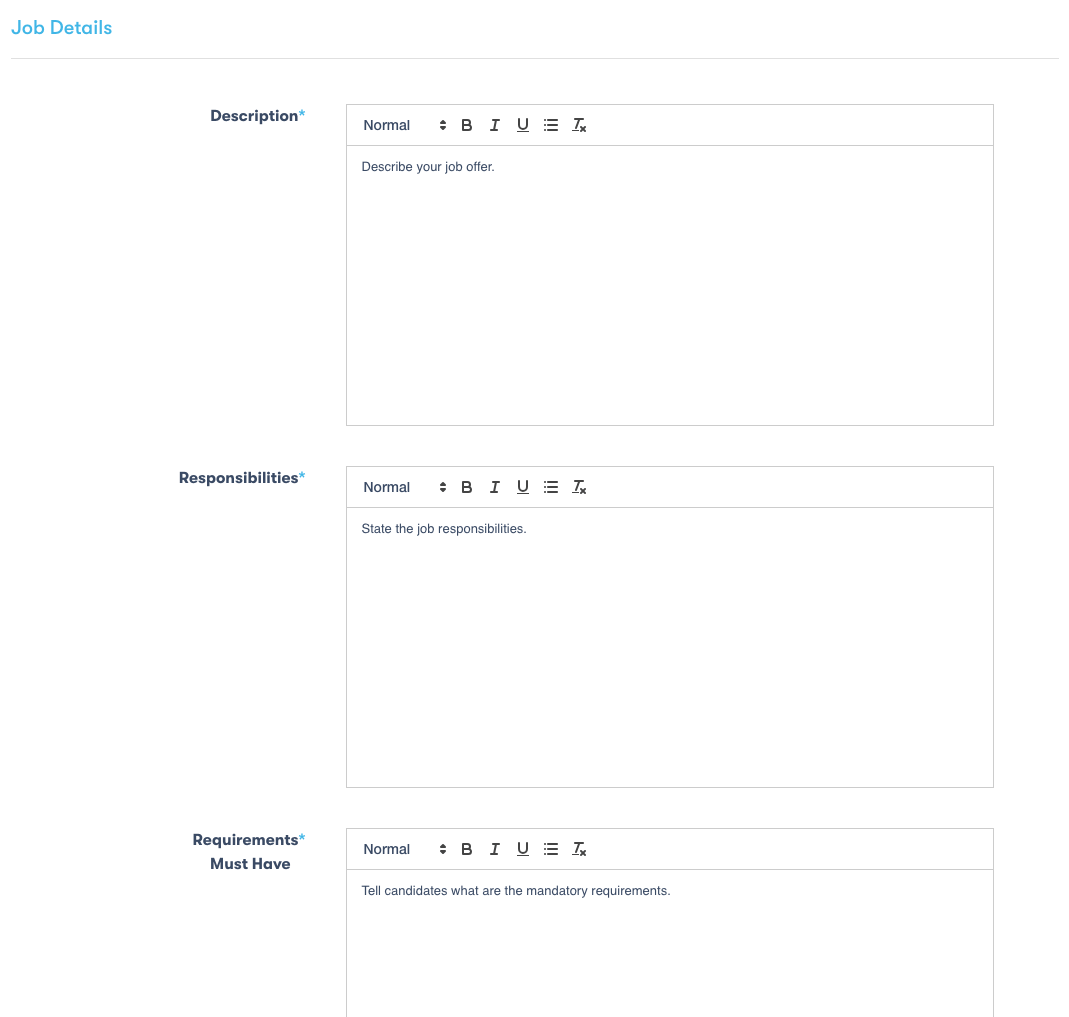 Then, move to the Job Settings such as the Company Logo, the Email Language you want to use to communicate with the candidates, the Required Education and Experience for the position, and the CV Add-Ons (we offer 9 options) you want to ask from candidates: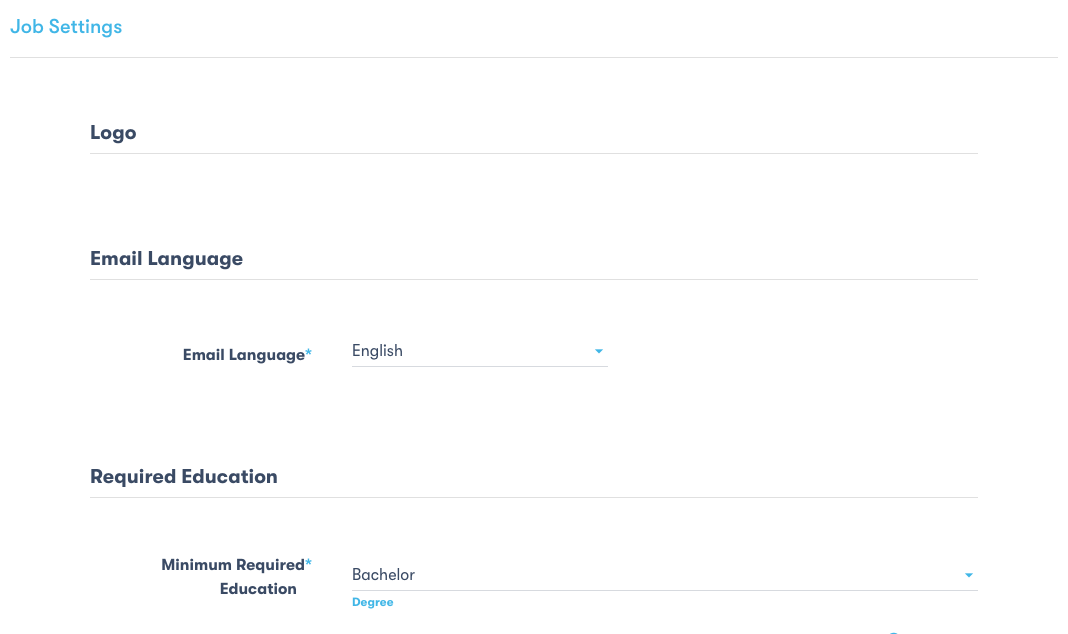 At this stage, you do the Job Review to check if all the job information you've filled so far is correct or if you need to make any changes before publishing: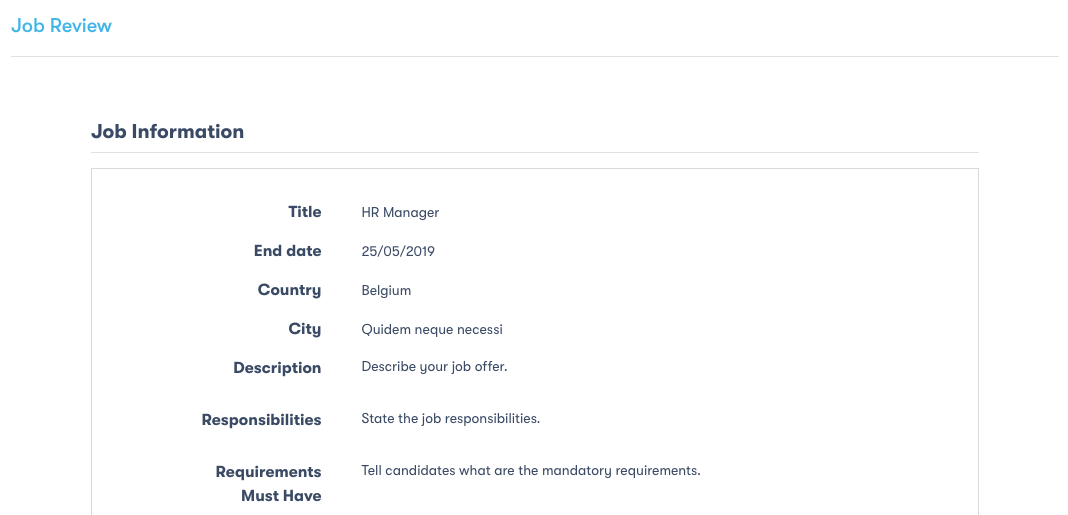 Next, answer a quick Questionnaire about the Work Environment, the Tasks Involved and the Applicant to complete the definition of the profile you're looking for: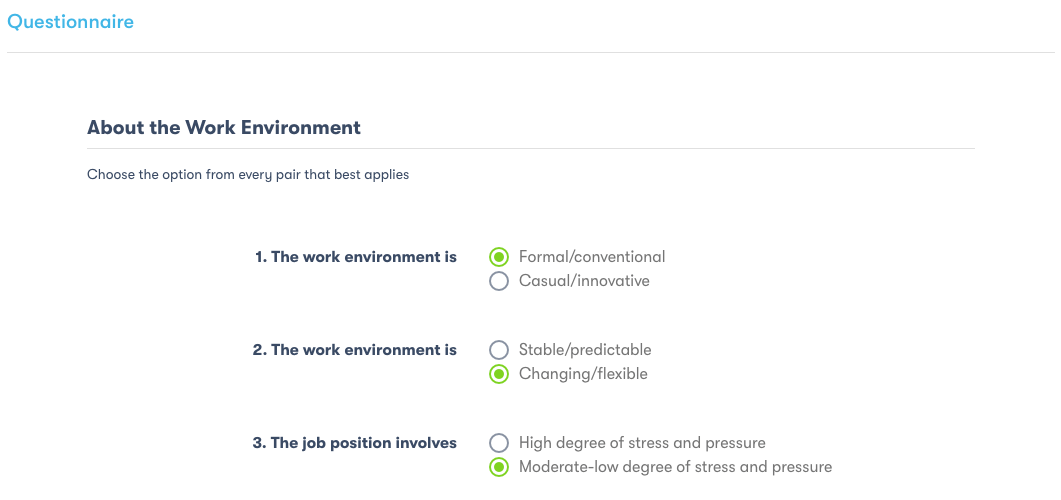 Lastly, select the Recruiters that you wish to give Job Access to and just hit Publish:
It's important to mention that we understand how busy you and your team can get. So if you start creating a new job and in the middle of the process something comes up and you have to do something else, skeeled allows you to save the job as it is and finish it later. Just click Save and Leave. The job form will be saved and it will remain accessible on the dashboard on the Saved Jobs tab.
In addition to that, during the creation of a new job you can go back and forth between pages using the Previous and Next buttons to check what you've done so far and to make changes if you need to.

Take Full Advantage of skeeled
Creating and posting job openings is the first step to start receiving applications. Our software's new job form was carefully designed to make sure you create awesome job descriptions containing all the relevant information that top candidates want to know before deciding to apply.
As you've seen, skeeled includes a few sections and fields that you don't see on common job creation forms but are of the utmost importance to establish the profile that you're looking for.
These criteria are used by our AI-powered algorithm to screen candidates once they submit their applications, saving you, again, a huge amount of time and enabling an evidence-based selection process.
With a smart recruiting software such as skeeled, managing the recruitment process is easier and faster.
Watch our video and learn more about how to create a job using skeeled: https://www.youtube.com/watch?v=Xsdh0GCAT10&list=PLb0g45C1iSmEbT0ovr9TgqSM-FGGnajWm&index=18&t=0s
On the next articles of this series, we'll show how you can manage, share and multipost jobs on skeeled.
*Previous how to articles:
How to get started with skeeled?
How to Manage a Recruiting Team on skeeled?
How to Create Recruiting Email Templates on skeeled?
How to Build an Agile Recruitment Workflow With skeeled?

Skeeled offers you the perfect opportunity to bring innovation and digitalisation to your hiring. Check our website or our LinkedIn, Twitter and Facebook pages for further information.
Thanks for reading and see you next time!
Your team here at skeeled