Since the beginning of the year, the health sector has been increasingly under pressure due to the pandemic. As we navigate through the unprecedented times brought by COVID-19, talent shortages are one of the main challenges affecting health organisations which need to quickly find and attract top candidates.
The largest private employer in the province of Namur, the CHU UCL Namur is a university hospital whose main missions are research, teaching and care services to the population. The CHU UCL Namur and its integrated network of care services are the result of the merger, in 2016, of the CHU Dinant Godinne | UCL Namur and the Sainte-Elisabeth Clinic and Maternity. With more than 4,500 employees (including 500 doctors), the CHU UCL Namur offers a comprehensive range of care and services to its patients.
The hospital complex is spread over the hospital sites of Dinant, Godinne and Sainte-Elisabeth. In addition to hospital activity, the CHU UCL Namur has accommodation facilities for the elderly and childcare. The CHU UCL Namur includes complete departments of medicine and surgery, modern technical platforms in medical biology and imaging, day hospitals and a recognised oncology pathology sector. It also includes a maternal and child centre (pediatric services, maternities, delivery and neonatal units) and several centres of excellence (cardiac surgery, maxillofacial surgery, haematology, oncology, otolaryngology, radiotherapy, etc.), and is the first lung transplant centre in the Walloon-Brussels Federation.
The institution recruits all types of medical, paramedical, nursing, logistic, technical, administrative and financial profiles. They thrive to offer patients real added value: comprehensive care for simple and complex pathologies of high quality, within everyone's reach.
What Talent Acquisition Challenges Was CHU UCL Namur Facing?
As CHU UCL Namur recruits all types of profiles ranging from medical to paramedical, nursing, logistic, technical, administrative and financial profiles, it requires major efforts from their HR department in order to find, attract and secure top talent while complying with all legal norms such as the GDPR. Thus, the CHU UCL Namur needed a solution to streamline their talent acquisition and drive a more productive and efficient recruitment process to win the war for talent. Namely, a reliable, efficient, and scalable tool that could help them increase the quality and speed of their processes and reach top talent faster.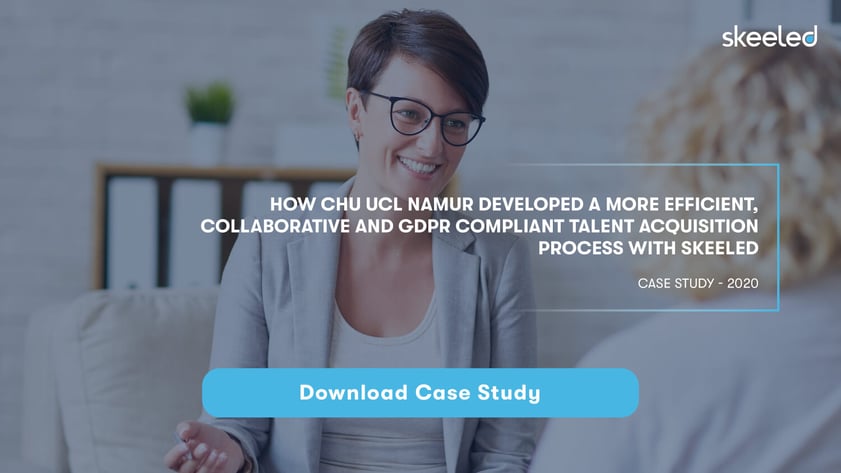 How Did skeeled Improve Their Recruitment Process?
Skeeled proved to be the best software, meeting all of their selection criteria. Implementing skeeled allowed the CHU UCL Namur to centralise and optimise the recruitment process while ensuring the protection of the candidates' data in accordance with the GDPR standards. Since they started using skeeled, their recruiters and hiring managers started saving time in sorting applications especially thanks to AI and also gained more information about candidates through the personality assessment, the video interviews and the exclusion factor questions, all of which allow to narrow down the best profiles on the talent pipeline to engage top talent faster. Additionally, direct managers also take part in the recruitment process allowing for collaborative hiring decisions to be made.
How does CHU UCL Namur Succeed by Using the skeeled software?
The CHU UCL Namur started using skeeled at the beginning of February 2020, by the same time the World Health Organization (WHO) had declared the coronavirus outbreak a "public health emergency of international concern," a designation reserved for extraordinary events that threaten to spread internationally. Although that was a coincidence, we now know how COVID-19 has impacted hospitals and health systems.
The health organisation shares that they have had a great experience using skeeled so far to find and attract top talent within a wide range of professional backgrounds. Before implementing skeeled, the renowned health organisation struggled to keep its talent acquisition organised in an efficient way. Besides, their previous recruitment software didn't ensure the protection of the candidates' data in accordance with the GDPR. Hence, there was a pressing need to adopt a technological solution that could streamline and upgrade their recruitment.
Over 9 months, the CHU UCL Namur has published more than 300 jobs and received around 5000 applications. Our AI-based pre-screening and matching tool has rejected more than 1500 applicants (around 34%) for not meeting the minimum requirements set by recruiters. This alone saves recruiters and hiring managers huge amounts of time that would otherwise be wasted looking at unfitted candidates' applications.
Laura Limberopoulos, Head of Recruitment & Selection / Employer Branding, explains that "before skeeled, we wasted a lot of time posting an offer, screening resumes, responding to candidates, etc.". She adds that with the skeeled software "we can be more selective and objective thanks to the personality assessment, the video interviews, the selective questions and the AI algorithms". All of these features enable a data-driven talent acquisition process and result in more reliable hiring decisions.
Read the full Case Study to know all the details about how skeeled transformed CHU UCL Namur's talent acquisition process.

Skeeled offers you the perfect opportunity to bring innovation and digitalisation to your hiring. Check our website or our LinkedIn, Twitter and Facebook pages for further information.
Thanks for reading and see you next time!
Your team here at skeeled