Companies around the globe are being challenged by the impact of COVID-19. As a response to the pandemic, many organisations have resorted to remote work to keep their employees safe and ensure business continuity.
Yet, having to suddenly shift to a permanent remote work environment, under these unprecedented conditions, isn't exactly easy. Consequently, managers are trying to help their teams adapt by providing guidance on how to successfully work together in a remote and digital workplace.
Although this pandemic is truly reshaping the way teams are working worldwide, lifting mainly logistic but also strategic barriers, there are some core work values that remain as important, if not more. One of such values is collaboration, which is essential to successful teamwork. Believe me, if ever there was a time to consider collaboration crucial, this is it.
Benefits of Collaboration Across Teams
Collaboration across teams is extremely important no matter if employees at a company work in the same location or not. Collaboration can stimulate creativity, engagement and innovation. It drives success and growth, both individually and organisationally, given that employees are more productive and work more efficiently when they collaborate.
According to a Stanford study, even the mere perception of working collectively on a task can supercharge someone's performance, making people feel more motivated as they take on challenges. For instance, the research reveals that people who work collaboratively spend 64% more time on a task, whilst also reporting higher engagement levels, lower fatigue levels and a higher success rate.
What happens when teams collaborate is that they learn new things from each other, enhancing their capacity to grow beyond their comfort zones. Not only that, but collaborating also gives more meaning and adds value to the job making employees feel happy about what they do. This also makes employees more likely to stick around for the long-term as they experience a sense of belonging and feel connected. Furthermore, collaborating enables your teams to complete important projects and meet crucial deadlines efficiently.
How to Boost Collaboration Among Remote Teams
To improve collaboration between teams, everyone has to be on the same page. People need to feel included and aligned, which can be harder to manage when everyone is out of the office. With this in mind, we put together a list of important steps you can take in order to improve collaboration between your teams.
1. Communicate Effectively
Communication can make or break a project. Especially when your entire team is working remotely. Hence, it becomes even more important to communicate clearly and effectively to avoid any miscommunication. However, it can be quite challenging to keep a good communication level between people that are not around each other.
Communication tools are the key to connecting your employees, but to ensure effective collaboration it's essential to provide them with a communication standard process to help prevent misinterpretations that often affect morale, communication and productivity.
You can, for instance, determine that quick messaging tools such as Slack are the go-to option for people to touch base with each other, but team or project meetings and one-on-ones are to be held via a video conferencing tool. This way, every team member can see each other, helping them to feel connected and communication efficiency is improved. Furthermore, using capabilities such as screen sharing allows everyone to visualise files and presentations which enhances productivity and efficiency.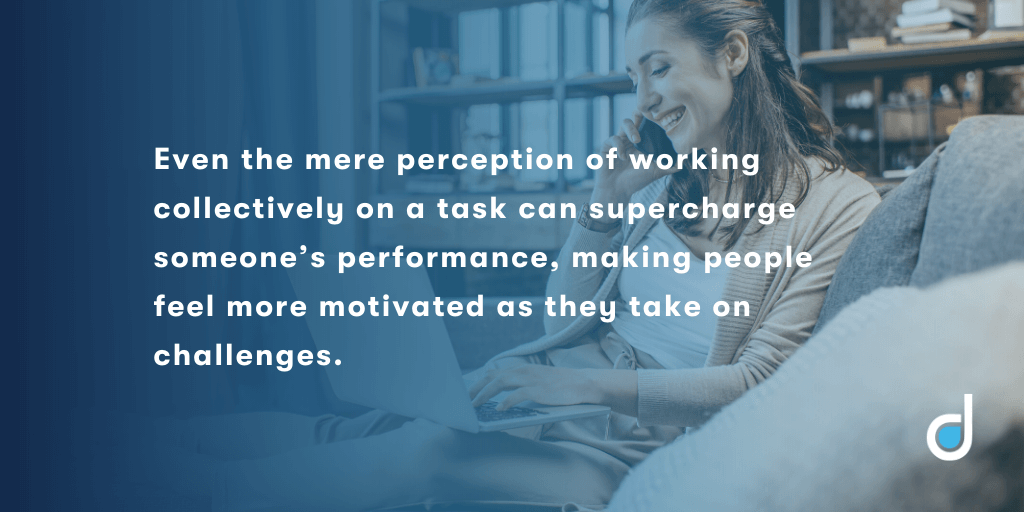 2. Keep Work Organised
When people are not around each other, you definetely need a process to help keep everyone on track. The best thing to do is to create a plan on a daily or weekly basis and make sure everyone on the loop. It's important to provide a very clear guidance regarding the projects' development flow. Setting the right boundaries let people be creative while making sure everyone understands who's responsible for which tasks.
3. Provide Your Team With the Right Tools
Technology is definitely a must when it comes to remote work and collaboration. To ensure your team collaborates successfully while working remotely, it's crucial to provide them access to cloud-based productivity tools such as video conferencing software, remote support software, project management software, email software or collaboration software.
Recruiting teams, for instance, can see their collaboration improved by a talent acquisition software that centralises all the applications and allows each recruiter to review and rate candidate profiles, leaving notes and comments that other team members can see and even reply to. This not only enables them to make collaborative hiring decisions, but also saves them time otherwise spent in meetings or exchanging emails.
Fortunately, these tech solutions are more accessible than ever before. There are multiple options on the market that allow remote teams to remain productive, enhancing communication between peers and management, increasing team morale, and exchanging information more quickly.
4. Switch up Teams Regularly
To make sure that your employees collaborate effectively while working remotely, it's important to allow them to build strong relationships with every team member. Switching up your teams regularly, or as much as you can, it's a good way of giving everyone a chance to work together towards a common goal. This increases the sense of purpose and improves communication and collaboration levels.
5. Stick to the Schedule
Seeing your appointments getting changed at the last minute can be hard for any employee, but when you're working remotely it can be even more challenging. Therefore, managers must make an effort to keep things going according to what's planned, promoting increased collaboration between teams. To do so, you need to make sure that everyone understands the importance of being on-time, fully present and prepared to make collaboration sessions more productive.
6. Reinforce Your Company Culture
With teams out of the office and working from home, it's of the utmost importance to bring the company culture to their new workspace. It is essential to keep everyone on the same page to improve collaboration between team members.
Although it may require a bit more creativity, it doesn't have to be that hard to keep the connection between your remote teams. Pinterest, for instance, analysed their employees' boards to see what interests they had in common. Then employees were put in groups based on a shared interest. In the end, it's about making everyone feel part of the company and connected by a common goal.
7. Make Sure Everyone Haves Fun
Connecting employees by creating a friendly, fun and creative work environment is essential to promote collaboration and teamwork. Even if everyone is working remotely there are lots of ways to create connections so that collaboration get's more effective. Celebrating employees' birthdays, socialising during virtual coffee breaks, planning afterhours events such as online gaming parties or a book discussion group, are just some examples of how to have a good time and strengthen team spirit.

Skeeled offers you the perfect opportunity to bring innovation and digitalisation to your hiring. Check our website or our LinkedIn, Twitter and Facebook pages for further information.
Thanks for reading and see you next time!
Your team here at skeeled