Onboarding is always a crucial event for any company. Successfully onboarding new hires into the team leads to higher productivity and retention. Conversely, employees who experience poor onboarding are more likely to seek out another job which generates both time and money losses, impacts your team's morale and, ultimately, your business.
Today, onboarding new hires is even more challenging given that many companies are hiring and integrating new employees remotely but still lack well-structured online processes. Nevertheless, it is possible to deliver proper remote onboarding and there are many companies that make a good example of that.
LinkedIn, for instance, transformed its existing one-day onboarding program into a one-week virtual event that uses video conferencing software, videos, live speakers and facilitators, a new-hire company page, and a digital scavenger hunt. By having someone guiding new hires through a virtual onboarding program provides a better experience and ensures a successful integration in the company.
How Does Remote Employee Onboarding Programs Work?
Employee onboarding is a moment meant to provide new team members with all the elements that they need to be successful as they learn more about their role in the company and it gives employees an opportunity to get used to a new work setting. A remote employee onboarding program consists of a series of virtual activities that allow new hires to get to know their team and learn about the company's culture, without meeting anyone in person at the office. Some activities can be formal (workshops, training sessions, video calls and exercises) while others may be more informal ( talking to various stakeholders, unscheduled coaching sessions with management).
Providing a good onboarding experience is crucial to improve employee engagement, job satisfaction, and retention rates. To implement an effective remote onboarding process, companies need to develop a specific onboarding program based on the use of online collaboration tools and supported by adequate documents and materials.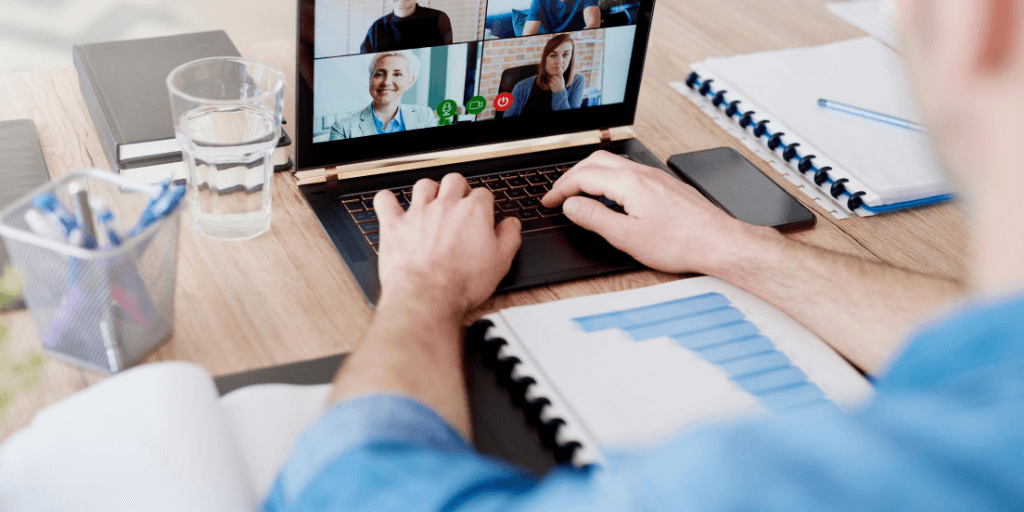 How to Drive Successful Remote Employee Onboarding?
As remote work will continue to be the norm for many companies and their employees, we gathered a list of best practices to effectively onboard new hires remotely.
1. Start Onboarding Early
Send new hires information about company culture and projects they'll be working on before their start date. This will give them the opportunity to analyse the information and feel more prepared on day one.
2. Promote Communication
Ensure that new employees get their IT set up quickly so that they have access to the digital workplace (company intranet, messaging apps, video conferencing software, and other apps and tools). This is essential for them to get familiar with the flow of the team quicker.
3. Create a Sense of Belonging
New remote employees can easily feel isolated and like they don't really belong to a team. It's very important to regularly check in on them and let them know where to turn for feedback or to ask any questions. Additionally to providing them with support materials is also very important to encourage them to collaborate with other team members to stimulate the team spirit. Also, promoting virtual meetups, such as online coffee breaks is good to help them bond. Finally, assigning them a mentor or creating a "buddy" system will definitely have a positive effect on their morale and on their performance as well.
4. Provide an Individualised Onboarding Plan
New hires expect concrete goals and the opportunity to regularly interact with their manager. Providing new employees with strong support during the onboarding process helps them feel more motivated and be more productive. This requires continuous support and a clear, tailored plan detailing what's expected from the new employee in terms of performance goals during a certain period of time (first month, first quarter, etc).
5. Leverage Online Tools
Having digital processes is essential to keep companies working efficiently during these uncertain times. Remote work and remote onboarding require the use of online tools, whether to manage the necessary forms and documents each new hire will have to complete or to communicate on the day-today. There are online tools for every department and to execute every type of tasks. Make sure your company's toolkit is equipped with the right tools to make your business thrive.

Skeeled offers you the perfect opportunity to bring innovation and digitalisation to your hiring. Check our website or our LinkedIn, Twitter and Facebook pages for further information.
Thanks for reading and see you next time!
Your team here at skeeled