The coronavirus outbreak has deeply affected the way we work and, especially, the way we live. Many people are adjusting to working remotely for the first time and some are struggling with social distancing, but everyone is doing their best to cope with the "new normal".
Business leaders are trying to tackle as many of the challenges presented by the current situation to ensure business continuity. When it comes to recruiting, for instance, the main question is whether to keep recruitment processes running or order a temporary freeze.
Then, new challenges arise for companies who decide to keep recruiting. How to run the recruitment process and comply with the social distancing norms? Those who already leverage a digital recruitment process are better prepared to navigate these challenging times. Nevertheless, one aspect that is now more important than ever is the candidate experience. Providing a seamless experience and creating meaningful connections with candidates turned even more decisive to get the best talent to choose to work for you.
In this time of uncertainty, it's extremely important that companies deliver a clear and strong message to candidates so that they trust them as a future employer. This requires fine-tuning the current recruitment process but gives recruiters the opportunity to develop a more thoughtful, engaging, empathic and transparent process which will remain valuable even after the pandemic crisis.
Check our tips to enhance the candidate experience from candidate to employee during COVID-19:
1. Focus on Communicating
Regular and clear communication is a must on any given day. However, given the times we're living in, it is definitely essential to keep in touch with candidates to ensure a successful recruiting process.
Delivering thoughtful messages, aside from the usual application status updates, can make a huge difference in how candidates engage with your company and can help build more interest in your vacancies. Make sure to provide all the relevant information regarding all the stages of the application process and if there's a need to delay any step because of the current circumstances, keep candidates in the loop and provide them with reassurance.
Besides directly contacting candidates via email, don't forget to leverage social media. It is important to boost your employer brand and let people know your business is up and running. Lastly, make sure your website is updated and provides pertinent information regarding your current business activity.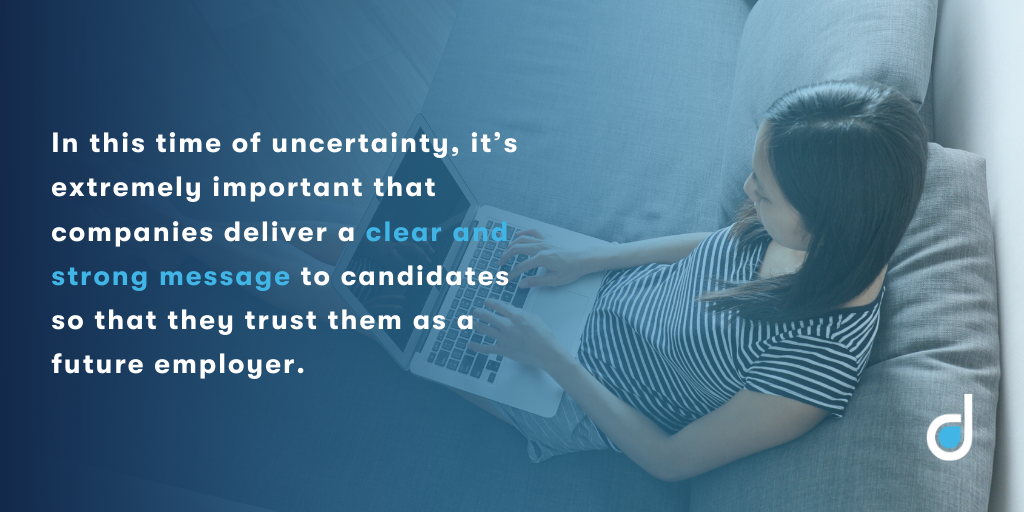 2. Adapt Your Recruitment to Meet Safety Requirements
Right now, the number one priority of any organisation must be to ensure both their employees and their candidates' health and safety. Hence, the recruiting process needs to be adjusted according to the necessary health and safety precautions. This means eliminating any in-person interviews or assessments, for instance. Adopting a digital recruitment process is key for companies to be able to attract, engage and hire new talent without the need to meet candidates in-person. Using a talent acquisition software that includes features such as video interviews and online assessments allows companies to keep recruiting while ensuring the candidates' safety.
3. Emphasize on the Human Touch
Providing a virtual candidate experience requires recruiters to go the extra mile to deliver a tailored and personal experience to their candidates. Therefore, it's time to leverage in the best way possible communication tools such as personalised, automated emails to keep candidates engaged throughout every stage of the recruitment process.
Moreover, social media is also a great way of interacting with potential candidates. Make sure you keep posting about career opportunities, your company culture, give tips on how to make it through a video interview, promote Q&A sessions. There's a lot you can do to engage with candidates online.
Nevertheless, phone calls also play an important role when it comes to adding the human touch to your recruitment process. Let candidates know you are available to pick up the phone should they need to ask you any questions. The bottom line is that recruiters need to boost their levels of empathy and understand that candidates are also going through a tough time. Being more flexible will definitely help deliver a positive candidate experience.
4. Onboard New Hires Effectively
Successfully integrating new hires into the team stimulates higher productivity and retention. Hence, onboarding is a critical event for a company. However, delivering a virtual onboarding can present many challenges, especially if an organisation is not well prepared. As a result, some companies have temporarily given up on onboarding while others are basically providing new hires with access to online documents and a few company videos.
Yet, it is possible to deliver proper remote onboarding. LinkedIn, for instance, transformed its existing one-day onboarding program into a one-week virtual event that uses video conferencing software, videos, live speakers and facilitators, a new-hire company page, and a digital scavenger hunt. Instead of leaving a new hire alone exploring company documents and watching a few videos, assemble a success team to support them via chat, video and phone calls or email. Another possibility is to assign to each new hire a current employee as a mentor or buddy. Having someone guiding the new hires through a virtual onboarding will certainly provide a better experience and ensure a successful integration in your company.

Skeeled offers you the perfect opportunity to bring innovation and digitalisation to your hiring. Check our website or our LinkedIn, Twitter and Facebook pages for further information.
Thanks for reading and see you next time!
Your team here at skeeled