The coronavirus pandemic has put us all in a very complex situation. On one hand, everyone's priority is (or should be) to stay safe and healthy which requires people to stay at home and avoid unnecessary social contact. On the other hand, many of us who are at home keep working which requires us to adapt our job and tasks to the home environment.
This crisis continues to affect economies worldwide and the truth is that very few industries have remained unharmed. As a result, the Covid19 outbreak is impacting not only the workforce but also the recruitment process for many companies. Although some have decided to suspend all hiring until the pandemic is under control, others are continuing to recruit in order to ensure business continuity. For many recruiters, this means adapting to a new reality: recruiting from home.
We get that this can come across as something difficult to achieve, but it isn't. Still, it requires companies to get creative with their recruitment strategy and try different approaches such as video interviews and online assessments.
Some of the biggest tech companies such as Google, Amazon and Facebook have rolled out remote work policies as a response to the outbreak and shifted to online job interviews. Nonetheless, smaller companies can also adopt a new, digital recruitment process to keep attracting and hiring top talent.
The Main Challenge of Recruiting From Home
Working from home brings challenges to any professional, especially when they're used to being at the office with their colleagues, to seeing their manager frequently and to use the office facilities (such as meeting rooms). However, for recruiters, it can be even a little more challenging given that recruiting is a "team sport" and depends on the collaboration of an entire team. Still, there are a couple of strategies companies can use to mitigate this challenge and make it possible for their recruiters to recruit from home.
The Key to Recruiting From Home
Without a doubt, technology is a must to enable remote work. What's more, when it comes to recruiting, using the right technology is crucial to hiring success. The truth is, running a digital recruitment process gives companies an edge in talent acquisition in any given scenario. However, amidst a pandemic like the one we're going through it is essential for companies to ensure the continuity of their business by being able to keep hiring great candidates.
A talent acquisition software is essential to keep you hiring processes running even if everyone on your team is working from home. Here are some reasons why the right recruiting software allows recruiters to efficiently recruit from a distance:
1. It Gives Permanent Access to the Candidate Database
A talent acquisition software that is web-based allows recruiters to access it wherever they are as long as they have an internet connection. Being able to access and manage the candidate database is of the utmost importance for the recruiters on your team. Hence, digitalising and centralising your recruitment is imperative to ensure they can keep working even if they're at home because of a virus outbreak.
2. It Provides Video Interviews
The interview stage is one of the most important in the recruiting process. However, in a period when people are asked to stay at home and to social distance themselves, recruiters need an alternative method to interview candidates without meeting them in-person.
Therefore, using recruitment software that includes one-way video interviews is a plus. When creating new job postings, recruiters can define a set of structured questions for the candidates to answer from the comfort of their home. This allows recruiters to have a first glance of the candidates and assess their motivation, helping them to better screen candidates.
Check some examples of questions to ask on a one-way video interview: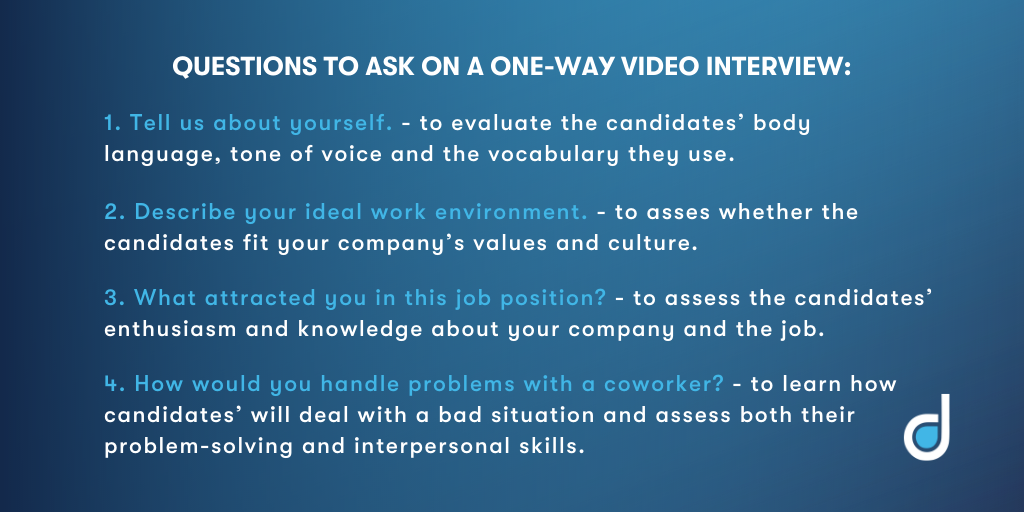 3. It Offers Collaboration Tools
A talent acquisition software with the right collaboration tools will allow the entire team to view, evaluate and rate candidates. Moreover, exchanging notes and comments on the candidates' profiles saves your team a lot of time they would otherwise spend in online meetings and makes it easy to make collaborative hiring decisions.
4. It Helps You to Promote Your Jobs Efficiently
Aside from writing great job descriptions, recruiters need to worry about promoting their jobs on the most effective channels and job boards. Taking care of that task manually is quite hard, but the right talent acquisition software will help you enhance your job distribution by automatically posting your open positions to a wide network of job boards, schools and social networks.
In a nutshell, HR tech is the key to allow your team to recruit with a remote work approach, making it possible for your business to keep running. If you're also wondering about how to manage your team from a distance read our previous article and check our tips regarding remote work.

Skeeled offers you the perfect opportunity to bring innovation and digitalisation to your hiring. Check our website or our LinkedIn, Twitter and Facebook pages for further information.
Thanks for reading and see you next time!
Your team here at skeeled