We are happy to announce a new strategic partnership with Work Horizons, a UK consultancy firm that specialises in organisational renewal and career coaching.
As the need for digital hiring processes intensified, we launched our Predictive Talent Acquisition Software in the UK last year. Now, skeeled is part of the portfolio of digital solutions Work Horizons offers to its customers with the aim of transforming and enhancing their talent acquisition process.
Work Horizons is a collective of experts who design and deliver robust people solutions to businesses to enable them to grow. They have three practices; Leadership and Coaching, Consultancy and Wellbeing and Career Transition the latter of which also offers a membership website to help people transition to a new career whether that be within their existing organisation or outside.
The company has a team of around 50 people, including partners and associates, working as HR consultants, executive and career coaches, counsellors and recruitment specialists working with corporate clients. Work Horizons targets organisations of 500 employees or larger, across all industry sectors in the UK. Their current clients range from a Premier League football club to parts of the National Health Service.
Key Reasons for Partnering With skeeled
The main reason that made Work Horizons choose to partner with skeeled is "that the skeeled software differentiates itself as being cutting edge and offers clients a real advantage in selecting the right talent for the organisation", says Jo Carr, Director, Consultancy Practice.
Another strong factor, according to her, is that "we have found that skeeled shares a lot of the Work Horizons values, which makes it really simple to work with them as we speak the same language – from the heart." For the Work Horizons Director, there's "a dynamic to the relationship that we consider to be of real commercial value. skeeled is new to the UK, Work Horizons is relatively young, and has just launched its Consultancy Practice and is about to launch its Coaching Practice."
Nicolas Speeckaert, skeeled's Co-Founder and Managing Partner, agrees and adds that "we're delighted to partner with Work Horizons, a relatively young company which has big ambitions, like us. There are many synergies between our companies and working together will enable us to help UK companies introduce modern digital recruitment processes that will save them time and money and ensure they make the best hiring decisions."
How They Expect skeeled to Impact Their Customers TA
With the mission of working with individuals and leaders of organisations to make positive change and bring about improvements in performance, skeeled presented the perfect solution giving them "a broader and complementary offering" while also putting "data in the driving seat to help businesses efficiently identify the right talent", Jo Carr explains.
Rob Ball, Founder and Director of Work Horizons, adds that "hiring and retaining the right talent will be a fundamental challenge for businesses emerging from the pandemic. Currently, there is a candidate rich market with many candidates competing for roles and companies will need tools to hire people with the right skills, talents and aptitudes that will support their future growth, and we're confident that skeeled's software can add real value to the hiring process."
People will make the difference in difficult times and as companies look to grow in the near future, they'll need the right talent to lead to growth. Rob Ball believes that skeeled is the right solution to help companies with that. "It has the advantages of a slick applicant tracking system, but with the intelligence of predictive analytics which will free up people's time from the laborious parts of the selection process, so that they can concentrate on their own diagnostics and create an onboarding approach that truly represents the organisation's culture. These benefits will, we believe, reduce poor hiring decisions and strengthen the employer brand."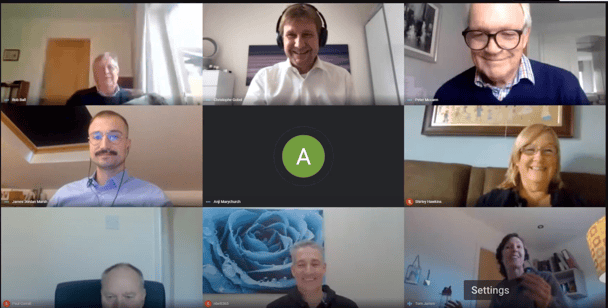 Onboarding session with skeeled and Work Horizons teams
Powerful Solutions & Strong Support System
Work Horizons's Founder and Director, Rob Ball, does not hesitate when we ask him to identify the main added value of skeeled's Talent Acquisition Software: "Predictive analytics. It is the future of recruitment."
He elaborates further, saying that "We are living through an era of real process evolution which enables us to move away from the guesswork of hiring and focus on running a fair and efficient process which will also bring a greater diversity of hires – something which cannot be anything but positive, right?" Work Horizons also values the fact that skeeled's technology frees recruiters to focus on the most added value tasks, by automating many low-value, manual tasks that are especially time-consuming.
Christophe Gobel, Director of Partnerships at skeeled, explains that "skeeled is able to power any organisation's talent acquisition process with predictive pre-hire assessments that allow selecting candidates with the right attitude and potential". In addition to this, our software offers "collaboration tools that allow conducting a structured and more unbiased recruitment process to help companies identify and hire the people that will really make their business thrive".
Regarding the onboarding process, Jo Carr mentions that so far it has been great while acknowledging that there is a lot to learn, which will develop over the coming years. She concludes that "as with all things, the more effort we put into the partnership, the stronger and more rewarding it will be."
Rob Ball also leaves a note regarding the skeeled partnership team. "The team is really good. People are helpful, principled, and have a positive approach." Christophe Gobel expresses a similar sentiment: "We are delighted with the way the partnership has been developing and I'm sure there's a bright future ahead."
skeeled and Work Horizons launched their first co-hosted webinar on the 23rd of February 2021. It explored some of the most pressing questions around AI and predictive analytics in talent acquisition, fair and efficient recruitment, and maintaining an attractive employer brand. Watch the panel discussion here.

Skeeled offers you the perfect opportunity to bring innovation and digitalisation to your hiring. Check our website or our LinkedIn, Twitter and Facebook pages for further information.
Thanks for reading and see you next time!
Your team here at skeeled