As part of the recent launch of the V3 of our talent acquisition software, which offers new recruitment marketing features that are key for recruiting success, skeeled officially announced its partnership with VONQ, a disruptive recruitment marketing technology company.
With the V3, skeeled gives a huge step forward to become a complete talent acquisition suite designed to support employers' evolving needs. Considering that companies are increasingly taking a more strategic approach to talent attraction and engagement, our goal is to offer powerful solutions on one single recruiting platform that enable an optimised and accelerated hiring process.
Bearing that in mind, we strive to expand our offerings through important partnerships and integrations. As part of our strategy to continuously offer customers access to the tools needed to successfully find and attract more candidates, we joined forces with VONQ to provide our customers with an amazing job distribution solution that makes it even easier for them to hire the right candidates.
Two Companies, One Shared Vision
The relationship between skeeled and VONQ started a few years ago. At the time of the first conversations, both companies were certain they wanted to collaborate but they also agreed it was not the right time yet. Nicolas Speeckaert, skeeled's co-founder states that the reason skeeled wanted to seal this partnership with VONQ is related to "wanting to collaborate with an organisation with the same mentality, focused on constantly innovating on the solutions we offer to customers".
Even though at the time of their first discussions VONQ didn't have the right technology to provide what skeeled wanted, Nicolas was sure that given "the agility VONQ has", it would be worth it to "keep in touch until they're ready to deliver what we need". Thanks to the longlasting relationship Nicolas built with the director of partnerships at VONQ, Joren de Koning, the two companies were able to work together towards making this partnership come to life.
Joren recalls that he met Nicolas at the same time that he "started to think about how we could leverage our technology more closely to ATSs". He adds that the vision skeeled has "to offer all their services in a white-label or in their own design, not working with third-party and having to transfer their customers from platform A to platform B but offer all these toolings in one platform with the ease of use, the same user flows, in multiple languages to their customers, that's also the vision that VONQ has and I'm really happy that we both could agree on that vision".
Nicolas highlights that skeeled was aiming at a "fully native integration, to be as seamless as possible to our users" which is "quite important for us". According to skeeled's co-founder, VONQ demonstrated the "flexibility to build the API around what we needed". At that point it was clear to him that both companies wanted to achieve the same goals, "they wanted to build the API capabilities to integrate with many ATSs and we wanted to be one of the first to integrate with them".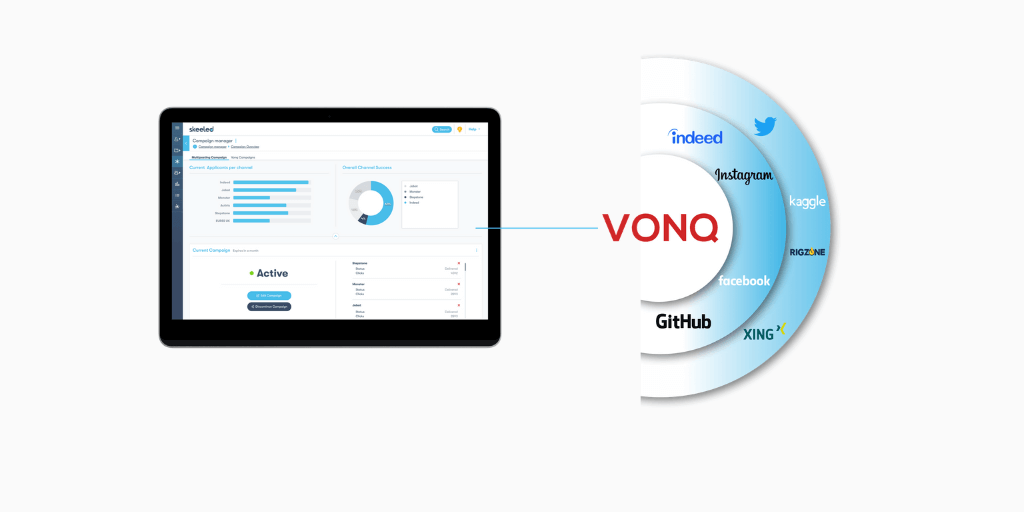 Making it Easier to Hire the Right Candidates
Through the API integration, skeeled users are now able to easily create job marketing campaigns in VONQ's broad media channels portfolio without leaving the skeeled software. Plus, all the media channels are pre-contracted and ready to use removing the hassle of having to make contracts or buy credits from job boards or third-party websites or apps.
This partnership gives our customers access to over 2000 media channels in the world - from generic job sites to niche sites, aggregators, online hubs and communities, social media channels and apps. This makes it easier to set and manage job campaigns without having to switch between different systems.
Regarding the added value of this partnership, Nicolas highlights the fact that "most medium-size organisations have to negotiate with different contractors every time they have to post jobs to job boards and other channels". He underlines that "with VONQ they don't need to deal with the job boards which saves them a lot of time". Moreover, "our customers can now leverage incredible social media capabilities and create optimised campaigns without the need to go to marketing agencies" and "they can manage their job campaigns on their skeeled account". He also values "the great variety of channels and international approach".
With the VONQ recruitment marketing technology, skeeled users "can not only reach out to active candidates on the traditional job boards, such as monster and stepstone, etc., but they have access to social channels and niche websites to reach passive candidates that are not necessarily looking for a job but that are maybe open to switching", Joren adds. Many of the most qualified candidates can be found on specialists platforms, such as Github or StackOverflow for developers, Marketing Week for marketers, and so on. Hence, it's of the utmost importance to be able to target the job ads according to the profile recruiters are looking for.
The Main Benefits of This Partnership for our Customers
With this API integration, recruiters can now set up and manage paid campaigns on VONQ's marketplace without ever leaving skeeled. The main benefits of the VONQ job distribution solution are:
Possibility to directly purchase and advertise on 2000 channels from within skeeled. No need to switch platforms and go to third-party websites which is a huge time saver.

Access to a "plug and play" portfolio - you don't have to sign contracts with job boards or buy credits in advance. You can just directly purchase as you go.

Flexibility to use your advertising budget on these 2000 channels as you go without being constrained to one contract or one job board or one social channel.
The Power of Recruitment Marketing
Recruitment marketing encompasses all the strategies and tactics a company uses to find, attract, engage and nurture talent before, during, and after they apply for a job. Usually, the type of position and the nature of the work determines the recruitment marketing efforts, namely how and where the job opening is advertised. For instance, it wouldn't be efficient to advertise an open position for the sales department in an IT dedicated job board or at a networking event for finance managers. In this case, it would make sense to specifically target sales-related channels.
Recruitment marketing leverages automation, predictive analytics, and artificial intelligence to help recruiters post job openings in the best channels, targeting the right people, and using the right language. By assisting the recruiter with these tasks, recruitment marketing helps to free their time to build and maintain a strong talent pipeline.
Recruitment marketing is transforming the way companies find, engage and hire the best talent, by changing the way they:
Search and find top talent
Build and promote their employer brand to targeted audiences
Nurture potential candidates
Traditional recruitment processes include posting open positions, screen applications and select the candidates that better suite the job's requirements. However, it is a fact that the most skilled candidates are usually employed and not actively seeking a new job but are open to new opportunities. So, companies need new strategies to find and engage these passive top candidates instead of settling for the poor-quality candidates that have applied.
Moreover, most companies have a weak employer brand which doesn't attract the best candidates and often results in high turnover rates. All of these issues are opening the way for recruitment marketing, as companies are coming to realise that they need to understand and incorporate marketing principles into their talent acquisition strategy.
Instead of keeping their focus on short-term recruiting needs by filling the current open positions, talent acquisition professionals need to employ more effective hiring practices. Implementing marketing tactics is essential for them to create an ongoing talent pipeline, filled with candidates who are available to fill positions at all levels in the company.

Skeeled offers you the perfect opportunity to bring innovation and digitalisation to your hiring. Check our website or our LinkedIn, Twitter and Facebook pages for further information.
Thanks for reading and see you next time!
Your team here at skeeled