In order to attract and hire the right people in a cost-effective way, HR managers need to be in full control of their company's recruitment process. To do so, they need to be able to get an overview of their recruiting processes to consistently and systematically check if they're producing the expected results.
However, managing a recruitment process is very demanding. The job market is fast-paced and more competitive than ever, meaning that top talent doesn't stay available for long. Having a clear recruitment strategy and a streamlined recruiting process is mandatory if they want to attract and secure the best candidates before other companies do.
Getting an Overview of The Recruitment Process
It's not new that top candidates often have multiple job offers to choose from and that the way companies engage with them throughout the recruitment process can determine who they choose to stick with. That's why it's of the utmost importance that HR managers consistently and systematically evaluate their recruiting efforts to see where their team may be failing and make the necessary adjustments.
However, being able to get an overview of the whole recruitment process may not be that easy. Especially if the recruiting team still uses traditional and outdated recruitment methods, performs mostly manual tasks, relies on spreadsheets and operates upon disorganised workflows. In this kind of scenario, it's almost impractical for an HR manager to gather the data he needs in an easy and convenient way. He needs to ask for information to his team, wait for that information to be provided and rely on data that was manually produced.
The solution? Using a platform like skeeled can solve most of these issues. It allows recruiting teams to perform every step of the recruitment process using one single software, centralising all the information regarding job openings and applications. And it also allows HR managers to accurately measure and act upon their recruitment process performance.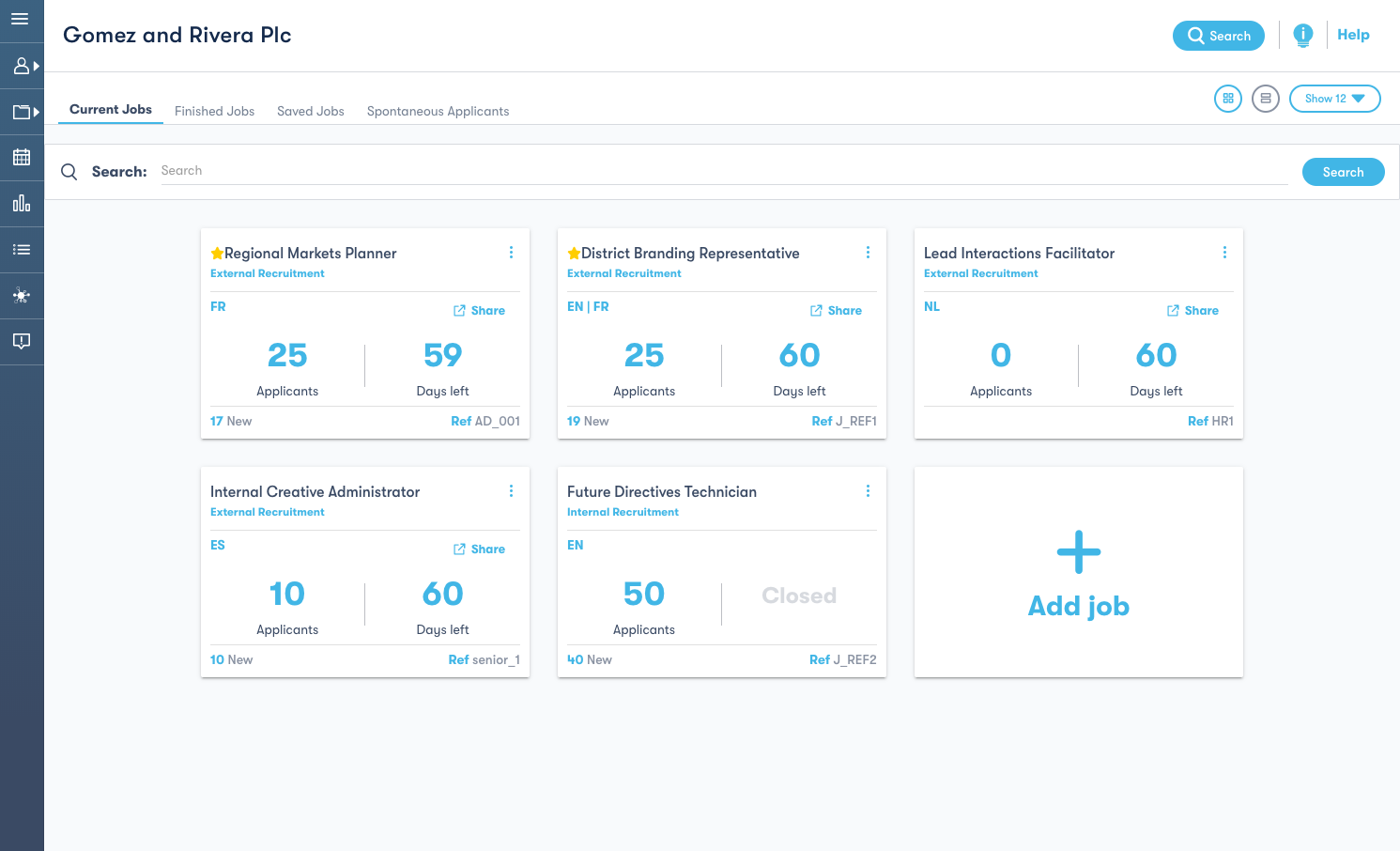 Managing the Recruitment Process With skeeled
Managing a recruiting process encompasses the supervision of many activities. Recruiting teams have to advertise open positions to get qualified candidates to apply, review and screen applications, schedule interviews with the most fitted applicants, and make hiring decisions.
Therefore, using an AI-powered recruitment software like skeeled is a major success factor, given that it allows to automate, standardise, simplify, and speed up the recruitment and selection process.
Here's how skeeled can help you build and manage a solid recruitment process, regardless of the size of your company and hiring team:
- Finding applicants: with skeeled, your team can post job openings across multiple job boards and social media channels, with just a few clicks. You can also get referrals from your employees to get faster access to qualified candidates.
- Screening candidates: our recruiting software automates the screening and matching of candidates. This way, recruiters get relieved of a repetitive, manual task and HR managers get a more accurate and fair evaluation of the candidates who are categorised from the most to the least qualified by our AI-powered ranking. Plus, automated matching gives recruiters fast access to the top talent so can focus and start engaging with the right candidates early on.
- Assessing candidates: adding to the screening of the candidates, skeeled also offers you the possibility to assess candidates through a personality test and a video interview. The insights these assessment tools provide are extremely valuable as they help HR managers make data-driven decisions instead of relying on their gut feeling. The result: more qualified candidates reach the last stages of the recruitment process and the quality of hire gets improved.
- Interviewing candidates: this recruitment step is usually very time-consuming when done manually. Going back and forth with candidates, by phone or email, trying to schedule an interview can simply turn into a nightmare. Therefore, skeeled offers the perfect scheduling solution: an integrated calendar that allows candidates to choose their preferred time slot for an interview. Your team just needs to keep their agenda up to date and send candidates a link so they can self-schedule the interview. Needless to say that this feature has a dramatic positive impact on the candidate experience.
- Making hiring decisions: collaborative decision-making is a powerful recruitment strategy. The skeeled platform offers various collaborative tools (interview scorecards, comments, etc) that allow recruiting teams to discuss the candidates' profiles and exchange their point of view regarding who should fill a position, which helps HR Managers to make overall better hiring decisions.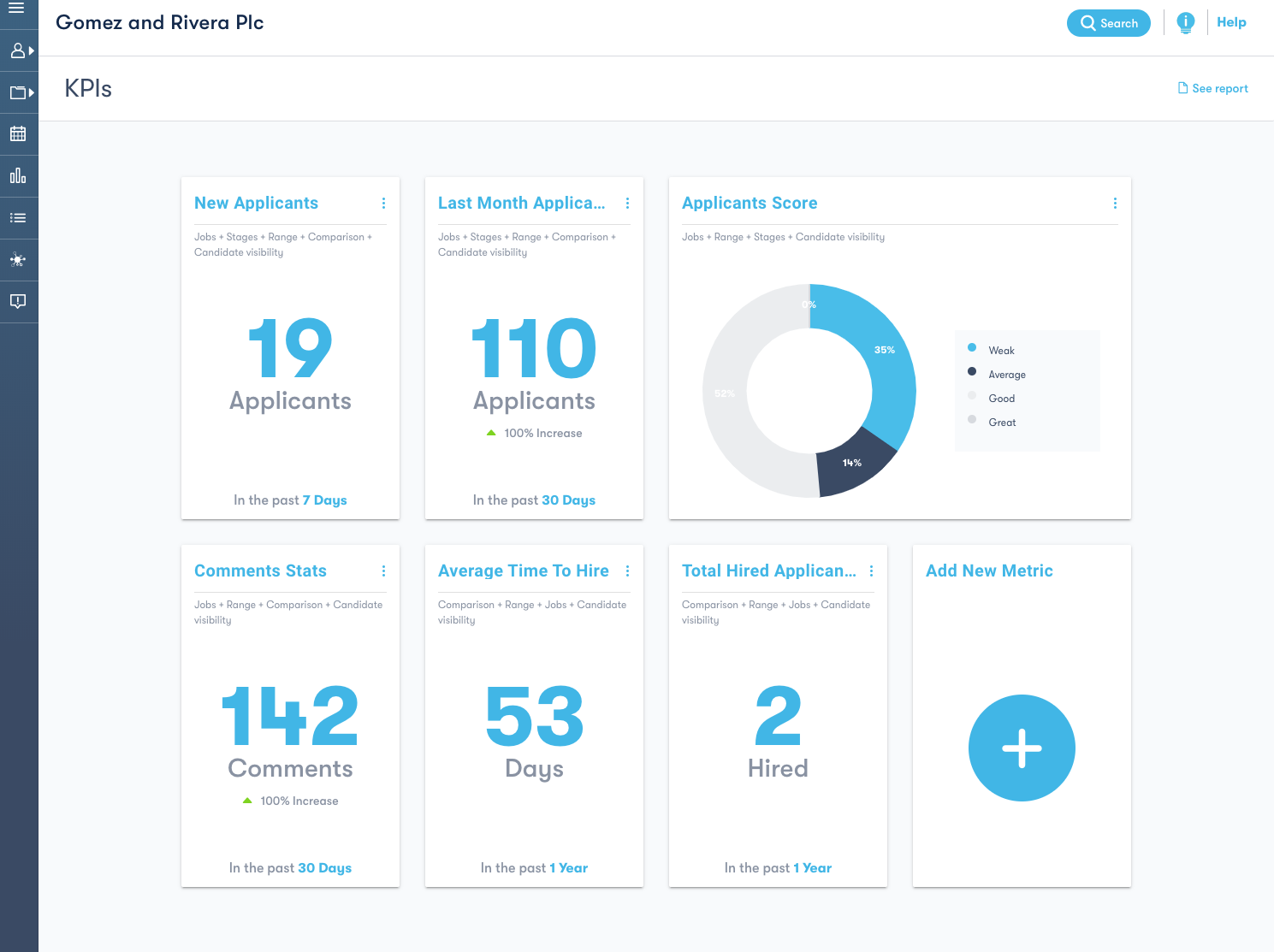 On top of this, all the candidate communication can also be handled with our software using the email feature. This allows recruiters to keep the candidates engaged with just a few clicks and HR managers are kept in the loop as they can see all the emails that were exchanged with each candidate. Moreover, skeeled offers intuitive dashboards that allow to quickly check how many jobs are open, how many applicants there are for each job and what's the status of each application.
The secret to better managing the recruitment process is having access to relevant data that allows to evaluate your procedures and fine-tune them in order to attract great candidates. Our analytics tool allows HR managers to set and monitor the recruitment KPIs that matter to them. This feature is a must when it comes to analysing and evaluating the recruitment process, as it allows to check the recruiting performance at many levels: efficiency, productivity, among others.

Skeeled offers you the perfect opportunity to bring innovation and digitalisation to your hiring. Check our website or our LinkedIn, Twitter and Facebook pages for further information.
Thanks for reading and see you next time!
Your team here at skeeled