Over 80% of the companies complain that finding talented people is becoming an exercise in futility. They complain about the massive competition for and the lack of skilled workers. In addition, there has been a seismic shift in this war for talent. So companies that don't change their approach to talent management are going to fall into a newly opened crevasse from which they may never escape. Hence accentuation on new recruitment and retention approaches has reached a new level. By focussing on storytelling, transparency and adaptability, you can supercharge your brand image and reputation and hence win the 'war for talent'.
Your company's reputation is twofold: on one hand it is important to increase awareness and reputation within the market for your products and services. Alternatively, and what is often more important, is the so-called 'employer branding'. How to manage it and why is it essential for achieving your goal of gettin the best talent?
Let's start with 3 basic tips that help you to improve your employer branding strategy.
1. Define your employer branding strategy
The best way is to ask yourself: "Why would a future employee want to work for my company instead of others?" It obviously isn't going to be the job title or the salary. After all, every company can dangle this. People have to feel engaged or feel a sense of alignment with your values and overall image. Once you've created a positive reputation, the delicate part is to transfer it to your work environment.
2. Allow people be their authentic selves
To promote employees' freedom of expression, it is crucial to emphasise the importance of both differences and similarities. The former challenges the status quo, which in turn spurs innovation and creativity, while the latter is needed in order to become the best possible outcome.
3. Give your candidates the best possible experience
With the Internet as a megaphone, candidates are in control of how your brand is perceived by other future employees. If they had a positive experience during the application process: you can be sure they spread the word.
Now why is it important not to give employer branding the go-by? Although the interests of your customers have to put first no matter what, I maintain that it's imperative for every entrepreneur to take at least the basics necessary to proactively establish your employer brand.
3 points to explain you why:
1. Negative judgements can easily downsize your employer brand
Social media channels have given everyone a voice. You can be sure that candidates will express their opinion and give reviews when they are unhappy about the process. In no time, everyone will know about these negative judgements. That's why companies have to go the extra mile to provide respect and courtesy to these folks and even better: make sure candidates have the best experience while applying for a job. How can this be achieved? Simply by innovating and modernising the HR process. It will have a positive influence on the word-of-mouth publicity and in turn will boost your employer brand.
2. Reinforce your professional mission
This article highlights the increased attention for employer branding recently. However, loosing sight of the professional mission can be harmful for your reputation as well. A lot of organisations face the problem of not tying back the visibility of their employer brand to the professional goals. The bottom line is to keep both tasks in mind when defining your objectives.
3. If you are not defining your employer brand, others will
This part is related to the first one: it means that without having a strong employer brand, a negative press headline or blog post will formulate your employer brand for you. Having a fully modernised HR system can prevent you from being a sitting duck. So, in my opinion it is worth anticipating by bringing innovation to your HR process. This will certainly increase your odds in creating a successful brand image.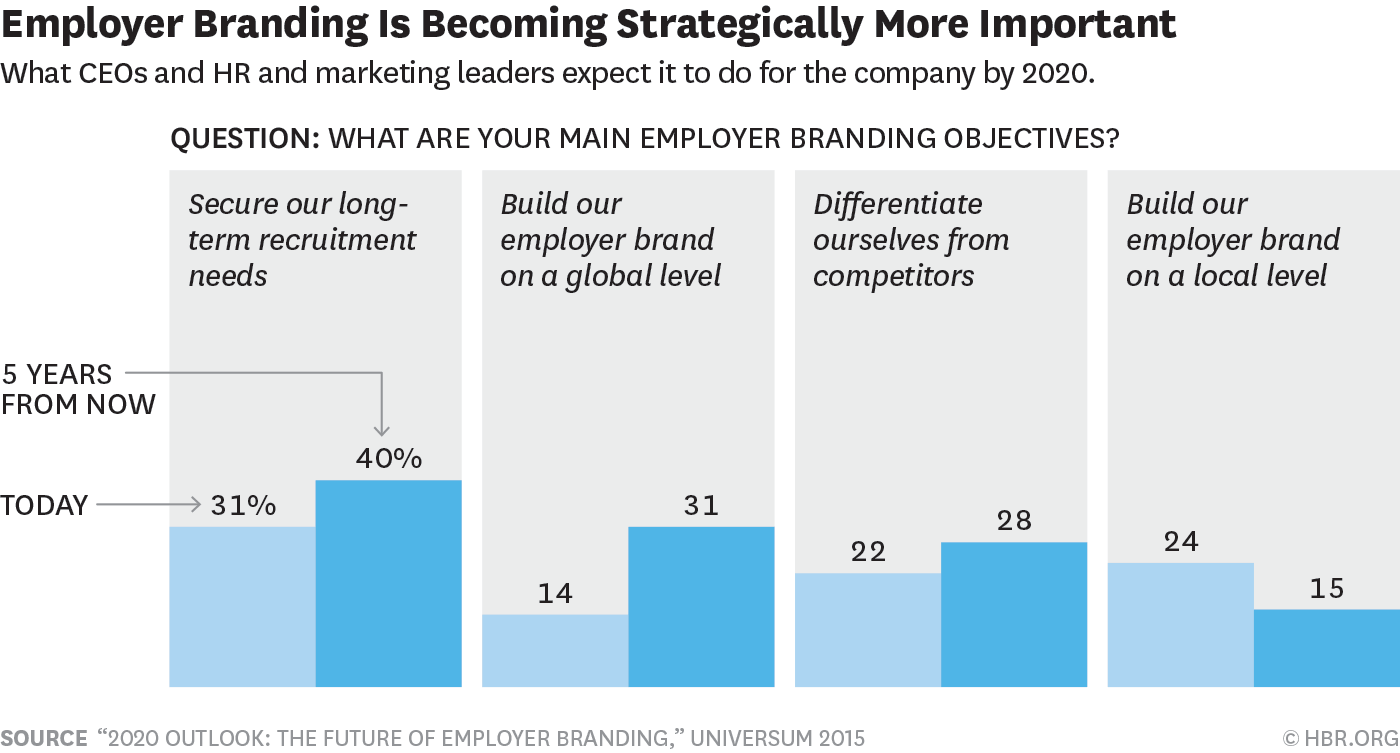 Skeeled offers you the perfect opportunity to bring innovation and digitalisation to your hiring. Check our website or our LinkedIn and Facebook pages for further information.
Thanks for reading and see you next time!
Your team here at skeeled