Now that we set foot in 2020, it's time to resume our team skeeled articles and introduce you our website developers, André Ferreira and Miguel Azevedo. They have both been part of skeeled's development team for a few years now and they're based in Porto, where they work side by side.
André has been working at skeeled for over 3 years now. He describes himself as "a positive guy that doesn't take life too seriously". He loves music, travelling, video games, and hanging out with friends. In addition to that, he practices CrossFit, likes to surf and is vegan. And yes, he is "aware of the fitting stereotype!"
Miguel, our youngest team member, joined skeeled over two years ago. He studied Software Engineering at ISEP, like André. It was during his college years that he's got his nickname, Mimi, which is what we call him here at skeeled like pretty much everyone else in his life. It was also at ISEP that he met Joana, his girlfriend of almost 5 years. In his free time, he likes spending time with his girlfriend, watching and playing football and play videogames. He's also the proud carer of Buggy, a dog who's crazy and loves playing with things he's not supposed to.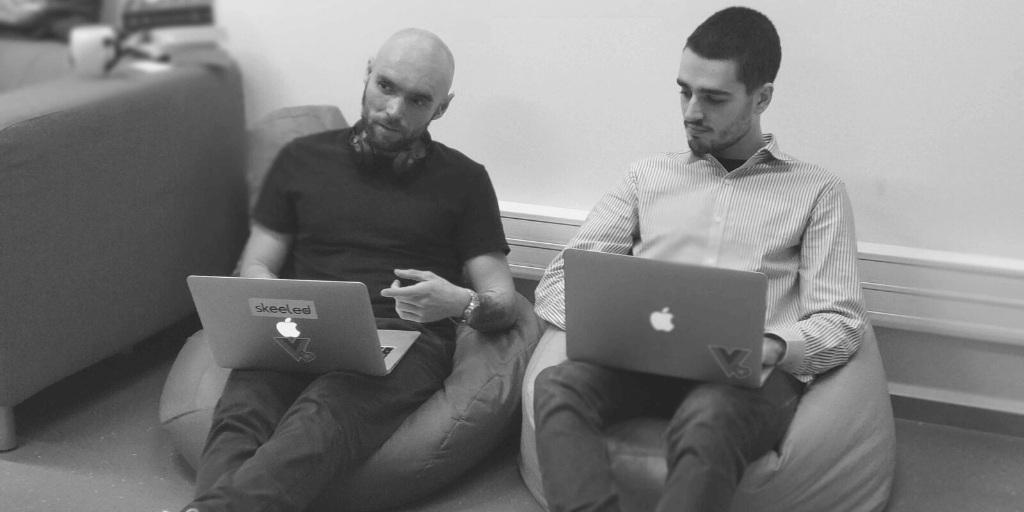 Check what they have to say about their experience working here at skeeled.
1. What is Your Background and How Did You Get Into Developing?
André: Well, I was always a geek and spent a lot of time around a computer growing up. By the time I had to choose a degree of University, It was pretty easy to go for Software Engineering. I got into ISEP and learned how to program during the course of 3 years. I joined skeeled as an intern right after, and it has been my professional home, where I learned almost everything I know.
Miguel: I only got into developing during the year before deciding which degree I would take in college. In school I had a subject related to basic developing and algorithms which sparked my interest in the area. I took the Software Engineering bachelor in ISEP where, in the last year, the students are encouraged to search for an internship in an enterprise environment and that's when I had the opportunity to start working at skeeled and I've been here ever since. skeeled is my first professional experience and it allowed me to grow so much from an intern software developer to a software engineer with several responsibilities.
2. What would you say is the most challenging thing about the work you do at skeeled?
André: The most challenging thing about the work at skeeled is to keep evolving and learning new skills while maintaining the high standards of quality code. We try to implement the best solutions on every step of the development phase, especially when something new comes up. We also work on different projects, which requires us to be constantly aware of many technologies. While it is the most challenging thing, it is also the most rewarding.
Miguel: We face many challenging issues as software engineers like having to keep up with the ever-evolving technologies or designing the best solutions to achieve the expected goals. Personally, I believe the most challenging part of the work I do at skeeled is having to constantly be aware of the development state of our different software projects. My responsibilities involve both working on skeeled's application as well as developing and maintaining our website, two very different projects using different technologies, and both projects are constantly evolving.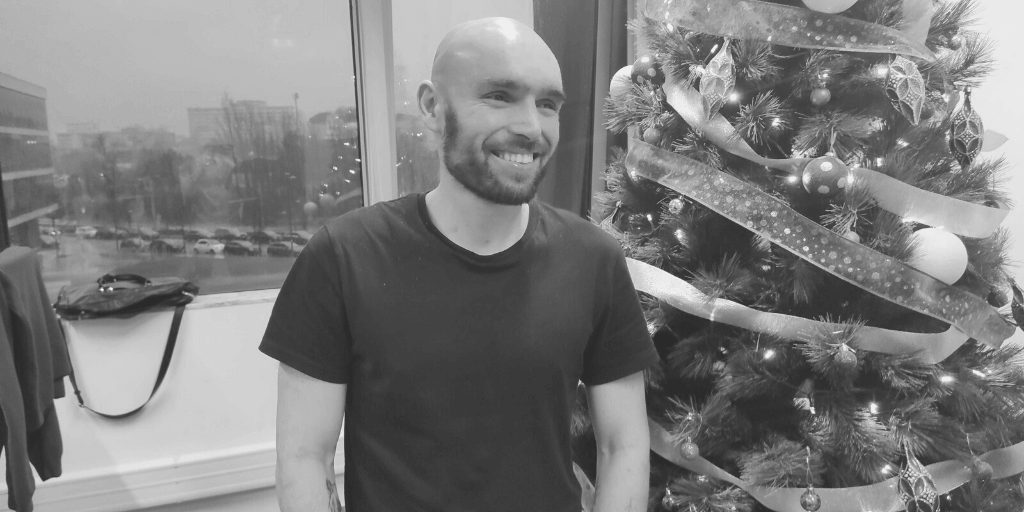 3. How Would You Describe Your Day at Work?
André: One of the things that skeeled allows is a flexible schedule, which means that my routine can vary a bit from day-to-day. But whether I'm feeling a bit more energetic, or more relaxed, I'm always listening to music to help me focus. Then, either on my desk or on the couch, I work on the task that is given to me. Often I have discussions with another developer to reach a good solution to a problem, and these can be very productive and satisfying, with lots of ideas thrown at the table. I also occasionally take breaks either to chat with someone or have discussions on current themes, which usually end up on a good laugh.
Miguel: My routine is usually the same every day, what I work on is what can differ from day-to-day. I get to the office, I open my laptop to check if everything is fine and then I usually have breakfast while checking the news, listening to some podcast or talking to my colleagues. I then start working on my ticket which can be app related, website-related or even a support one. At noon I do a lunch break and then me and a few other colleagues usually play a bit of foosball. At 1 pm we have our daily stand up where we share with the rest of the team what we are working on, what we'll work on and if something is blocking us from achieving our goal. After this, back to the laptop, headphones on and get back to what I was working on. Around 4 pm I usually take a break for a snack and a chat and then back again to work until the end of the day.
4. What do You Like Most About Your Job?
André: What I most enjoy about my job are the constant technical challenges and the opportunities for self-improvement. We have an environment that promotes original and different ideas, giving me the freedom to develop the solution I believe is the best for each case, which is especially rewarding for bigger tasks.
Miguel: At skeeled we are constantly being challenged by the projects or tickets we are asked to develop. We have a small engineering team so everybody is constantly working on big features (we call them epics) to allow the growth of our app. These epics usually require a great deal of planning and engineering to achieve the best solutions and demand knowledge of several parts of our project (backend, frontend and database). I'd like to add that believing in the projects I'm working on is also quite important to be able to enjoy working here.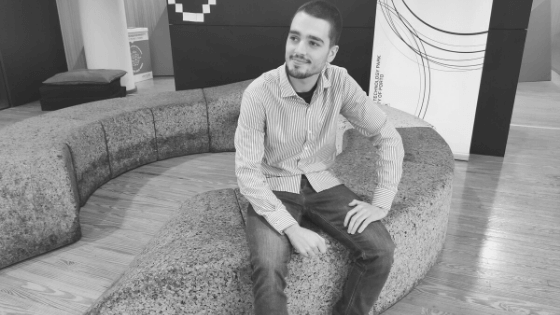 5. What do you think is the must-have characteristic for any Developer?
André: I believe the must-have characteristic for a developer is a curious mind. To strive to learn new things and to be constantly evolving. As in many aspects of our lives, it's important to keep moving. If you become stagnant, you are likely to lose the race.
Miguel: I praise 3 different characteristics in a developer: the ability and drive to find different solutions for the same problem instead of settling for the first solution that comes to mind, the capacity of thinking abstractly to find better solutions other than the obvious one and the ability to work in a team. A developer that has this set of skills is set for success in this area.
6. What Advice Do You Have for Someone First Getting Into This Field?
André: RUN! I'm just kidding. It's a very rewarding field, especially now in a world where everything is related to software. So you have many branches you can follow. My advice is to search for your options and see which one spikes your interest. Then if you like it, give it your 100%. Also, always write tests ;)
Miguel: Software engineering has a broad range of sub-areas. Inform yourself on what each sub-area works with, what you can achieve, what technologies they use and try to figure out which one you'll enjoy more. Software engineering and developing is a lot more fun when you enjoy what you're doing. Then, never settle for what you know, seek more knowledge and improve your skills as you evolve.
Read the other articles of our "Meet the team" series:
The Founders: Mike & Nicolas Head of Engineering: Artur Psychology Expert: António UI/UX Designer: Michael Head of Marketing: Brice Data Scientist: Joana Customer Success Specialist: Pénélope Network Infrastructure Developers: Rui and Freitas

Skeeled offers you the perfect opportunity to bring innovation and digitalisation to your hiring. Check our website or our LinkedIn, Twitter and Facebook pages for further information.
Thanks for reading and see you next time!
Your team here at skeeled