As we continue with our series of posts about skeeled team members, we talked with Artur Teixeira, our Head of Engineering and the person responsible for delivering the highly user-friendly software that allows companies to digitalise and streamline the recruitment process while providing candidates with the best experience.
He started his journey at skeeled in the end of 2015, being the only development engineer in the project, and today he is responsible for leading the engineering department, giving support to and helping the development team grow, in total alignment with the business goals.
Although he now has a great amount of responsibility, Artur experienced a "very gradual and organic growth process" at skeeled, which provided him the "time and the space to naturally adapt" to the leadership role that came along with the job. Being passionate about what he does and about the company and the product it delivers to customers, he stays highly motivated and constantly seeks opportunities to challenge the team and add value to the project.
Joining skeeled for "poetic justice"
Artur was "pretty much about to giving up on working in-house for a company" when he joined skeeled. He had worked in three companies before and felt extremely frustrated that, systematically, developer's opinions were not taken into consideration whenever decisions were made about the projects he was part of.
At the time, he started considering other professional options such as becoming a "freelancer or working remotely, at least", or even going outside the country. And then one day, he was contacted by a career website about a position in a company in Brussels and he recalls how "surprised" he got when he first met Mike and Nicolas, the founders of skeeled, to discuss the project.
Artur had previously worked in two startups in Portugal, so he "had a general idea of how startups worked", but Mike and Nicolas proved to have a very different approach and he realised that not all of startups were managed in the same (reckless) way. In his opinion, that's because they are both owners and investors in their company, therefore, they are "a lot more careful" and "make better decisions". Besides being attracted to the potential of the project, he also enjoyed the sense of "poetic justice" of going to work "on a software to improve hiring quality", another factor that contributed to his previous will to "quit the traditional job market".
From one-man band to lead engineer
Artur moved to Brussels expecting to work with and learn from a senior developer, but, instead, he become the only engineer on the project, which was truly challenging. "Engineers, sometimes, write code in code and you need the context to work on what they built". Even though he "never actually met the previous developer", he successfully managed to pick up where he left off and continued building and improving the software.
"Since the beginning Mike and Nicolas trusted me and gave me the freedom to do what I think would be best for the project, for the code itself". This is what he now calls "the main reason I'm still here today!". Just a couple of months in, he was asked to start sourcing more engineers to join skeeled. After the first hire he naturally had to step up: "there's always a need for someone to manage the project and have the final say". But it was only when André, a third developer, joined the team in Brussels to do an internship, that Artur took on full team leader responsibilities.
For almost one year and a half, things happened very "smoothly" but it all turned out more fast-paced after the development team moved to Portugal, in March 2017. "People were just coming in all the time" and managing the department, now with 5 developers and two interns, became a lot more challenging and absorbing, since he has to "check what each team member is doing and assess if it's the right direction for the project".
Moving to Porto and optimising the development team
Opening an office in the awesome portuguese city of Porto was a strategic move for skeeled because "it was getting very hard to hire engineers for Brussels", Artur explains. On one hand, "big corporations absorb all the engineers they can", and on the other, "the terrorist attacks that occurred in the city in 2016 made Brussels less attractive for engineers abroad that otherwise would gladly move there", as he did.
Mike and Nicolas actually first considered opening an office in Barcelona, since "they developed skeeled there, as their master's project". But Artur, who studied and lived in Porto, knew that the city had evolved a lot and had a "good startup growing environment" and could provide the company with top talent at competitive rates. "In Porto you have a lot of skilled engineers coming out of college every year and both engineering schools here are very good", he says.
So, he suggested they check it out and after "visiting a few offices and talking with Invest Porto in the City Hall" in October 2016, it became "pretty obvious that it was a good bet". Artur also explains that they "decided to be in UPTEC because it's located between the two engineering schools", making it even easier to attract new developers because "their life revolves around the campus".
Although he was thrilled to be back in Porto, having to deal with all the bureaucracy necessary to register the company in Portugal and to set up the new office was not much fun, he recalls. However, in the end "it was totally worth it!".
Never-ending work on an ever-expanding software
When asked about the development of the skeeled software, Artur starts by saying that "the core of the application is done, and clients are very happy with it. So, now it's more a question of expanding it and having new features that can enlarge the scope of what we do". But this "is a never-ending process" since the software is "ever-expanding". He explains that "it's not like we are building the same thing that we were three years ago", because there's always new ideas on the table and we keep moving forward. "We have this software that helps you with the first steps of recruitment. Why not expand it and develop the next steps, or the previous steps, or add more steps in the middle?", he says.
So, besides making sure that the skeeled software performs well for the hundreds of people that use it every day, the development team is completely focused on what would benefit clients more. "It all comes down to what our clients need or want, because they are the reason why we're here", Artur says. "If they require something that they cannot work without, that's our main priority then", he concludes.
At skeeled, engineers keep up with the times
Being a software engineer at skeeled has been an amazing journey for Artur and from his perspective "the ever-changing environment" and the constant adaptation of the project to new technologies that come out every day are some of the aspects that make this a great experience.
At skeeled "we value proactivity and self-learning a lot" and that's why "we invest work time and get courses whenever necessary so that our people have the opportunity to improve", he says. This is a win-win, it's good for the company and it's good for the developers.
"I think that's what I'm most proud of and I think that's what really drives people to come work with us, the fact that we use the newest technologies and we never stop improving the software we already have", he complements.
Last, but not least, he mentions the importance of having a good communication with management that is straight forward and based on trust, which allows the team to work with the freedom to change whatever they find necessary. As a result, he says, this "creates a more stable platform, drives more talent to our company and, in the end, also brings in more money".
*Here are the links to the other articles of our "Meet the team" series:**
The Founders: Mike & Nicolas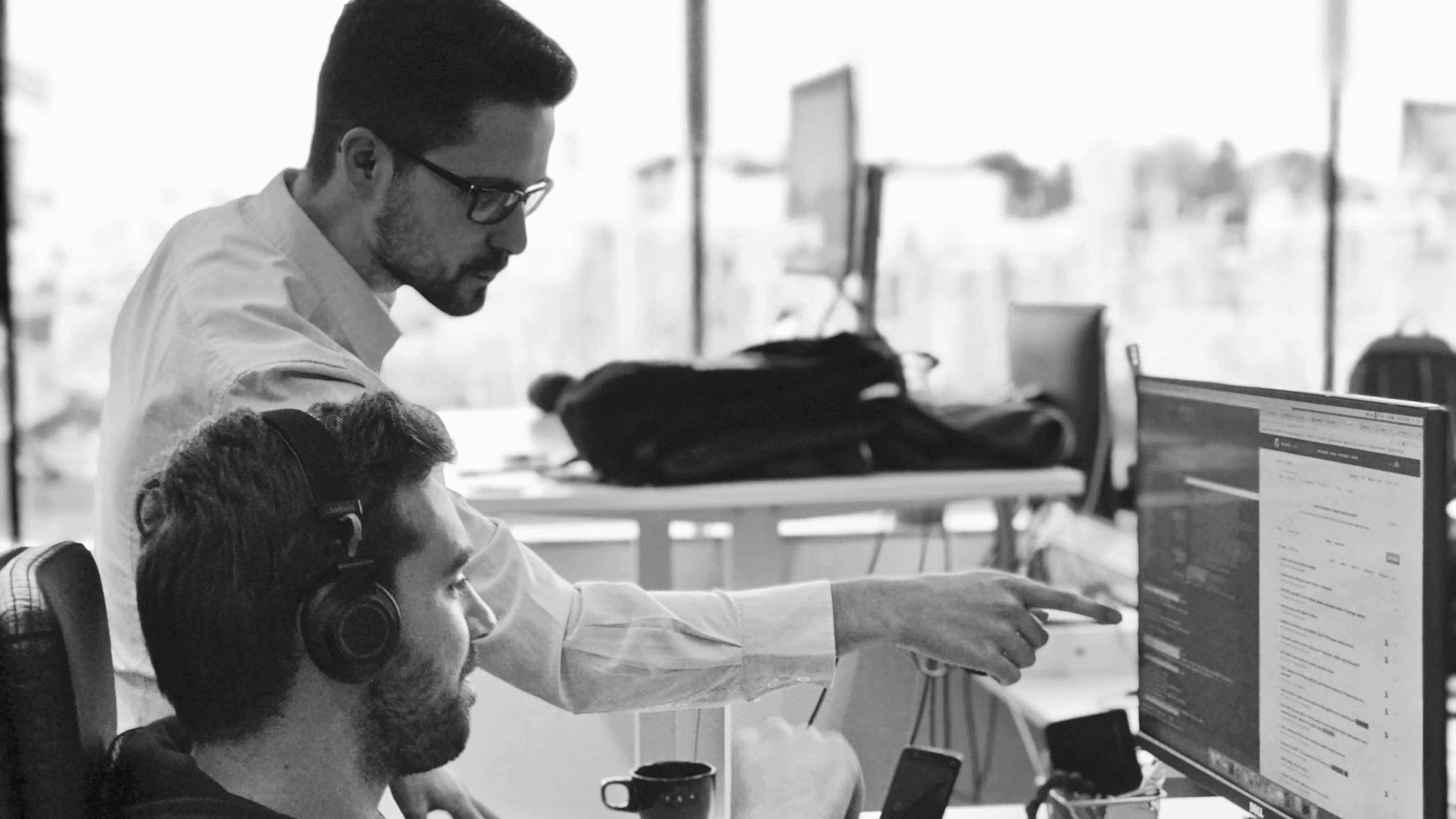 Skeeled offers you the perfect opportunity to bring innovation and digitalisation to your hiring. Check our website or our LinkedIn and Facebook pages for further information.
Thanks for reading and see you next time!
Your team here at skeeled