HR teams thrive to simplify and streamline the recruitment process, so that they can attract more and better candidates and, also, have more time to engage top talent in the selection process.
Nevertheless, we all know there's not much you can do to go beyond the traditional recruitment methods and put in place a modern process without being provided with the right technology and tools.
Using a proper recruitment software can do wonders by automating time-consuming, administrative tasks and providing an organized workflow that allows a better and more effective application management.
However, an AI-powered solution like skeeled goes even further to totally transform the way you do your recruitment. And we believe that that's exactly what you need! Next, we let you know how skeeled can improve your recruitment process and take it to the next level.
All the Steps of Your Recruitment Process Managed with One Single, Integrated Tool
It is common among recruitment teams to waste precious time with disorganised workflows that imply the use of multiple software and tools that almost every time are not aligned and make it difficult for you to know where you're standing at each stage of the recruitment cycle.
Imagine how easier it would be if you could use the same platform to post job offers to multiple job boards, receive and screen applications, assess candidates with personality tests and pre-recorded video interviews, send personalised email communications and register all relevant information regarding the recruitment process for your team members to check when needed.
Imagine that, on top of that, you and your team could use the same platform to rank and comment on each candidate's profile and make collaborative hiring decisions. We imagined it and we made it possible.
Using Personalised Workflows and Amazing Features that Boost Recruitment Efficiency
Companies that are using skeeled to manage their recruitment process not only save a great amount of time on a daily basis but also work in a more efficient way, which positively impacts recruitment metrics like the time to fill a position and the quality of hire, for example.
We're sure that you also want to save time spent with repetitive, administrative tasks, be more efficient and get the best talent for your company. With our software, recruitment can be as straightforward as it gets. You just need one login and a few clicks to set up a custom workflow and lead your recruitment team in the way of success.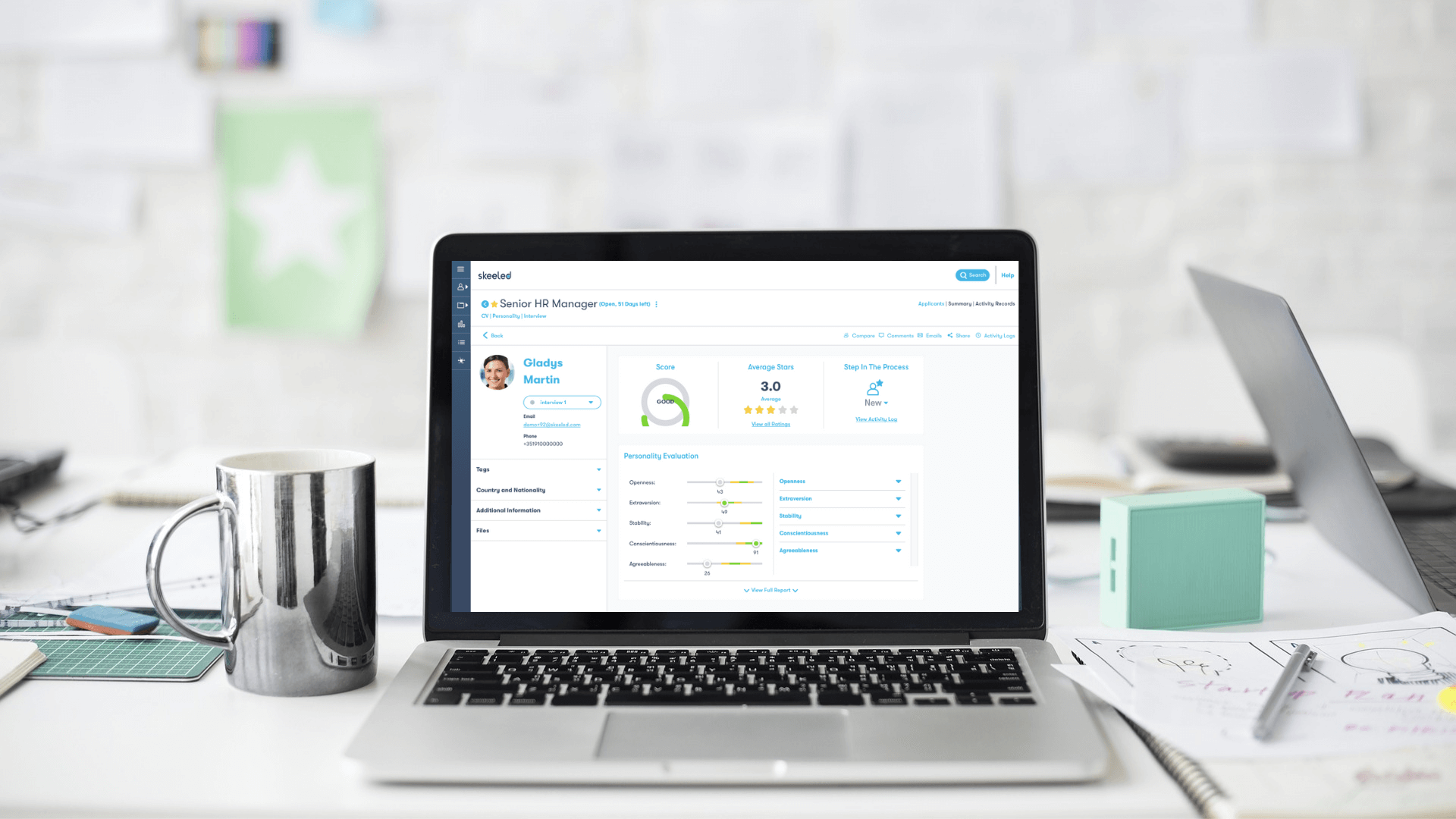 Here are some of our software's top features:
Jobs Dashboard Using our software makes it incredibly easy to add new jobs, post them on multiple job boards and share them across your social channels. You can manage every job with just a few clicks. No more emails back and forth to let hiring managers and team members know that a new position was posted on job boards or to inform how many applications were received for that job offer.
With skeeled's intuitive dashboard, all information regarding job posting and candidates is presented in a structured and organised way. Given that you can customise the candidate status for each step of the process, it's easy to monitor and manage the applicant flow.
Deep Candidate Profile Our candidate profiles include a standardized CV, a personality report and a video interview, so that recruiters can have a 360º view of each candidate.
Email and Calendar skeeled also offers great features such as system email templates with variables or personalised email so that you can easily and quickly engage with your candidates at every stage of the process. Our platform has also a calendar tool that allows you to book personal interviews with candidates by setting your availability and sending them a link through which they can select a time slot and immediately schedule a meeting. No need to waste time with phone calls.
Collaborative Hiring Collaboration is king, so skeeled provides great features to boost collaborative decision making such as ranking – candidate profiles display an average star rating that is calculated including every recruiter evaluation; commenting – recruiters can leave comments for team members to see and reply to and personal notes for them to see only; profile sharing – sometimes recruiters may need to share candidates' profiles with someone outside the system to get additional feedback and validation. Our software allows to share profiles in a secure and private way with link and password.
Team Management With skeeled hiring managers also have the ability to organise their recruitment team roles and manage the recruiters' access permissions in a simple way. They can either use the pre-defined permission settings or customise de access level they want to grant to each and every recruiter on the team.
Activity Logs Depending on each recruiter's permissions level, this feature allows them to know everything that is happening company-wise, job-wise and candidate-wise. No need to phone or email anyone to ask if a candidate was contacted, if any job was opened or closed or if an email template was edited.
Analytics Measuring the global recruiting activities is definitely as important as managing each recruitment process for every open position. Hiring managers can learn a lot about their recruitment by looking at important metrics, so we provide them with a powerful integrated analytics tool which generates reports that can be exported. We offer default metrics, but you can totally customise them and/or add new ones.
Candidate Database With skeeled top talent never gets lost. Unlike the nightmare of mailbox searches, our advanced search filters allow you to easily and quickly go through your candidate database and find specific profiles you want to revisit. Great candidates that weren't hired in previous processes can be considered to new positions you've opened.
Leveraging the Power of Artificial Intelligence to Hire Better and Faster
Our solution has a modern and innovative approach that seeks to empower you to develop a data-driven recruitment. Instead of basing your hiring decisions on human intuition we provide important data that can help you identify who the right candidate for a specific position really is.
Automated Candidate Screening Given the average amount of incoming applications per job, the initial screening of candidates is one of recruiter's biggest nightmares for sure. But skeeled's integrated AI-powered algorithms automatically match and rank every candidate profile based on job criteria predefined by you.
Each candidate receives a score (from Weak to Great) and that lets you know who you should engage first. This saves you and your team a huge amount of time and increases the screening efficiency. Unlike us humans, the algorithms analyse each and every candidate under the same, unaltered set of criteria and identify who the best candidates are without bias interference.
Assessing Candidates Beyond Their CV with Personality Test and Video Interview
With skeeled you can decide better on who to move forward in the recruitment process. A candidate's CV often isn't the most reliable source of information and making decisions based only on a piece of paper can turn out to be unproductive. That's why we provide an integrated personality assessment and pre-recorded video interview so that you can see who the person behind the CV is.
Personality Assessment Assessing personality is a reliable method of predicting future job performance. It provides recruiters with deep insights that combined with other evaluation elements (CV, interview, etc.) will significantly improve the candidate selection.
The skeeled personality report allows to quickly identify if a candidate is suitable for a job position or not, given that it measures workplace personality traits and occupational scores that are predictive of job performance.
Pre-recorded video interview Allowing candidates to show themselves beyond their CV, through a pre-recorded video interview, also gives you valuable additional insights that help deciding whether a candidate would be a good fit for a specific role.
Using pre-recorded video interviews ultimately gives you a better chance of identifying the top talent on your pipeline and only invite the best candidates to in-person interviews, saving time and improving the quality of hire.
We hope to have enlightened you with this general overview of how skeeled can help you to hire the right people with an Artificial Intelligence based software.

Skeeled offers you the perfect opportunity to bring innovation and digitalisation to your hiring. Check our website or our LinkedIn and Facebook pages for further information.
Thanks for reading and see you next time!
Your team here at skeeled