We're sure a recruitment software isn't something new to you. But we know you've never used a solution like skeeled.
Our platform is a unique technological solution that offers a modern and innovative approach to centralise and digitalise the traditional recruitment method.
We are not "just" a recruitment software that you use to store and manage CVs. Our solution's features go way beyond and help you to screen and assess candidates better and faster, so that you can hire the right person every time.
Our solution aims to help you take your recruitment to the next level by streamlining your workflow and providing you with the tools necessary to make the best hiring decisions.
Today we share with you the aspects of our solution that you must know about.
The skeeled solution guides your candidates in a non-intrusive way throughout their entire application process, so that they make it to the end.
We provide an intuitive and easy way of submitting all the information needed, significantly reducing the application time and taking away all barriers: no login and password required!
With our recruitment software candidates can present themselves beyond their CV thanks to a modular application process that includes a personality evaluation and a pre-recorded interview.
These additional insights and impressions of the candidates allow you to better assess and compare them and, ultimately, you can substantiate your decisions on concrete data and criteria.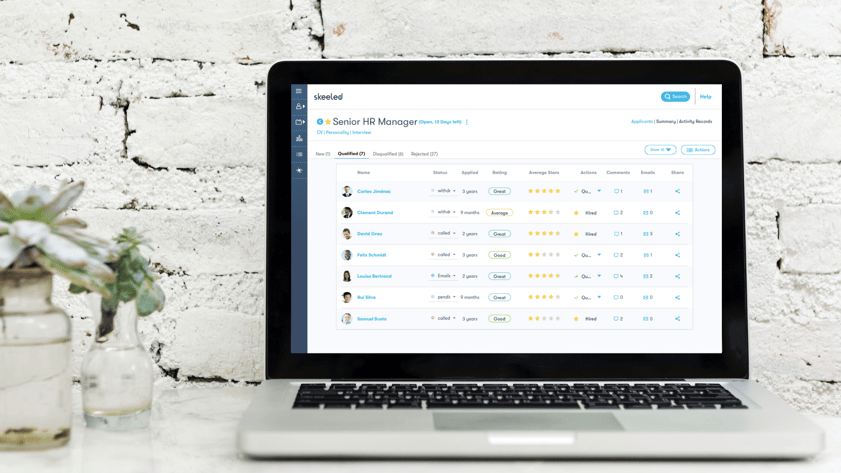 An AI powered tool to boost your recruitment process
Our solution is the only solution worldwide that uses the power of Artificial Intelligence to screen and evaluate candidates, combining easy to scan CVs, personality evaluations, structured video interviews and additional questions asked to candidates.
Once candidates have applied, skeeled's integrated AI algorithms rank the profiles based on criteria predefined by you, helping you to focus on the profiles that will best fit the position and your company culture.
Candidate comparison is facilitated due to standardised digital profiles that include the most relevant information and are easy for you to read.
A user-friendly and intuitive interface makes it possible for you to manage candidate profiles privately, in teams or even to share it with internal/external consultants.
All the steps of your recruitment cycle can be taken in the platform: profile evaluation, email communication, interview scheduling. And the evolution of the candidate is easily trackable with the status update and activity log. With a simple glance at skeeled you can know who said what to whom and what stage each and every candidate is at.
Strong and secure infrastructure
Our recruitment software is easy to implement, it can be up and running in only a few minutes thanks to its cloud-based technology. No installation is required and it's simple to log in.
Working with people's data requires responsibility and security. With skeeled your data is safe, stored on multiple servers with guaranteed around the clock accessibility. We make regular updates based on new technologies and regulations to ensure continuous service and legal correctness, notably in sight of GDPR 2018. Furthermore, local support is at disposal and quick to respond if ever needed.
Some of the things you can do with a just a few clicks:
Post job descriptions on multiple job boards in 1 click
Monitor the applicant flow
Comment and rank applicant profiles
Search the Database profile
Customise the candidate status for each step of the process
Securely share the profiles with someone outside the system (with link & password)
Include your team in the decision process and manage their access permissions
Book personal interviews through our calendar integration
Mail the candidates with system templates with variables or personalised email
Using skeeled for recruitment will allow you to reduce the time spent on the first steps of the process and will provide you with quality data to support your hiring decisions.
On our next articles we'll guide you through our main features and tell you how exactly they can help you drive a successful recruitment process.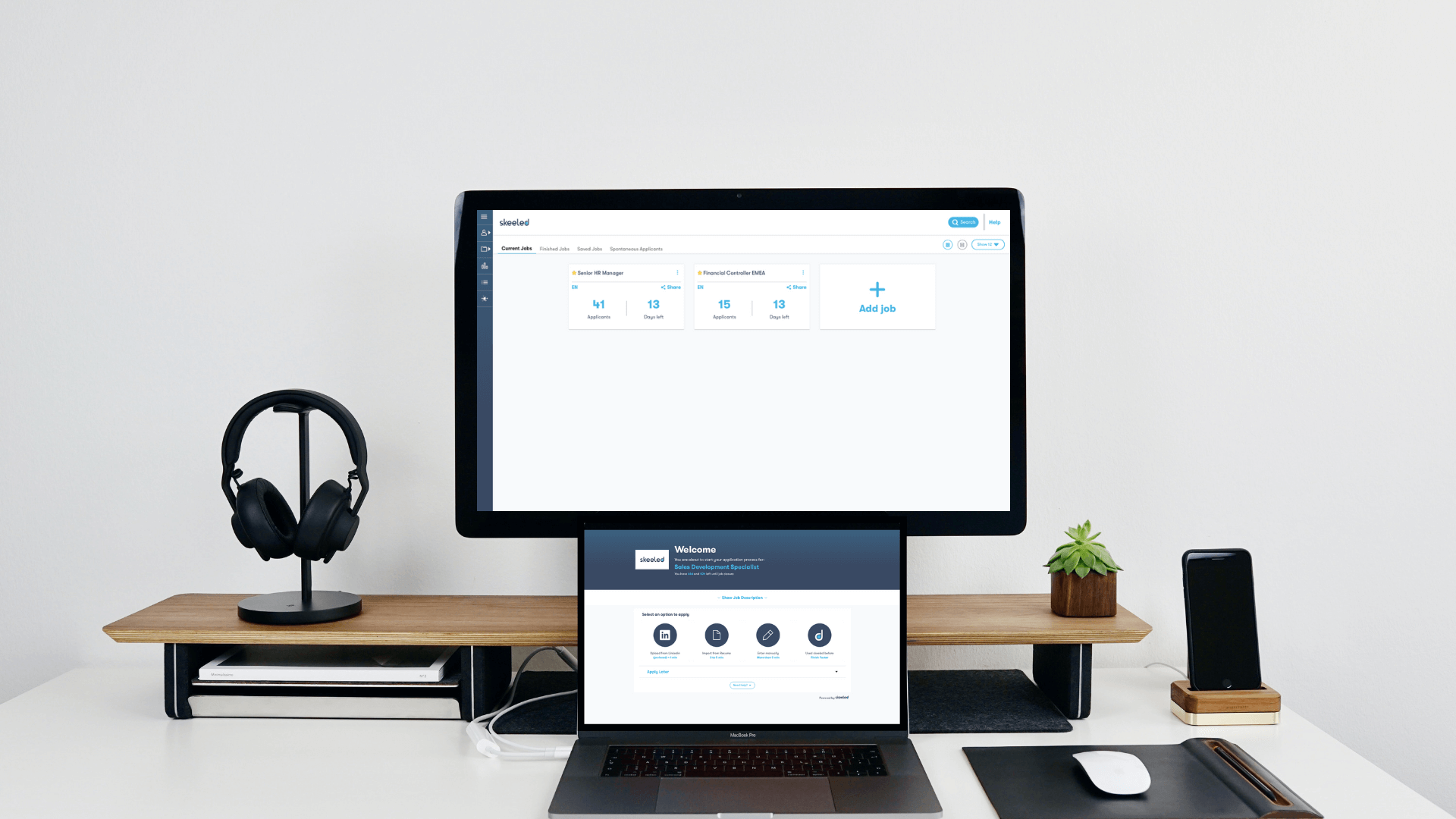 Skeeled offers you the perfect opportunity to bring innovation and digitalisation to your hiring. Check our website or our LinkedIn and Facebook pages for further information.
Thanks for reading and see you next time!
Your team here at skeeled